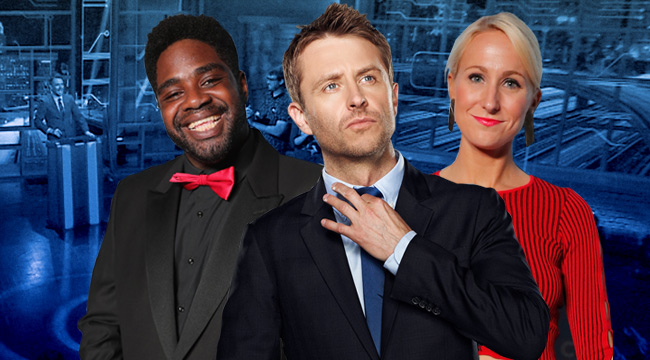 After four seasons and 600 episodes of topical, fast-paced humor, Comedy Central's social media-infused panel show @midnight is coming to an end tonight. Whether you're a hardcore fan, an occasional viewer, or a greenhorn whose first exposure was hearing the news, the loss of the Chris Hardwick-hosted faux game show is significant. Nothing else on television today has done as much to showcase the humor and improvisational abilities of stand-up comics and comedic actors. In fact, nothing else in the modern peak TV era has replicated what The Tonight Show Starring Johnny Carson did for comedy.
Comedians with little to no fame sometimes found success following a chance appearance on Carson's Tonight Show, a career lineage that sometimes still occurs thanks to modern late-night shows. "That's great," you're probably thinking, "but how does a shuttered panel show's comedy output compare to Carson's rich stand-up history?" It's a fair question, especially since @midnight never featured anyone of Roseanne Barr or Jerry Seinfeld's stature, but that's the point. They never would have garnered such fame if it weren't for their Tonight Show stand-up performances. Likewise, many of today's greatest, funniest comics owe their success to @midnight and its closest relative, Chelsea Lately.
The Influence of Chelsea Handler
"I started doing Chelsea Lately in 2009," recalls Hardwick. "At the time, it was the only place that catered to hardcore comedy audiences. I was also on G4 at the time, but it was a very niche channel, so it didn't really help me sell a lot of tickets whenever I went on the road to tour comedy clubs. But going on Handler's show was great, because stand-up fans watched it in droves. Those appearances actually helped with my ticket sales. It was the only show at the time that featured a roundtable of comedians and made sure the audience knew who they were."
By the time Chelsea Lately closed its doors in 2014, when Handler left E! for Netflix, @midnight already had a short first season in the can and was in the middle of filming its massive 299-episode second season. Yet Handler's late night talk and panel show's influence on the latter was undeniable. Aside from Hardwick, many of the same comics — from big names like Bob Saget to newcomers like People of Earth's Alice Wetterlund — would appear on both programs. According to the 45-year-old host, that was his plan all along.
"I wanted to be involved in something that helped comedians and helped comedy," he says. "The great thing about it is, whenever a comic is on television doing comedy, they're usually burning through their own material. There really aren't a lot of shows anymore on which comedians can pop up. As many channels as there are, even the talk shows today don't really feature comedians as often as they used to.
Executive producer Thomas Lennon, who hosted the @midnight pilot (then titled Tweeterdome) before it was reformatted for Hardwick, agrees. "To come up with 10 minutes of stuff can take you months to write," he explains. "With @midnight, we wanted to give our panelists a safe place where they could improvise and avoid burning through their material as much as possible. It's a very safe place. It's an amazing place to see people write jokes on their feet."
Chelsea Lately alum Ron Funches, whose early spots on @midnight quickly turned him into a fan favorite, backs this up. "It's kind of like what Chelsea Lately was for comedians back when it was on the air," he says. "That's what @midnight became for us, especially since it's such a great tool to introduce a new audience to your style of humor. It lets them learn about your sense of humor, but without you necessarily having to burn through your material in the process. I could just show viewers my stance on certain topical subjects, which was great since I don't really do topical material too much."
Other @midnight panelists were quick to recognize the show's connections to Chelsea Lately, Carson's Tonight Show, and other programs that promoted comedy — even if they had never appeared on Handler's old show. "I think a lot of what Chelsea Lately did for comedians when it was on is kind of what @midnight has done for comedians today," says The Standups star Nikki Glaser. Glaser, who subsequently nabbed a Comedy Central special (Perfect) and sex-centric late night talk show (Not Safe), credits her many appearances on the program with her later successes. "So many people first found out about me from @midnight," she explains. "It really was what kickstarted a lot of what I'm doing now. I owe Chris and everyone else there everything. It was a huge step for my career."
The Mixed Martial Arts of Comedy
Whether talking with Hardwick and Lennon behind the scenes, or to Glaser and Funches about their experiences on camera, everyone on @midnight praised the program for the same two reasons: 1) the wonderful platform it afforded its featured performers, and 2) its use of a fully-stocked writers' room. After all, one of the most stressful elements of appearing on The Tonight Show or other late night shows is the loss of material. At @midnight, the creative team took steps to make sure each episode's comics, actors or celebrities were equipped with all the necessary tools to be funny, but without using up their stage set-ups. And while this may sound like a cheat of sorts, it really isn't.
"We have a meeting every morning where the research team puts together this packet of all the stuff that's going on online," explains head writer Joe Randazzo. "They put together a 30- to 40-page packet of everything that's trending today on a certain day, what the main story is, and what the most popular reactions to that story are. We try to take the extra time for the research department to dig a little bit deeper into that stuff. So we can always find the internet's angle on everything. We want it all to feel like an entire day on the internet."
Randazzo, who previously worked for The Onion and Adult Swim before joining the @midnight team in 2015, stresses most of this preparation helps to inform each episode's layout — including the games to be played and how to divide them. Yet these packets also serve the staff writers assigned to assist with the day's panelists who, depending on their individual levels of experience, would choose to work with them or not. "There are some panelists who are terrific comedians and wonderful writers. They really didn't want any help. But there were also actors who are great at delivering lines, but needed a little more help crafting a joke," he says. "So we assigned them each a writer who could walk them through the script, bounce ideas off them, and help them craft the jokes into something that could play better on the show."
"We want everybody to be as prepared and relaxed as possible, because it's such a fast-paced, intense show. And, obviously, we want everybody to look good," adds Randazzo. "As a result, @midnight became a factory for churning out joke widgets. It really does reward the best jokes and joke writers, even though the competition part isn't that serious at all. The pace and energy of this show didn't allow anyone to rest on their laurels, that's for sure. It's kind of like the mixed martial arts of comedy."
This faux competitive environment owes its success to these writers and the creative team behind them. That said, Randazzo, Lennon, and Hardwick are quick to highlight the comedians themselves. "The lion's share of credit goes to the comedians and their ability to be funny," insists the host. "The small little percentage of credit I can take is being a part of a show that serves as a platform for comics. We helped create a place for them to be funny on television four nights a week, because there just isn't anything else like that out there."
Known Acts, Local Heroes
Glaser was one of the first panelists to acknowledge the show's impact during an appearance in 2014. "I got recognized for the first time this weekend from this show," she told everyone. "Thank you so much!" Hardwick, who seemed genuinely excited about Glaser's story, inquired further. "[It was] at a mall in Montreal. It was really cool," she explained. Glaser then deadpanned about once having her own show on MTV, the axed Nikki & Sara Live, but quipped "no one knows me from that." When speaking with her, Funches, and guests like the actress Milana Vayntrub and the Austin, Texas-based comic Chris Cubas, however, the positive effects of their first @midnight appearances are undeniable.
Consider Vayntrub, the star of a string of AT&T commercials whose status recently exploded with roles in NBC's This Is Us and Freeform's upcoming New Warriors adaptation. (She will play fan-favorite Squirrel Girl.) "I had never even actually heard of her," recalls Lennon, "before I was standing right next to her on her first episode. Someone told me who she was and I said 'We'll see how this goes.' And then she fucking mopped the floor with me. It was amazing. She absolutely crushed me, she was so funny." In separate telephone conversations, without any prompting, both Hardwick and Randazzo couldn't stop themselves from singing her praises. "She's one of our newest rising stars," says the latter. Before her final appearance on the program's "Tournament of Champions" week-long special, the improv and sketch comedy alum boasted a perfect 5-0 record. "She blew everyone out of the water as soon as she came on," says Randazzo.
Vayntrub's good comedy fortunes on @midnight didn't necessarily contribute to her gigs at NBC and Freeform, but the actress admits her appearances have allowed her "to practice a kind of creativity I don't normally have a platform for," and she's incredibly grateful. "I've told Chris many, many times that I would come back and do his show every time he asks. It's my favorite thing to do. It's more fun than any kind of stand-up or improv, because it requires less preparation than stand-up and offers quicker, more long-term rewards than improv. There is definitely something magical about what they were doing. I got the call for This Is Us on my way home from an @midnight taping. Stuff like that kept happening. Whenever I did another episode, there was another opportunity that opened up right after. Again, it wasn't linear or causative, but it still felt magical."
Cubas loves @midnight just as much, especially since he credits it directly with giving him the stand-up career he has today. "I thought these shows were pretty niche, in that you had to be a real stand-up fan to be watching them," he says, "but everybody watches this. I've got people stopping me before and after sets — college kids, comedy nerds, 50- to 60-year-old women — and they all recognize me from the show." The program's first "Points Me" winner, Cubas was brought onto @midnight for the first time in March 2015. "I pretty much owe whatever amount of the career I have right now to that show. That show got me a manager literally that night. It aired and I got a phone call from Avalon, who's now my management company. 'Somebody wants to talk to you.' It was that fast."
Lennon's cautions notwithstanding, the success of such panelists makes Hardwick incredibly happy. "It's really hard for comics right now, especially if they're trying to get into television," he says. "Social media helps. So does podcasting. I think that's why a lot of us gravitated toward podcasting, because we all just needed an outlet for our stand-up material and comedic sensibilities. There just wasn't enough opportunities for that on television, and to be honest, there still aren't. So I love when someone comes onto @midnight whom I know is really funny, but the general audience doesn't know that yet. And when they crush it, and everyone's like, 'Oh my God that person's really funny,' I feel a little smug about it. But in a good way."
Points-less
Upon announcing @midnight's August cancellation back in July, Hardwick said the show "has meant the world to me these last four years. It has been a dream to come to work 600 times to make inappropriate jokes about the Internet with my fellow comedian friends. I could not be more proud of this show, staff and crew and at the end of the day, I think we accomplished everything we wanted to accomplish." Despite joking about the internet's collective "relief" at no longer finding their news feeds bombarded by random hashtag games, however, the host's poignant remarks couldn't have been more dour. "Spiritually," he said, "it just feels like it ran its course."
With the ever-changing (and always growing) peak TV landscape, the effects of @midnight's loss will ripple throughout the American comedy scene. Add to this the unknown fate of NBC's digital streaming arm Seeso and Netflix's reportedly massive debt and we've got the ingredients for a possible comedy crash in the works. Other similarly-focused outlets like truTV, which acquired The Chris Gethard Show from Fusion, have recently begun picking up the slack. Yet this doesn't guarantee stand-up will have as great a platform as the one @midnight provided.
Hopefully something else will come along — be it on cable television, a streaming network or some other avenue yet to be explored. In the four years I spent watching @midnight's deep-dives into internet humor, I've happened upon comics whose names I'd never heard before, and whose albums now crowd my shelves. There are obviously many avenues available to stand-ups for promoting themselves and finding new audiences, just as many comics found me and others through @midnight, but they are nowhere near as far-reaching as Hardwick's show. When the bubble inevitably bursts, these won't be enough to showcase such talent the same way @midnight did, and everyone will be poorer for it.
The final episode of @midnight airs tonight at midnight on Comedy Central.