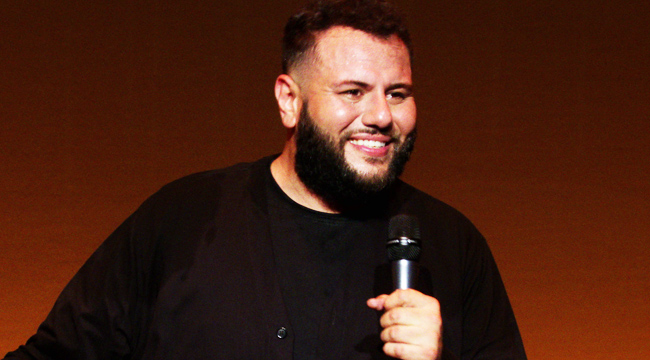 Before he was finally able to obtain his U.S. citizenship in 2009, Mohammed "Mo" Amer — who was born in Kuwait to Palestinian parents before the majority of his family fled the country during the Gulf War — didn't have a U.S. passport. This made things interesting during the first years of his stand-up career, which took him all over the world thanks to repeated gigs with the USO. Amer instead relied on his charm and his United Nations-accepted refugee travel document, which is more commonly known as a "Geneva passport."
Amer details the many (mis)adventures he experienced as an internationally-traveled comic in a post-September 11 world in his new comedy special, The Vagabond, which drops Monday on Netflix. Considering the genre, the majority of his stories — from his loose professional association with Bill Cosby getting "him off" in Japanese customs, to the many hoops he had to jump through in order to become an American citizen — are wildly hilarious.
Considering the current political climate the United States finds itself in, however, Amer's stories about growing up in a country that doesn't always wholly accept him is as timely as it is poignant. And the comedian has used this to his advantage with great success, like when his chance encounter with Eric Trump aboard a flight to Scotland became a viral sensation (and a wonderfully funny bit).
Amer, who grew up in Houston, spoke to Uproxx about The Vagabond and the long process behind its creation. The comedian also talked about how the devastation from Hurricane Harvey affected that process, his work with the comedy troupe "Allah Made Me Funny," and the many lessons Dave Chappelle has taught him about the stand-up business.
Happy to see a fellow Houstonian getting his due.
Oh, thank you. It's been a long road, but it's a marathon and not a sprint. I'm just waiting to see what happens. It's one of those things that you work so hard for, and for so many years. Chappelle's the one that's always been like, "Be cool, baby, be cool. Everything's going to be fine." It added that extra seasoning at the end, for me to really take my time. That mentorship has really helped me out, too.
I wanted to ask you about Chappelle's mentorship, actually, but first, I'm curious as to why you shot The Vagabond in Austin. Did you think about doing it in Houston?
I definitely wanted to do it Houston. Since I shot it at the Paramount, I can't be like, "Oh, Houston was definitely my first option, but second place was Austin." But really, it definitely was. It's my hometown. As a matter of fact, I ended up delaying production by two weeks while I was trying to find a venue in Houston. There were a lot of issues with the venues. First of all, it was music month, apparently. There was this music concert month or something in June, so a lot of the venues were already taken up. And number two, the other venues that were conducive to stand-up — for the feel of, and the way that I wanted to shoot it — had been damaged by Hurricane Harvey.

Wow.
Yeah, a lot of them were damaged by the hurricane, and they weren't going to open up until September. But if I delayed filming until September, it was going to significantly affect my release date. I wouldn't have been able to release the special until February next year, and that's something I just couldn't do. I kept waiting. I went to the University of Houston campus to try to find an alternative venue. That's how hard I was trying to pursue Houston. I did find the Moores Opera House, which was perfect and I absolutely loved it, but there were a lot of issues with it.
In the end, I was like, "I tried! What am I going to do?" But Austin is the neutral territory in Texas, as you know. It's the state capital. It's where everybody goes to party and have a good time. Plus, the Paramount is a significant venue in Texas. I think it's probably one of the most historic theaters in the entire state. So yeah, it was my second option, but it was a great place to do it.
Isn't that where Chappelle filmed Deep in the Heart of Texas?
No, he did it at the Moody Theater during Austin City Limits. That's usually where we've toured the past five or so years, at the Moody. He was supposed to do six shows that year at ACL, but he ended up doing 8 or 10 shows, I think. He ended up filming the last six or so. But the Paramount has been used by many comedians for their specials. Nick Swardson did one there. It's been around for over a hundred years, so a lot of amazing things have happened at that theater.
Talk about the history of putting this special together. You told the Houston Chronicle you'd filmed another special three years ago, but decided to shelve it and revise those jokes for this one. Is that right?
Chappelle motivated me to do a special. He was like, "Man if you do this, you could win an Emmy." I was like, "Oh my God!" It seems silly, but it was a huge, wildly inspiring thing to come from someone like him, that he was telling me I'm capable of being that great. So I raised a little capital and they filmed the special at the Warner Theater in Washington D.C. It was an amazing experience, and we made a great special. I still think it's really solid, but I thought it was missing something. It was extremely difficult to not release it then. It's not very common that it happens like that, but it happened.
It seems to have paid off, though, because Vagabond is extremely well put together.
Thanks! I was talking to Dave about it today, actually. He said, "The best thing you have is patience." I think in this day and age, guys are just ready to just put out whatever they want. They want to rush into things like I tried to do three years ago, which is totally understandable. I get it. It's really difficult to stay put because it's just so damn hard to wait, especially when you see so many things happening around you. It's very difficult to say, "No, I'm going to hold onto these right now" or "I'm going to wait for the right moment." It's a really hard thing to do, but I've been in the game for so long at this point, and everything was going really well with the tour and everything else, that I decided to take Chappelle's advice and be a little more patient. It's still extremely difficult, but it was really important to me to hone in on the material.
It's also my first long-form special, so it's incredibly important that it comes out right. I didn't want to come out with something that was half-ass. I wanted something that I would be proud of. It's just a really special feeling. I mean, it's almost like a love letter to my mother.
You do share a touching moment with her in the special.
That was something that happened organically. I wasn't planning on it at all. I wasn't thinking about it, but I've spent so much time with this that a lot of it is automatic now. I guess that comes from doing over 600 shows with Dave around the world, though mostly here in America. But doing stand-up in all of these venues has given me a lot of time to get stronger and stronger. So it was really helpful to be patient with it and let these bits mature. There were like three or four bits that I just wrote pretty recently for this special, and it was really important to take my time with it. You've got to lead strongly with this stuff. You can't just come out weak.
You've been touring with Chappelle for years, and you've brought him up a lot in our chat. I know he's been a mentor to you, but how did that even come about?
I was part of a touring comedy group called "Allah Made Me Funny." Including myself, it was three Muslim comedians, though it was initially supposed to be four. We had a lot of success and were touring globally before we even knew that was possible, quite frankly. Only the really top, high-level acts can sell out theaters from South Africa and Australia, to almost everywhere throughout Europe and the U.K. It's incredible what we were able to do on our own, independently and without any help from Hollywood. Anyways, Dave heard we were coming to a tour stop in Columbus, Ohio and he came out for it. It turns out his family was big fans, as his mom, sister, and brother all came out with him to the show. It was really incredible to see them there. Dave did an hour after we were done, too.
We've been friends ever since then. Four years later, we happened to be in the same city. We were having a show for "Allah Made Me Funny" and we realized Dave was doing a show nearby, so we reached out to him. We met up later and we were like, "Oh man, let's get a picture with Dave! It'll be so cool." But when we walked in, Dave was like, "Oh man, let's take a picture! Can I take a picture with you guys?" It was nuts, but that's how our relationship started. He asked us to perform the next day, and we obviously said yes to him. We also performed together in Atlanta, and after that, we actually started touring full-time with him. We went on the road together with Dave. That's how it happened.
Nice.
I know, right? The next thing you know, I'm performing with him at Radio City Music Hall and all kinds of places. It's incredible. I've met Jon Stewart. I follow Chance the Rapper. Like, it's insane. Even after an hour at Radio City, I found myself working with Lauryn Hill. I was going up after Nas to warm up the crowd for the 21,000 people that had come out to see Dave. I mean, come on! I need to pinch myself all the time, but I guess hard work truly does pay off.
'Mo Amer: The Vagabond' is now available to stream on Netflix.