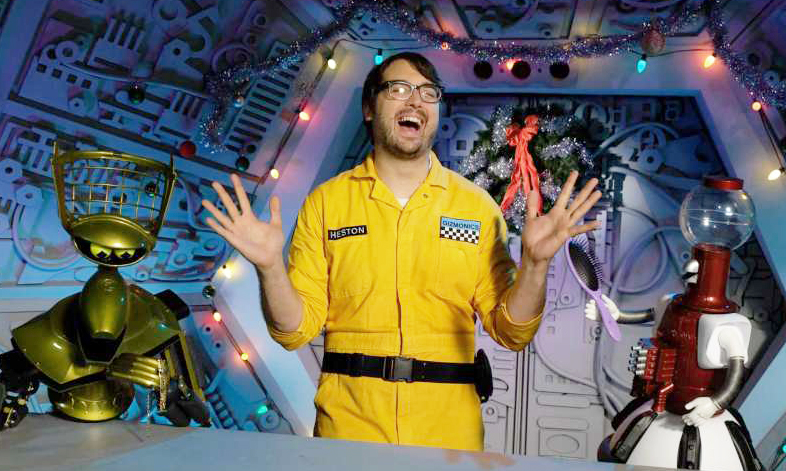 Mystery Science Theater 3000: The Return will be back for another season on Netflix, but the show has another reason to celebrate. 2018 marks the 30th anniversary of the show and to cast will hit the road to mark the occasion. It's not the first time, for a special anniversary they are bringing out original host Joel Hodgson for the tour alongside new host Jonah Ray and the quip-filled robots. Not sure how they manage to escape the moon for a multi-city tour, but we can just roll with it.
The tour will start on October 9th according to the official site and tickets are actually on sale right now if you're interested, so check out if it'll hit your town in the list of 29 cities over here and prepare yourself:
After an incredible tour in 2017, Mystery Science Theater 3000 announces the MST3K Live 30th Anniversary Tour featuring, for the first time in 25 years, original host and MST3K creator Joel Hodgson back in the red jumpsuit as Joel Robinson. Alongside new MST3K host Jonah Heston (Jonah Ray), Joel, Jonah and the Bots will bring new movies and all new riffs and sketches live to the stage across U.S. cities this fall…

Of the upcoming tour, Hodgson says, "The craziest and most exciting thing for me is that I am putting on my old jumpsuit and will be riffing live, shoulder to shoulder with Jonah, Crow, and Tom Servo for two incredibly strange feature films. I'm going to have to go into training to get caught up to the skill level of Jonah and this new cast. If you saw last year's tour you have some idea just how talented these young movie riffers are."
Each town will see a pair of "unique" shows that will feature two films according to the official site: a "Canadian science fiction suburban nightmare" called The Brain and Deathstalker, a "fun sword and sandal epic with a horrible monster." Can only imagine that the special effects on either film won't be amazing, which can only ramp up the enjoyment of the show.
Check out the official dates over here and watch the teaser trailer for the tour below.
(Via SlashFilm / MST3K Tour)