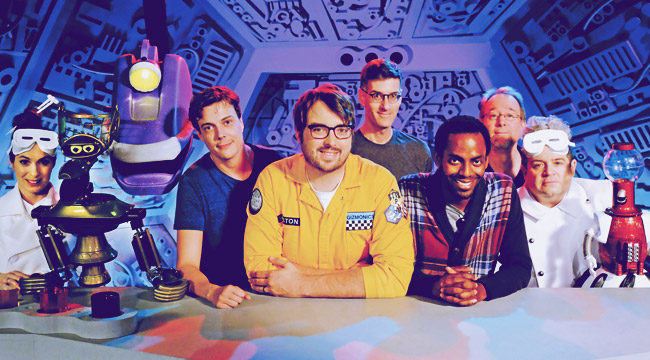 Jonah Ray can't remember the first time he saw Mystery Science Theater 3000, but he remembers being confused by it. "It was night," he recalls, "and I got home and I turned the TV on — and Comedy Central had just started in Hawaii — and I tuned in. And I was like, 'Oh, it's an old movie. This sucks. I thought it was supposed to be a comedy show.' And then there were the silhouettes and it was like… I thought my TV was broken, shoving two images on top of each other." Talking to Ray, the host of the newly revived Mystery Science Theater 3000, alongside his co-stars Baron Vaughn and Hampton Yount, over lunch in Chicago on a February afternoon in the company of series creator Joel Hodgson, it becomes clear that they can divide their histories into two halves: before encountering MST3K and after.
"I had a similar experience," Yount says. "Seeing the seats and hearing the voices as clearly as the voices in the movie and laughing and just being, like, everything that they're saying is much better than this movie. And then it went to a host segment and I'm like, 'What is happening?' And that was it. I stayed."
It's unlikely, however, they could have imagined how long they'd be staying. But with the relaunch of Mystery Science Theater 3000 just over the horizon — Netflix will debut 14 new episodes on April 14th — Ray, Vaughn, and Yount have become a part of the history of the show that shaped them. They're also largely responsible for proving MST3K can make a funny, vital return, winning new fans and pleasing the old ones, nearly two decades after it aired its last episode. But, hey, no pressure, right?
Launching The Satellite
If they're nervous, they don't let it show, despite being longtime fans who can each recall stacking up VHS tapes of the show from cable airings. ("You would do the long style recording on it, so you could fit multiple episodes on one cassette," Yount recalls.) Ray points out that he, Yount, and Vaughn are close in age but come from a different parts of the U.S. MST3K gave them a common language: one rooted in mockery and powered by wit, with a broad range of cultural references and an assembly-line pace.
The original MST3K made a low-key debut on the Minneapolis station KTMA in 1988 but soon found a wider audience on as part of The Comedy Channel, a cable outfit that would later merge with its rival, HA!, to become Comedy Central. Quickly becoming a cable staple, MST3K was the sort of show that created obsessives rather than fans, even if many tended to find it by stumbling on it and wondering what they were watching.
Its premise was simple. Hodgson — then a veteran of the stand-up circuit whose dry wit and prop- and magic-based humor had won him admirers like Jerry Seinfeld and slots on Late Night With David Letterman and Saturday Night Live — played Joel Robinson, a janitor imprisoned on the Satellite Of Love and forced to watch bad movies by mad scientists (who came to be known as The Mads). As the theme song goes, he built some robot friends to escape the solitude: Cambot, Gypsy, Tom Servo, and Crow, the latter two serving as his movie-watching companions and partners-in-wisecrackery.
The show earned a devoted following and critical acclaim but that didn't stop Hodgson from walking away from it at the height of its fame, due to disagreements with producer Jim Mallon. He made his last appearance — apart from a late-run cameo — midway through the show's fifth season on October 23, 1993, at the end of an episode riffing on the scuzzy '70s cop movie Mitchell, which would doubtlessly have gone down as one of the series' most memorable even if it didn't end with Hodgson getting unexpectedly ejected into space (after leaving behind a plaque with a quote from the Tony Randall-starring fantasy film The 7 Faces of Dr. Lao). The show carried on without him, bringing in head writer Michael J. Nelson as a new host, releasing a theatrical film, and moving to what was then called the Sci-Fi Channel, which canceled it after 10 seasons in 1999.
But MST3K never really went away. The original show found a new audience via DVD releases and the internet. In 2006, Nelson and MST3K vets Bill Corbett and Kevin Murphy launched the likeminded RiffTrax. From 2007 to 2013, Hodgson and a different set of MST3K vets performed as the Cinematic Titanic, a movie-riffing venture that toured the country and released DVDs. But even if Hodgson and the others had abandoned watching and commenting on bad movies, MST3K's inspired, smart, fast-paced silliness would still loom as an inescapable influence on the comedy that followed. The rapid-fire references of everything from 30 Rock to The LEGO Batman Movie all exist in a world that MST3K helped create.

The Next Generation
For nearly two decades, however, it's been a world without MST3K itself, not that Hodgson has wanted it to be that way. "I was frustrated because I left the show and I never felt like I was satisfied. Also when the show got canceled, it was frustrating. Because I [thought], 'I don't know, does it have to stop? It's not very expensive and why would it stop?' And I kind of felt like maybe I could keep going. More than anything, I felt obliged to do a new iteration, just give it a little creative hug so it could keep moving into the future." Working with Shout! Factory, the production company that's been responsible for the show's home video releases for years, Hodgson now has control of the series after a period in which legal and logistical issues got in the way of comebacks.
"When we first started talking with Shout! Factory," he says, "I think the idea was, oh it's a reunion show. We will have Joel and Mike and all the different Mads and all the guys who put… You know we'll have Josh [Weinstein] as Servo and Kevin [Murphy] as Servo and the two Crows [Trace Beaulieu and Bill Corbett] and it became a logistical headache. I remember doing a graphic with a parallel universe where there's a Satellite of Love in one universe and there's another Satellite of Love in another universe and that was how I was trying to figure out, how do we do this? How do we arrange two seasons with two completely different casts? And once I spent enough time with it, I realized it was impractical. Trace and I wrote like six pages, to try to justify how it all worked and it just was really hard.
"After that I just felt like, 'Why am I doing this?' We've had two iterations of the cast, let's have a third one and then people can come back and visit, you know and do their characters and have cameos. So, that's what I've been thinking about for the last seven years. It should be a new cast."
The first cast of MST3K came together out of the Minneapolis comedy scene of the late '80s and early '90s and evolved through turnover. But starting over in 2016 meant, well, starting over. Enter: Ray, Yount, and Vaughn. But first, Ray. "All I cued off was Jonah," Hodgson says. "All I did was say, 'Jonah's the guy who could occupy that space really well.'" Ray has never made a secret of his fandom. His two comedy albums, This Crazy Mixed-Up Plumbing and Hello, Mr. Magic Plane Person, Hello, both take their titles from Mystery Science Theater 3000: The Movie.
So maybe it's not a surprise that Hodgson's level of trust extended to letting him choose his own robot friends. "I knew it would be wrong for me to cast Jonah then [find] some strangers and go, 'Okay I've got a guy who's gonna be a really good Crow, you gotta trust me on this,'" Hodgson says. "You can't make up for a friendship for chemistry, you can't create that. For me to cast that would have been wrong."
"I love the joyous nihilism and craziness of Crow," Ray says. "He's this guy who's laughing, saying who wants to decide who lives and who dies? And Hampton's comedy style and his mania made me think of him immediately." "Thank you so much!" Yount interjects. As for Tom Servo, Ray knew he needed "a guy who's theatrically trained in Shakespeare and I thought about Baron Vaughn, immediately. [When I was] talking about acting as an art form, Baron was always one of those guys I would talk to about that stuff. And he sings… even when you don't want him to."
"Everyone always wants me to sing," Vaughn adds. "The problem with me singing is that it makes everyone see that they can't." (This, as he'll prove later that night, is true.)
Where the original MST3K brought together up-and-coming Twin Cities comedy talent of a certain time and place, the same can be said of the new version and 2017 Los Angeles. Ray, Yount, and Vaughn have all been around, working steadily for a while without becoming household names. Ray's credits go back to MTV2 staple The Andy Milonakis Show and stretch to the present, including Comedy Central's The Meltdown With Jonah And Kumail, which Ray co-hosts with Kumail Nanjiani, and the Seeso travel parody series Hidden America With Jonah Ray. Vaughn appeared on Grace and Frankie and Fairly Legal and has a documentary series called Fatherless, in which he searches for the father he's never met, debuting on Fusion on April 2. Yount, like the others, has stayed busy as a stand-up while writing for The Meltdown, The Eric Andre Show and other projects. Where the previous cast had profiles largely limited to the show itself, the new cast all follow the model of 21st century funny people, dividing their time between acting, stand-up, podcasts, and other projects.
All three are quite funny, which probably goes without saying. But part of what made MST3K work in the past is the diverse array of humor in each episode, as brought to the show by a writing staff that also included the cast. A reference to, say, a Mr. Clean commercial could be followed by a joke about Nietzsche followed by an easy, funny joke about an actor's resemblance to Santa Claus. So what does each new cast member bring to the show?
"I know comic books mostly," Yount says with a laugh, "and movies a bit and pop culture, I guess." Vaughn, Ray notes, "would always throw in a lot of theater references." No reference, if funny, was deemed off limits, even if not everyone would get it. "There's enough variety so if you don't like what comes, like what joke, you don't like …" Hodgson trails off. "Just wait five minutes," Yount interjects. "Or five seconds." And per Yount, the most obscure reference — something involving an old ad for a New Jersey summer camp — came from head writer Elliot Kalan, formerly the head writer of The Daily Show With Jon Stewart and familiar to podcast listeners as one third of the bad movie podcast The Flop House. (Full disclosure: Kalan is a friendly acquaintance of this writer.) "We had no say against him," Ray says. "He's a real hardass, that Elliot Kalan."
Vaughn notes that the writing process doesn't really depend on any of them being specialists and that's partly because of MST3K itself. "We're all people who grew up watching the show," Vaughn says, "and the show has so many references, so I feel like it influenced us to always take in references and to infuse our comedy with that kind of thing." In other words, the old MST3K helped make the new MST3K possible by educating the generation of comics who would someday inherit it.
"These guys, they'd absorb everything we had and then everything since," Hodgson says. "So it's really amazing." "Especially," Ray replies, "since it's harder for us, because we have to know so much more than you. The library was bigger when we walked in."

Reestablishing Orbit
Hodgson's long-in-the-works plans became public knowledge in November 2015 with the unveiling of the "Bring Back Mystery Science Theater 3000" Kickstarter page. The response was overwhelmingly positive, with more than 48,000 backers pledging more than $5.7 million to help. A slow roll-out of information about the revival became part of the campaign, including the casting of actress Felicia Day as the new Mad, Kinga Forrester (daughter of original Mad, Clayton Forrester, played by Beaulieu), and Patton Oswalt as her sidekick, TV's Son of TV's Frank, the son of a character originated by Frank Conniff.* Future updates included the announcement of guest writers ranging from Community creator Dan Harmon to fantasy author Patrick Rothfuss.
[*] Beaulieu and Conniff currently have their own movie-riffing live show, The Mads Are Back. It's unclear if they will cameo on the new show at any point in the future, but former cast members Corbett, Murphy, and Mary Jo Pehl will be cameoing. "Seeing them do their old characters and be so sharp and so good at it, that was so fun on set that day," Ray says.]
All of which has helped create a further sense of investment, and ownership, amongst an already possessive fandom known as MSTies. But if the MSTies heading into the Kickstarter backers-only screening at Chicago's Music Box Theatre on February 16, had any apprehension, it didn't show. For a fandom famous being riven into Joel and Mike factions and other schisms, it's no small thing to welcome an entirely new cast. But as Hodgson took the stage to introduce the newcomers, prefacing his introduction with a comparison to The Beatles throwing everyone for a loop when the group moved onto a new phase with Sgt. Pepper's Lonely Hearts Club Band, everyone in attendance seemed open to Ray, Yount, and Vaughn and an entirely new incarnation of MST3K.
That what they saw next wasn't, in the best sense, entirely new probably helped. The new MST3K, based on the premiere episode screened that night, is less a radical, Sgt. Pepper's like departure than an a new upgrade on a beloved formula. There's only so much we're allowed to say about the first episode at this point, with even the movie being riffed being treated as an NDA-protected secret. (Though the title does appear in a recently released trailer.) So let's just say this: It's very good. And it's very much a new episode of MST3K, down to the single-camera approach and handmade aesthetic.
After a short, stuffed, funny segment explaining how Ray's Jonah Heston becomes the new inhabitant of the Satellite of Love, the movie-riffing begins and I can't be the only longtime admirer who let out a sigh of relief when the first joke worked. And the one after that. And the one after that. And on and on. The host segments are winning, too. About halfway through the episode there's an extremely tricky, verbally dextrous bit that should cement Ray and the others as belonging on the Satellite for any doubters. When the evening closed and Hodgson took the stage again with the new cast, it was clear the new MST3K had won over at least one theater full of fans. Whether or not it will work on Netflix and find its own place in a comedy landscape it helped create, we'll find out mid-April.
As for its impact on the future, we might have to wait longer. But, one generation in, the hidden design feature of MST3K seems to be the show's ability to create its own replacements by shaping their sense of humor and expanding their frame of reference, one joke at a time. It doesn't seem out of the question that Ray and the others could someday be turning over the keys to the Satellite of Love to fans who may not remember exactly when they first saw some guy watching bad movies with robots but know that they were never quite the same after that moment.