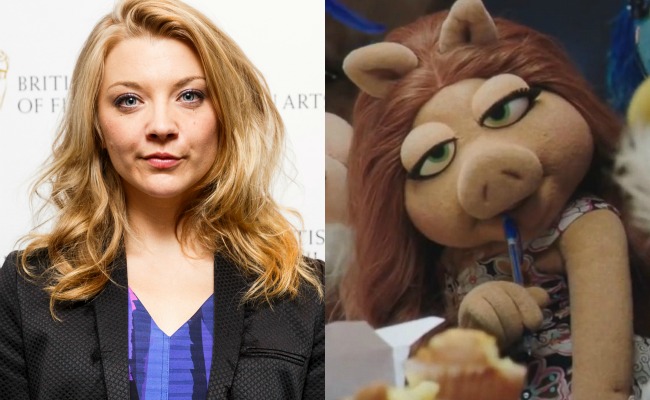 When The Muppets promos came out, people were quick to point out comparisons between Denise, Kermit's new pig side piece, and Game Of Thrones star Natalie Dormer. As beloved as those little felt weirdos are, it isn't exactly a flattering comparison. However, Dormer takes it all in stride, completely owning it when questioned about her porcine doppleganger at a panel at NYCC, Entertainment Weekly reports.
"There's a scene in season 3 where I'm walking on all the cliffs with Sansa, and I'm telling her how I was teased as a young girl for my nose. I asked in a dinner with David [Benioff] and Dan [Weiss], 'Please, can you put in a line about a pig nose?' I was bullied at school, I used to get told I had pig nostrils. I said for my own demons, it would be sticking two middle fingers up to the bullies of my childhood. If you watch the DVDs, you'll see me oinking backstage. When I saw that Kermit had a new girlfriend, I thought I might be responsible for that. I brought up the pig subject myself."
Dormer and costars Finn Jones and Keisha Castle-Hughes obviously couldn't share any details without being taken out by HBO hired hitmen, but Jones shared a speculation about the coming seasons that many viewers probably share.
"I think there will be a huge battle between ice and fire," Jones said, designating the possible sides as Daenerys' dragons and the White Walkers. "I think ice and fire will completely destroy themselves in this great war, destroy all of Westeros, and I think a lot of people will die. Out of the ashes will come the people who will make Westeros anew. Maybe Bran, Hodor, Brienne, Tyrion."
Until we see more from Westeros, we'll just have to content ourselves with watching Denise go up against the one true queen, Miss Piggy, on The Muppets. It's almost the same, right?
(Via Entertainment Weekly and  A.V. Club)