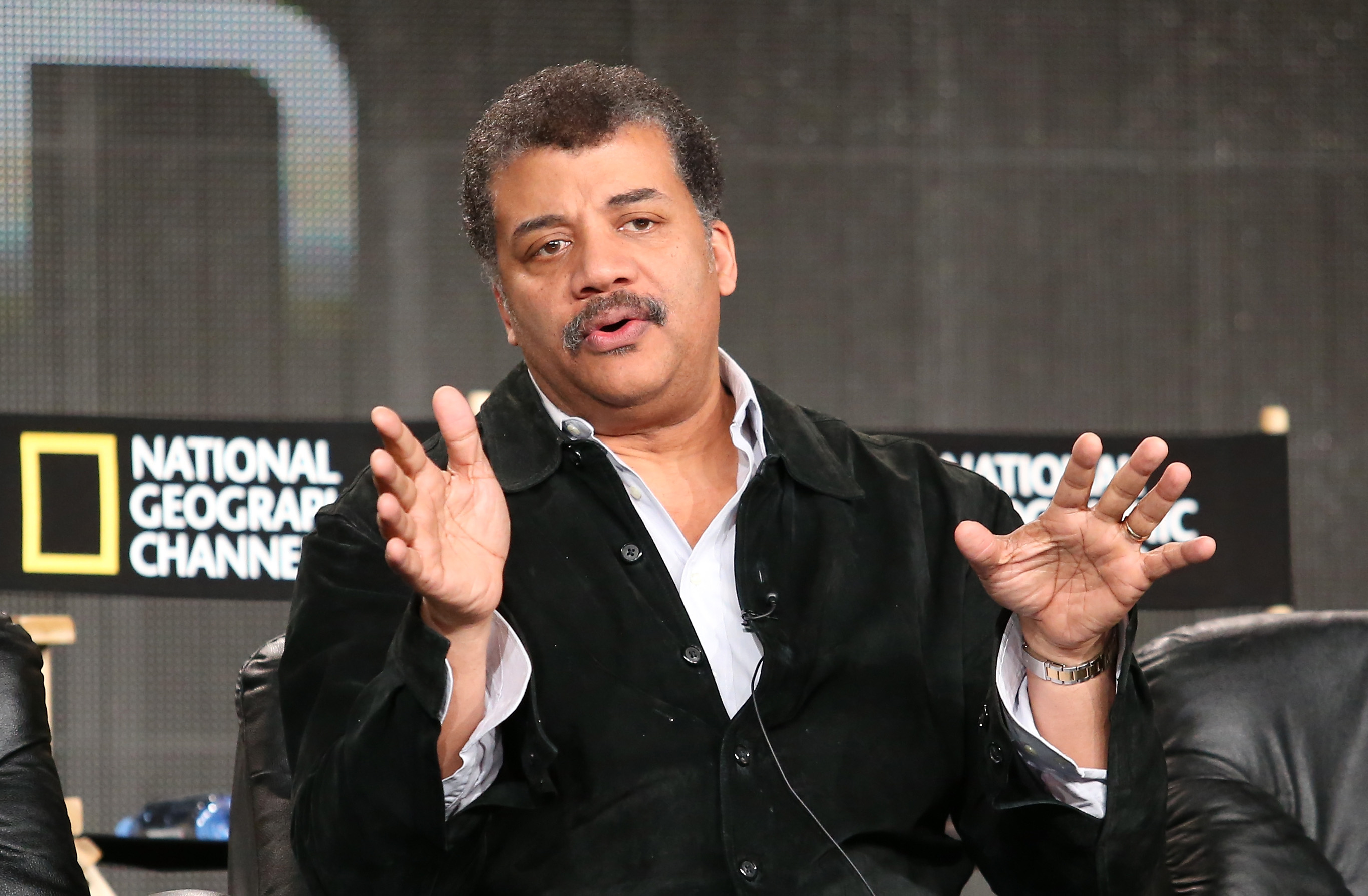 On Friday, astrophysicist and television star Neil deGrasse Tyson was accused by three women of sexual misconduct. In light of the accusations, his employers at Fox and National Geographic — the former who originally aired his show Cosmos in 2014 and the latter are set to air its forthcoming sequel, Cosmos: Possible Worlds, in the spring — announced they were opening an investigation. Cosmos' producers were doing the same.
Today, Tyson made a public statement, which was posted on his Facebook page. One of his accusers, Tchiya Amet, alleges he drugged and raped her while they were grad students at the University of Texas. Another, Katelyn Alkers, claims he groped her at a party in 2009. The third, Ashley Watson, said he made unwanted advances to her while she was his assistant, leading to her losing her job.
In the statement, Tyson opened by stating that "evidence matters," but said the accusations in these three cases are tricky. "[W]hat happens when it's just one person's word against another's, and the stories don't agree? That's when people tend to pass judgment on who is more credible than whom," Tyson wrote. "And that's when an impartial investigation can best serve the truth — and would have my full cooperation to do so."
Tyson then broke down the three accusations, offering his side of the stories. He said the "2009 Incident" happened when a woman showed off a tattoo of the solar system on her arm. The "Summer 2018" incident was explained away as a misunderstanding between colleagues. The most serious of his accusations, his "Early 1980s" accusation, was answered in much greater detail.
More than thirty years later, as my visibility-level took another jump, I read a freshly posted blog accusing me of drugging and raping a woman I did not recognize by either photo or name. Turned out to be the same person who I dated briefly in graduate school. She had changed her name and lived an entire life, married with children, before this accusation.

For me, what was most significant, was that in this new life, long after dropping out of astrophysics graduate school, she was posting videos of colored tuning forks endowed with vibrational therapeutic energy that she channels from the orbiting planets. As a scientist, I found this odd. Meanwhile, according to her blog posts, the drug and rape allegation comes from an assumption of what happened to her during a night that she cannot remember. It is as though a false memory had been implanted, which, because it never actually happened, had to be remembered as an evening she doesn't remember. Nor does she remember waking up the next morning and going to the office. I kept a record of everything she posted, in case her stories morphed over time. So this is sad, which, for me, defies explanation.
DeGrasse Tyson was frank in his conclusion: He's being accused, it needs to be taken seriously and he can only really be cleared if the investigation that's been launched shows he didn't do anything wrong.
"I'm the accused, so why believe anything I say? Why believe me at all?" he asked. "That brings us back to the value of an independent investigation, which FOX/NatGeo (the networks on which Cosmos and StarTalk air) announced that they will conduct. I welcome this."
It sounds like Tyson is willing to let the companies he works for decide what happens to his public reputation moving forward, but that doesn't make the accusations any less disturbing.
(Via Deadline)