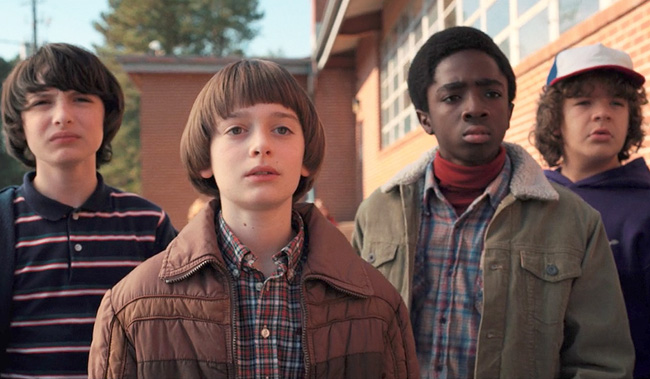 If you were hoping for another Halloween Stranger Things fix this year, you're going to be disappointed. Season three of the series has been delayed until Summer 2019 according to Netflix's Vice President of Original Programming Cindy Holland at the streaming giant's TCA presentation on Sunday. Holland did say the season would be worth the wait according to SyFy Wire:
"It's a handcrafted show," said Holland. "They understand the stakes are high and they want to deliver something bigger and better than last year."
Netflix also confirmed premiere dates for a few shows and introduced a few others that we haven't seen yet. Jonah Hill and Emma Stone will reunite for Maniac on September 21, with True Detective talent Cary Fukunaga behind the camera. And taking over for Stranger Things will be Kiernan Shipka's Sabrina premiering on October 26, just in time for all those creepy binge sessions you'll be trying to have.
Elsewhere, Netflix introduced Octavia Spencer in Madam C.J. Walker, executive produced by Spencer and LeBron James. According to The AV Club, it is poised to be one of the more eye-catching series they've produced:
Based on A'Lelia Bundles' book On Her Own Ground, the show will tell the "highly irreverent" story of hair-care mogul C.J. Walker and how she became the first black woman in America to be a self-made millionaire.
They also introduced White Lines, "a mystery series about a woman investigating the mysterious death of her brother, a famous DJ who disappeared twenty years ago, and it will involve the 'thrilling world of dance music, super yachts, lies, and cover-ups'" according to The AV Club, and a pair of cooking shows in the quirky Curious Creations Of Christine McConnell and the more straight-forward Salt, Fat, Acid, Heat.
Netflix also released trailers for the upcoming seasons of Ozark and the animated adaptation of Castlevania. It'll be interesting to see if Ozark can muster up some better support from critics in its sophomore attempt.
(Via The AV Club / SyFy Wire)