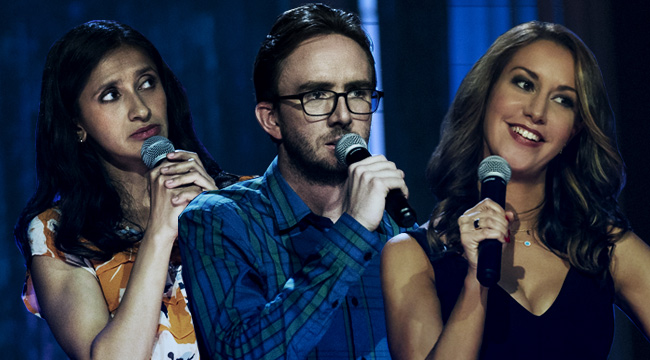 Netflix divides its more than 93 million worldwide subscribers into what it calls "taste communities" instead of socioeconomic, age-based demographics. Even so, statistics accrued by third parties indicate that the streaming giant's biggest bases are on the younger side. And while critics and experts can argue all day about what any of this means for their plans to release 700 original films and shows in 2018 alone, it's readily obvious that a sizable chunk of it is comedic. From its seemingly constant stream of comedy specials and micro-specials to late night-style talk shows, Netflix and its users just can't get enough of stand-up.
Enter the second season of The Standups, which is now available to stream on the platform. On the heels of last summer's first entry — which featured half-hour sets from Deon Cole, Nikki Glaser, Dan Soder, Fortune Feimster, Beth Stelling, and Nate Bargatze — the show's sophomore run includes new routines from Rachel Feinstein, Kyle Kinane, Joe List, Brent Morin, Aparna Nancherla, and Gina Yashere. We spoke with four of the featured comedians about their turn on The Standups, but considering the program's designed binge-worthiness and the aforementioned youngness of Netflix subscribers, Feinstein seems to have cracked the code.
"We all want Netflix. We all want to work with them now because that's where everybody's watching comedy," she explains. "People aren't watching TV in that elderly way anymore, on Friday nights at 8:00 when everyone sits down together. That doesn't really happen anymore. It's probably the way my parents, Karen and Howie do it. They're not going to understand how to find this special. I don't think they even have Netflix. We're trying to explain it to them, but it's a lot of long-winded, confusing conversations. Then again, they still think they can't both have their own Facebook profiles. They share one."
Sure, Feinstein's making a big assumption here on behalf of her parents and all other older TV viewers, but the known numbers don't lie. The fact that a second season of the The Standups even exists is a testament to this, as Netflix wouldn't have greenlit another batch of half-hour comedy specials if the first season hadn't proven successful. Aside from crunching its closely-guarded viewership numbers, however, the streamer also has former Just For Laughs Comedy Festival programming wizard Robbie Praw to thank for the show's success. He roped in many of the first season's comedians, and he did the same for the second go-round.
"Robbie Praw got me started at Just for Laughs when he was running that. He was a big instrument in getting me a career and getting me out of the production assistant game," says Morin. "Then he moved over to Netflix and he was the motherfucker who called me and was like, 'Listen, Brent. I know your ego's gonna step in the way about this.' I was like, 'Robbie, I already said yes. I wanna do The Standups.' He was calling me too, trying to convince me. I was like, 'Robbie, I wanna do this. I need to get rid of this shit.' My stand-up is therapy with laughs, so I need to fucking not think about certain things. I need to just get it out."
Praw, who asked fellow comedian and friend Nikki Glaser to do the first season at the taping for Amy Schumer's Leather Special, brought Feinstein on with the help of Netflix Director of Original Standup Comedy Programming JoAnn Grigioni. "She booked me with my first Comedy Central special, then moved over to Netflix. Between her and Robbie, I've had some longtime friends in the business and I'm just excited that they're at Netflix now." As for Nancherla and List, the Just For Laughs alum recruited them at various stages of the show's production — and their's.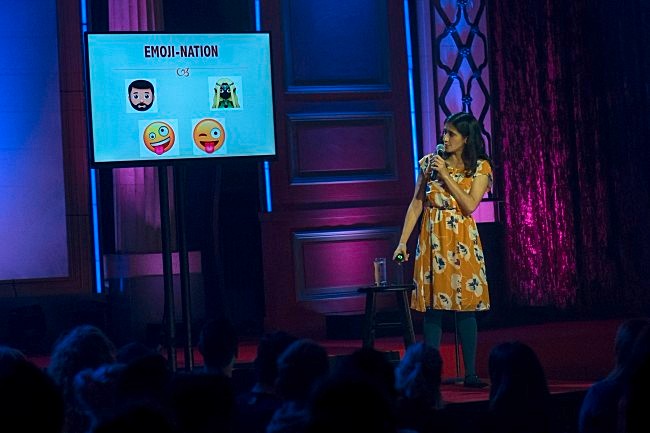 "I think I had actually been in consideration the first time around, but I was still working on material so I was like, 'I think I'll just wait,'" Nancherla explains. "This time around they came to me again and I felt I was in a better place to do it. I had better idea of what I wanted to do, so it kind of happened naturally. Robbie was great in reaching out. I saw him the day of, but he was kind of running around. I think he's very good at being aware of who's out there and who's doing what, and I think he has a good vision. It's a good balance in terms of the different styles and personalities we all have."
List is more jokey about his involvement. "I've known Robbie for years. Since I was like 20 years old, so hopefully he likes me," he says. "I don't actually completely know how I got into season two. I've known some of the folks at Netflix for a long time. These individuals have been in comedy for a while, and now that they're at Netflix, they're getting into it too. Although I think they also talked to my friend Michelle Wolf, who's getting a late night show with them, who would be good for this year. Michelle said my name, which probably helped my case quite a bit."
Having watched all six episodes of The Standups' second season, it's easy to see what Praw and company saw in this talented group. Aside from being funny and knowing how to handle the audience at the show, these comics also know how to reel in the viewers at home. Whether it's Nancherla's adept use of a PowerPoint presentation, Morin's seemingly unending "shitty prince" story, or Feinstein's character work, all of these comedians know how to keep everyone's eyeballs and ears trained on them. Of course, the live show is going to be nothing like the one experienced at home by Netflix subscribers, but this group knows how to make this distinction work in their favor.
"It's always weird," List explains. "Doing TV is never, ever as good as I feel like you want it to be. Just comedy in general. Every special you've ever watched — just imagine that comic is a hundred times better then. Even Chris Rock's Bring the Pain, which is the best special ever, is much better live. A thousand times better. It's so hard to make it perfect on TV, off of a camera in a production, because you're not really part of the crowd. You're kind of watching the crowd watch a show, but you're not part of that crowd, so it's hard to really capture it. You're always worried about that reception. Though with this, we shot two a night, which is nice because it gives you a sort of second crack at it, and the second time around you feel a little more relaxed because you've already done it once."
Then again, if a considerable chunk of the act requires the use of a screen, a computer, and a prepared PowerPoint presentation, you might need some assistance in conveying everything you want to say to the live audience and the viewers at home. Thankfully, Netflix was more than willing to help Nancherla out with her comedic efforts. "They were definitely trying to help me figure out the best way to do that in that space, and I think we kind of played around with it the day of the taping. I really wanted to know what would work best presentation-wise," she recalls. "But yeah, they were definitely open to doing something a little different than just a plain mic and stool like most comics would use."
Among other things, one of the most powerful aspects of The Standups as a bingeable series is its ability to accommodate the comedy or streaming tastes of its potential watchers. The comedy stylings of Feinstein, Nancherla, Yashere, Morin, List, and Kinane are almost nothing alike, thereby gifting anyone who decides to watch all or most of season two's episodes with a variety of offerings. At the same time, both the show and Netflix go out of their way to make sure everyone is having a good time — even Feinstein's fireman fiancé, who attended the Los Angeles taping with her.
"He just wandered over to the producer as he was shooting us walking into the theater and he was like, 'Wait, you shouldn't have them do that because they already did their specials and they're going to feel nervous. You should just let them be done now, right?'" she laughs. "I was like, 'They're not going to change the entire production because some random fireman walks up and taps a producer on the shoulder in the middle of an active shoot.' I'm like, 'Babe, you can't do that. They're shooting.' The nice thing about firemen is that all I had to say to the producer was, 'I'm sorry, he doesn't get this world. He's a fireman." They're were immediately offering excuses for him and saying, 'Thank you for your service.'"
The second season of The Standups is now streaming on Netflix.