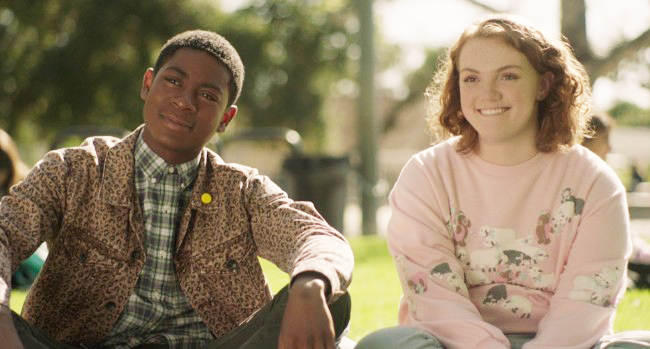 We hope you have some room left in your queue because Netflix is adding a ton of new films and shows this September. There's Marvel's Black Panther, a cinematic triumph from Ryan Coogler and company that completely changed the superhero genre earlier this year. There's another notch in Netflix's rom-com belt with Sierra Burgess is a Loser and the second season of Marvel's Iron Fist, which manages to improve on the show's first go 'round. It can be tough to keep up with what needs to be binged at the moment. That's why we're bringing you a round-up of what's new to Netflix and what's departing this week of September 7th.
Marvel Studios' Black Panther (film streaming September 4th)
Ryan Coogler's superhero flick revolutionized the Marvel Universe when it landed earlier this year, so it's only right that we're given the option to watch it over and over again this month. The film gives us a fully-realized, otherworldly Wakanda as it follows the trials and tribulations of a newly-minted king, T'Challa (Chadwick Boseman). While trying to govern his people and embrace is Black Panther alter-ego, he's also got to fight off a would-be usurper in Michael B. Jordan's Erik Killmonger, who may just be the best villain the franchise has ever seen.
Sierra Burgess Is A Loser (film streaming September 7th)
Netflix is doubling-down on its rom-com lineup with a new teen romance starring Shannon Purser (Barb from Stranger Things) and the Internet's new boyfriend, Noah Centineo (Peter Kavinsky from To All The Boys I've Loved Before). The film is heavy on '80s nostalgia and Pretty in Pink references, but it's Purser's character, a young teen who sparks up an online romance with a popular boy at school by pretending to be someone she's not, that makes this really worth a watch.
Marvel's Iron Fist (series streaming September 7th)
Iron First season two appears to be an improvement over the first season, but that's still not saying much. As capable as the supporting cast is, privileged "hero" Danny Rand (Finn Jones) is still selling some clunky dialogue and a bloated storyline. But hey, the fight scenes have gotten better, so that's something.
Here's a full list of what's been added in the last week:
Avail. 9/1/18
10,000 B.C.
Another Cinderella Story
Assassins
August Rush
Bruce Almighty
Delirium
Fair Game
Groundhog Day
King Kong
La Catedral del Mar (NETFLIX ORIGINAL)
Martian Child
Monkey Twins (NETFLIX ORIGINAL)
Mr. Sunshine (NETFLIX ORIGINAL)
Nacho Libre
Pearl Harbor
Scarface
Sisters (NETFLIX ORIGINAL)
Spider-Man 3
Stephanie
Summer Catch
Sydney White
The Ant Bully
The Breakfast Club
The Cider House Rules
The Hitchhiker's Guide to the Galaxy
The Keeping Hour
The River Wild
The Texas Chainsaw Massacre: The Beginning
Two Weeks Notice
Unforgiven
Avail. 9/2/18
Disney's Lilo & Stitch
Disney's The Emperor's New Groove
Maynard
Quantico: Season 3
Avail. 9/3/18
A Taiwanese Tale of Two Cities (NETFLIX ORIGINAL)
Avail. 9/4/18
Marvel Studios' Black Panther
Avail. 9/5/18
Van Helsing: Season 2
Wentworth: Season 6
Avail. 9/6/18
Once Upon a Time: Season 7
Avail. 9/7/18
Atypical: Season 2 (NETFLIX ORIGINAL)
Cable Girls: Season 3 (NETFLIX ORIGINAL)
City of Joy (NETFLIX ORIGINAL)
First and Last (NETFLIX ORIGINAL)
Marvel's Iron Fist: Season 2 (NETFLIX ORIGINAL)
Next Gen (NETFLIX FILM)
Sierra Burgess Is A Loser (NETFLIX FILM)
Stretch Armstrong & the Flex Fighters: Season 2 (NETFLIX ORIGINAL)
The Most Assassinated Woman in the World (NETFLIX FILM)
And here's what's leaving next week, so it's your last chance:
Leaving 9/11/18:
Rules of Engagement: Seasons 1 – 7
Leaving 9/14/18:
Disney's Pete's Dragon