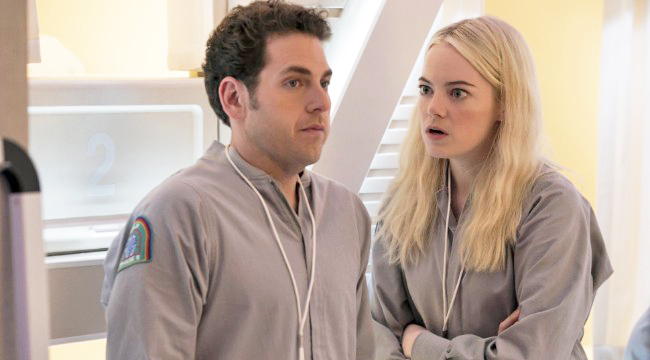 September is upon us. Sure, a natural disaster is ravaging the East Coast and we've had to withstand a visual description of our president's (allegedly) Toad-like genitalia, but things could be worse. We could've had to endure all of this without the promise of some new binge-worthy material from Netflix, like Cary Fukunaga's limited series starring Jonah Hill and Emma Stone, or a buddy comedy with Josh Groban and Tony Danza. Really guys, there are things to be thankful for this week.
Of course, it can be hard to nail down all the new titles coming to Netflix, which is why we're bringing you a round-up of what's new and what's departing this week of September 21st.
Maniac (limited series streaming 9/21)
Cary Fukunaga's limited series starring A-listers like Emma Stone, Jonah Hill, and Justin Theroux, drops this week. From the skimpy teasers and we've been treated, to it looks like Stone and Hill are voluntarily being experimented on using some questionable methods that force them to live out alternate realities. Yeah, we got a headache just typing that but really, who doesn't enjoy a batsh*t crazy series that keeps you guessing until the very end? There's a bit of romance, some sci-fi, and even a Lord of the Rings nod in this one — so really, it's an insane rollercoaster the whole family can enjoy.
The Good Cop (series streaming 9/21)
Josh Groban and Tony Danza star in this buddy cop comedy that sports some real Monk vibes. Groban is a stickler for the rules, Danza is his dad, a disgraced officer with a wonky moral compass. The two sole a new mystery every episode, proving Netflix is determined to steal the bread and butter of every CBS/Fox network TV channel.
American Horror Story: Cult (series streaming 9/18)
One show the kids (and really anyone depressed over the current state of our nation) shouldn't watch is the latest season of American Horror Story. Cult is Ryan Murphy's most relevant, and admittedly terrifying, installment of his horror anthology so far. It's got Evan Peters playing the far-right psycho in charge of his own small-town uprising, Sarah Paulson as a gay mom shocked that Trump even became president, and a host of other Murphy faves chewing up screen-time in between.
Here's a full list of what's been added in the last week:
Avail. 9/15/18
Inside The Freemasons: Season 1
Avail. 9/16/18
Role Models
Scott Pilgrim vs. the World
Avail. 9/17/18
The Witch
Avail. 9/18/18
American Horror Story: Cult
D.L. Hughley: Contrarian (NETFLIX ORIGINAL)
Avail. 9/21/18
Battlefish (NETFLIX ORIGINAL)
DRAGON PILOT: Hisone & Masotan (NETFLIX ORIGINAL)
Hilda (NETFLIX ORIGINAL)
Maniac: Limited Series (NETFLIX ORIGINAL)
Nappily Ever After (NETFLIX FILM)
Quincy (NETFLIX ORIGINAL)
The Good Cop (NETFLIX ORIGINAL)
And here's what's leaving next week, so it's your last chance:
Leaving 9/24/18:
Iris
Leaving 9/28/18:
The Imitation Game