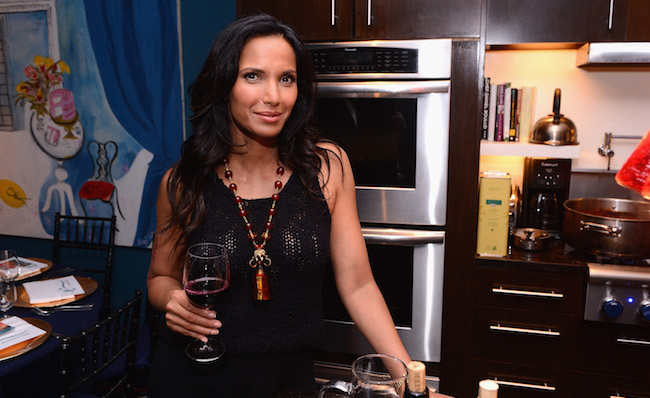 When disgraced comedian Louis C.K. made the first of many surprise appearances at New York's Comedy Cellar in late August, critics and his fellow comedians weren't the only people to respond with ire. Celebrity chef and television host Padma Lakshmi responded to the news with a tweet that, taking its cue from Kathy Griffin, listed several female, nonwhite and LGBTQ comedians "who are actually funny" and deserving of attention. As Vulture later reported, this led to a comedy show and fundraiser that highlighted these artists.
Many are already drawing attention to the harsh words ("f*ck Louis C.K.") that Lakshmi used to open the show, but it's what she said after that stands out. "If it wasn't for my ire about what happened, I would've never had this show tonight," she told the crowd:
"The thing that annoyed me most about [Louis C.K.'s] particular case was that he tried to stifle and bury the careers of various female comedians who called him out on his shit," Lakshmi continued. "And it's just like, it's so hard as a woman, as an actor, as a director, as a comedian, as a writer, to even get noticed. And then to have the courage and bravery to speak the truth, and be slapped down and punished for it in such a cruel way, really spoke to me."
Calling herself a "comedy groupie" in a subsequent interview with Vulture, Lakshmi said that while she believes there's a path to redemption, Louis and other "very talented men who are also predatory and abuse their power… haven't really demonstrated any remorse or deeper understanding about what they did." They've demonstrated no "empathy for the people they did it to," she added, "and therein lies the problem."
Many of the comedians Lakshmi highlighted in her original tweet, as well as several others, were featured in her comedy show. So too was Chris Rock, a friend of hers who just so happens to be friends with Louis, too. "I didn't want to put that pressure on our friendship," she explained. "I just said, 'Look, this is going on next week, and if you can just support me by being in the room, that would be phenomenal.'" Not only did Rock show up to support the show, but he also performed at it.
(Via Vulture)