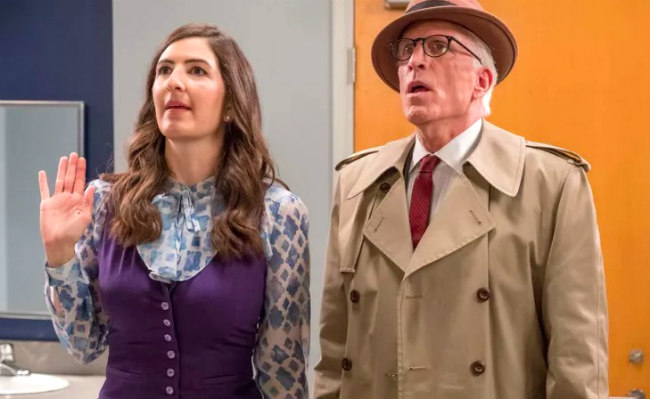 Do Parks and Recreation and The Good Place take place in the same universe? They both hail from the same "tremendous" creator, Michael Schur, and in one episode of the Kristen Bell-starring sitcom, Eleanor is reading the latest issue of Celebrity Baby Plastic Surgery Disasters, featuring an ad for Jean-Ralphio's champagne ("Turn that frizown upsidizity"). There are numerous other Parks-inspired Easter eggs, too (including shoutouts to Bjorn Lerpiss and Dennis Feinstein's Glyde), but Schur says he's not creating his own MCU.
"It's fun to do — and because sometimes you need a magazine ad on the back of a magazine, and it's easier to come up with a fake product and put it in there than it is to clear a real product. I don't think we're really trying to say that at some point anyone's going to be walking down the street and run into Ron Swanson," he explained to EW. "But Parks and Rec had an intense fan base, and we always tried to lay in fun Easter eggs in Parks and Rec for various people, for people who were fans of sabermetric baseball statistics, so [this] is along the same lines. These are little things we like to lay in just for people to enjoy — and to find on a little Easter egg hunt. It's 99 percent for that reason."
Schur also teased that in last night's Good Place, a "number of objects appear at a certain moment, and buried within that pile of objects, there are a couple Easter eggs. In fact, one of them is another Parks and Rec Easter egg." Make that an Easter egg… deep-friend… piled on top of a triple bacon cheeseburger.
Take a look at Janet's pile at the end of the episode.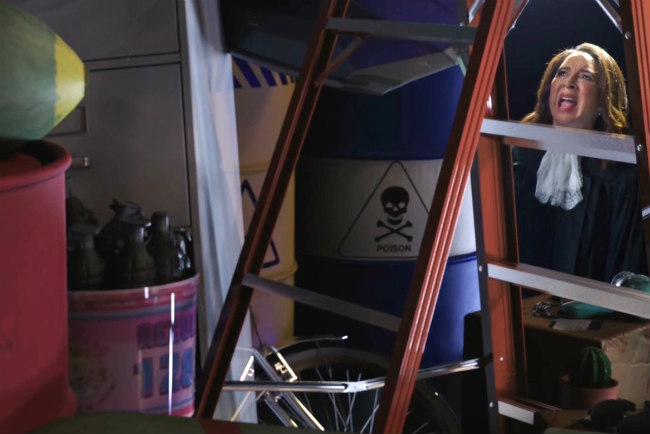 In the bottom left, you'll see a cup from Paunch Burger, the fictional fast food chain from Parks and Rec. They come in four sizes: the Lil' Swallow, small (64 ounces), regular (128 ounces), and child size (which is "roughly the size of a two-year-old child, if the child were liquified"). It appears that while Janet was on Earth, where human spends their lives "just waiting for things to be over," she tried to conjure up a regular-sized cup, along with a "Trevor Stinks" billboard.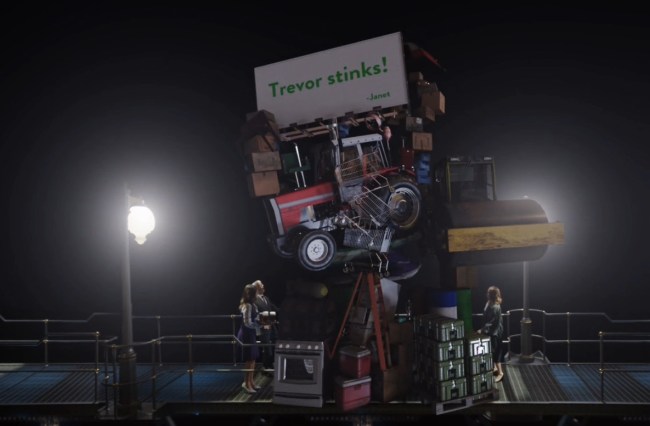 Bell (who also appeared on Parks as Eagleton councilwoman Ingrid de Forest) shared the episode's other nod to Pawnee's favorite restaurant. If you click through, you'll find the menu for Cowboy Skyscraper Buffet, which includes the Paunch Burger. It's "three meat patties, six slices of cheese, lettuce, tomato, onion, pickle covered in our world famous bourbon brown sugar thousand island sauce and topped with a fried egg. The pride of Indiana recreated for you."
Ron Swanson is drooling.
(Via Entertainment Weekly)