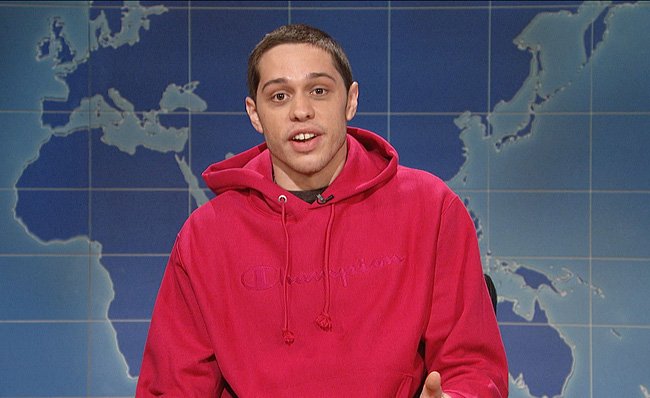 Chevy Chase did little to repair his reputation last week by blasting Saturday Night Live in an interview with the Washington Post — the very sketch comedy series that catapulted him to super stardom in the '70s. In the candid piece, Chase repeatedly took shots at his longtime friend and former boss Lorne Michaels and made pointed remarks about several veteran cast members including "just not funny" Will Ferrell.
That means a whole generation of sh-theads laughs at the worst f-cking humor in the world," he said, in one particularly heated rant about the show. "You know what I mean? How could you dare give that generation worse sh-t than they already have in their lives? It just drives me nuts."
Chase is already taking a lot of flack for his remarks, and on Monday morning current cast member Pete Davidson sat down with Howard Stern (mostly to dish about his whirlwind engagement to Ariana Grande) and the 24-year-old comic likewise did not mince words.
"He's a f—king douchebag," Davidson muttered. "F—k Chevy Chase … he's just a genuinely bad, racist person and I don't like him. He's a putz."

"What has he done since '83? Nothing," he added. "He had a big career and then it stopped because everybody realized he's a jerkoff. He should know more than anybody. It's disrespectful to Lorne [Michaels] too, a guy who gave you a career. No matter how big you get, you can't forget what that guy did for you."
That's not entirely true. Chase starred in the critically acclaimed sitcom Community from 2009 to 2012 … until he departed "by mutual agreement between the actor and network" which is kind of the polite way of saying "everybody realized he's a jerkoff."
For his sake, since Chase seems perpetually stuck in the '70s and '80s, it's likely that he has no idea who Pete Davidson is and will never hear of the remarks. And that's a shame.
(Via Page Six)