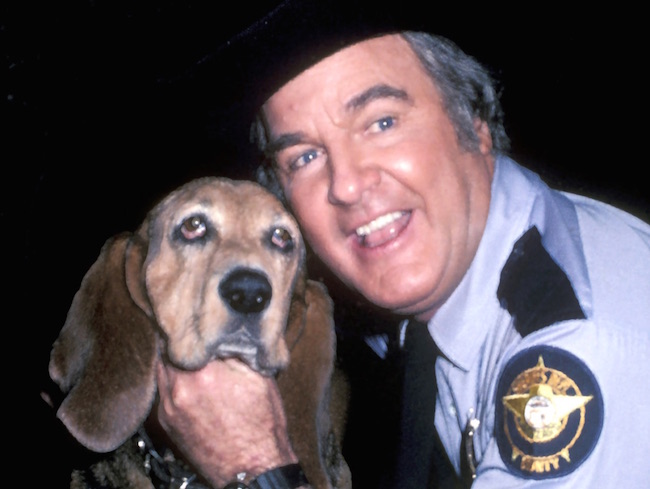 If, when I was 7 years old, I was asked to make a list of my favorite fictional characters, it would have looked something like:
Han Solo
Jack Tripper
Rosco P. Coltrane
To be fair, since then, I'm not certain this list as changed that much. (In college, I somehow wound up playing both Jack Tripper and Rosco P. Coltrane in an auditorium in front of 1,200 people, which is an odd thing to now see in writing.) Granted, as an adult, I do not watch reruns of The Dukes of Hazzard and can't remember the last time I've seen an episode. (Those recent AutoTrader commercial starring John Schneider and Tom Wopat do not count.) The Dukes of Hazzard is a prime example of something that can really only appeal to a seven-year-old or an actual moonshine smuggler. (I cannot stress enough how big The Dukes of Hazzard was in my elementary school; at recess, when we weren't playing Star Wars, we were playing The Dukes of Hazzard.)
In the mid-'90s, Country Music Television started airing repeats of The Dukes of Hazzard, which I found (A) strangely fascinating because I had not seen the episodes since I was a child and (B) extremely repetitive. Almost every episode had the same plot: A new bad guy would stroll into Hazzard County, cause some trouble, and then Bo and Luke Duke (or Coy and Vance Duke during that one season; long story) would somehow get involved and thwart the plans of the criminal by either defeating Boss Hogg or teaming up with Boss Hogg. (No matter how many times the Duke boys and Boss Hogg would team up, they were always bitter enemies by the beginning of the next episode. There was absolutely no real arc to their relationship.) But, yet, I kept watching these repeats because I found myself so amused by the man playing Sheriff Rosco P. Coltrane, James Best.
Best died on Monday at the age of 88. Born Jewel Guy in 1926, his name was changed after the death of his mother when he was only three years old. Best got his start in Westerns and acted opposite the likes of Jimmy Stewart, Abbott and Costello, Henry Fonda and Rock Hudson. Even today, you can still flip through channels and catch Best as Cully in the Hal Needham-directed Hooper, starring Burt Reynolds. (Twenty-seven years later, Reynolds himself would play the role of Boss Hogg in 2005's feature film version.)
The Dukes of Hazzard premiered in January of 1979 and, based on its concept alone, is a strange concept to be marketed to children. Bo Duke and Luke Duke, two cousins who look nothing alike, have just received probation for smuggling moonshine. The two shared a car — a 1969 Dodge Charger — that had its doors welded shut. This, at the time, created a mini-phenomenon that jumping through the open window of a car looked cool, as opposed to just criminal. Also, the Duke boys used flaming bows and arrows as weapons, making the bow and arrow about as popular as Katniss Everdeen has made them today. In 1981, The Dukes of Hazzard was the second most popular show on television, behind only Dallas.
Jefferson Davis Hogg (played by Sorrell Booke), the Hazzard County Commissioner, desperately wants the Duke boys put away in prison because they have a habit of ruining whatever scheme Hogg had hatched in any given week. Assisting him were the Sheriff, Rosco P. Coltrane (Best), and his deputy, Enos (Sonny Shroyer) or, depending on what season it was, Cletus (Rick Hurst).
Best had a brilliant way of playing menacing and stupid at the same time, which made his performance funny. He had a weird laugh (that sounded something like, "a goo-goo-goo-goo") and he somehow durned Rosco from the villain into a lovable dimwit. Rosco even had a dog, Flash, that in real life Best wound up partially adopting. Turning what could have been a villain into something lovable is how you make a culturally memorable character. Rosco became so likable that the Duke boys would usually have to make sure to go back and check on him after yet another horrifying car crash just so that the audience would know that he was okay.
By 1982, The Dukes of Hazzard had plummeted in the ratings, due mostly to the fact that series leads Schneider and Wopat held out for more money and were replaced by lookalikes, named Coy and Vance Duke, for a single season. Audiences rejected Coy and Vance Duke and, by the time Schneider and Wopat returned, it was too late.
Almost dutifully, I watched every episode of the Coy and Vance season, because, to me, the best thing about The Dukes of Hazzard was James Best's performance as Rosco, and Rosco was still very much a part of the show. Let's compare Best's Rosco to that of M.C. Gainey's performance of Rosco in the awful 2005 feature film. Maybe it's best Gainey didn't even try to emulate what Best had done, but Gainey's Rosco is just a "mean sheriff." (The biggest problem with that movie in general is that it's just so mean-spirited, as opposed to the television show that was just "stupid fun." Even shooting flaming arrows at criminal hideouts just seemed "stupid fun.")
Best's Rosco could have easily have just been a "mean sheriff," but, instead, he created one of the most memorable characters in television history. Yes, it's the kind of performance that can haunt a television actor for the rest his or her career, but in later years, Best, to his credit, seemed to embrace Rosco… just as much as we all did.
Mike Ryan has written for The Huffington Post, Wired, Vanity Fair and New York. He is senior entertainment writer at Uproxx. You can contact him directly on Twitter.