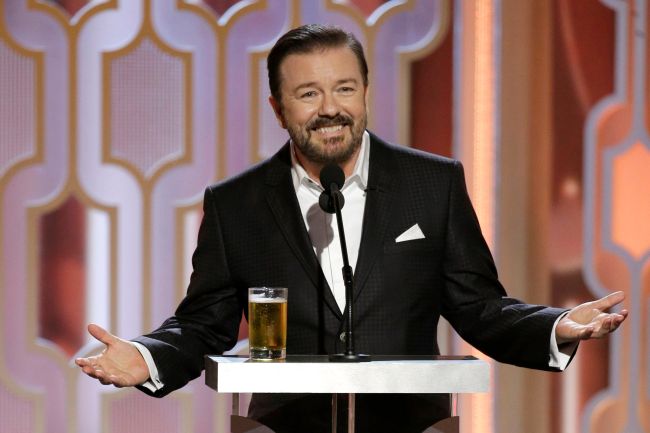 David Bowie may have been the first, but a lot of people are calling Ricky Gervais "pug-nosed," and much more, for comments he made during the Golden Globes. The not-Amy-Poehler-and-Tina-Fey host joked, "I've changed. Not as much as Bruce Jenner, obviously. Now Caitlyn Jenner, of course. What a year she's had. She became a role model for trans people everywhere, showing great bravery in breaking down barriers and destroying stereotypes. She didn't do a lot for women drivers, but you can't have everything, can ya?"
The response to Gervais' alleged transphobia was not kind.
After a simmering period, in which I imagine he and Mel Gibson sat in a parlor room smoking cigars, Gervais fired back at his numerous critics, tweeting that making Caitlyn Jenner jokes doesn't automatically mean you hate trans people.
(There's the cigar.)
He later added, "Hosting The Globes has made me want to do a new stand up show next year. Now THAT'S when you're allowed to be offended. You whiney c*nts," followed by a cheeky smiley face. I'm offended that Gervais would think his stand up would offend me. You know what else is offensive? Gervais being "asked back to host the Golden Globes" next year.
Now Watch: Is Ricky Gervais The Harshest Awards Show Host Of All?