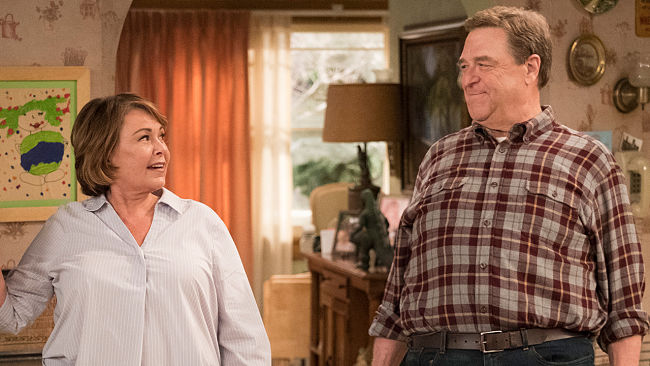 After the season premiere set records with numbers that wouldn't have looked out of place in the 1990s (a pre-Netflix era that feels like 500 years ago), the Roseanne revival has settled into a comfortable ratings groove. The last three episodes, including last night's return of David and Beverly, have grabbed between 15.2 and 13 million viewers, and that's even before DVR viewership is factored in. Roseanne is also doing very well in the all-important 18-to-49 demographic, because if there's one thing teens love, it's Estelle Parsons.
If you include delayed viewing, ABC's Roseanne (23.3 million overall; 6.7 in the demo), is actually the most popular show of the season, besting ratings titans like The Big Bang Theory (you made the wrong choice, Johnny Galecki), the Super Bowl-boosted This Is Us, and Sunday Night Football. (The season began on September 25, 2017.) Nostalgia and controversy is an intoxicating mix.
The last time ABC claimed the season's #1 show was 18 years ago in total viewers (Who Wants to Be a Millionaire in 1999-2000) and 24 years ago in Adults 18-49 (Home Improvement in 1993-94)… Roseanne [also] helped extend ABC's winning streak as Tuesday's top network in 18-49 (1.3 rating) to four weeks, the longest in more than a decade. (Via)
Speaking of [grunt noise]: Tim Allen recently said that the idea for a Home Improvement reboot has "been floated. And more than I would have expected said, 'Yeah, that would be cool to do it years later,' like Roseanne. I like that idea." If Michael "D.J. Conner" Fishman can get 20-plus million viewers, just wait until you see the numbers Jonathan Taylor Thomas brings in.
(Via Deadline)