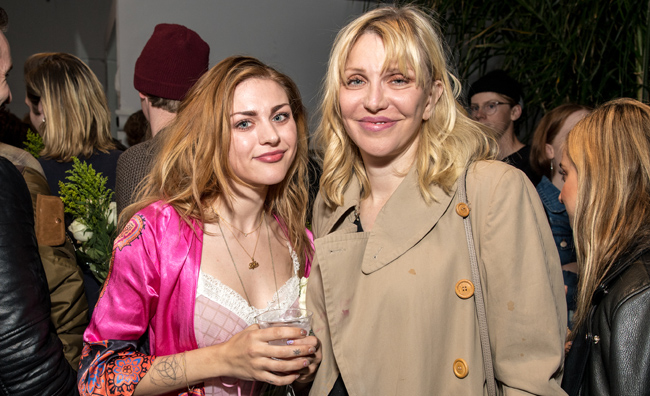 Twenty-eight-year-old actor Ross Butler (Riverdale, 13 Reasons Why) is currently embroiled in a bizarre lawsuit involving Courtney Love and Sam Lufti (of Britney Spears meltdown "fame") filed by Frances Bean Cobain's ex-husband, The Eeries frontman Isaiah Silva. In court documents filed earlier this year, Silva alleges that the trio conspired to break into his home, beat him up, and steal a guitar once belonging to Kurt Cobain.
The guitar in question was the one famously used by Cobain in his November 1993 MTV Unplugged performance, about four months before he committed suicide. It was a big point of contention when Frances Bean and Silva divorced, which was arguably a pretty big d*ck move on his part. Ultimately, a judge ruled that Silva could keep it. Silva is now alleging that shortly after Cobain filed for divorce in June of 2106, Lutfi, Butler, and another unnamed man arrived at his West Hollywood home where they burglarized, sexually battered, and tried to kill him.
Now, Butler has filed court documents of his own asking to be dismissed from the lawsuit, with a different recollection of the series of events from the night in question. He says that Lutfi simply picked him up and drove to Silva's West Hollywood home to check in with him, after he and Cobain had apparently "gone silent after sending him some troubling text messages." From The Blast:
He claims when they arrived, they noticed sheets covering the windows. They called out for Frances and Silva and knocked on the front door.

Butler says an alarm went off inside the home and shortly after, Silva came to the door and invited him inside the house. He explains, "I then entered the house and was greeted calmly and amicably by Silva … Silva was frail, emaciated and had a terrible odor. The house was also messy and had a bad odor."
At some point, Butler says that police were called, but officers showed up and assessed that the situation was fine and let everyone go on their way.
He alleges, "I never entered into a conspiracy or otherwise agreed to commit any crime against Silva. I never conspired with anyone else to murder or kidnap Silva … or take possession of a guitar that Silva claims Ms. Cobain gave to him as a gift."

Ross Butler is adamant he had "no communications with Defendant Courtney Love Cobain at any time concerning the purported events."
Silva, who Page Six reports has a "frightening" obesssion with Kurt Cobain, is seeking unspecified damages for the alleged incident in question. Butler, on the other hand, is demanding that all claims against him be dismissed.
(Via The Blast)