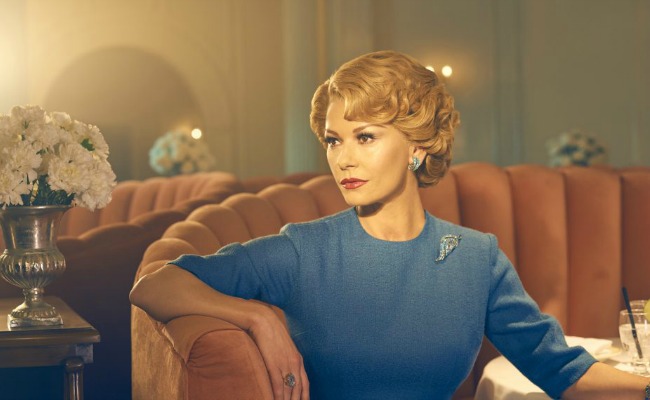 While Ryan Murphy's Feud: Bette and Joan was a crowd-pleasing guilty pleasure anchored by a number of powerhouse performances, not everyone was a fan of the series that examined the tempestuous relationship between Hollywood legends Bette Davis and Joan Crawford. Actress Olivia de Havilland, portrayed by Catherine Zeta-Jones on the show, took serious umbrage with the show, to the point of suing Ryan Murphy and FX over for infringement of common law right of publicity, invasion of privacy and unjust enrichment over her portrayal. According to a statement from her lawyer from June of last year,
"[A]ll statements made by Zeta-Jones as Olivia de Havilland in this fake interview are completely false, some inherently so; others false because they were never said. FX defendants did not engage in protected First Amendment speech in putting false words into the mouth of Olivia de Havilland in a fake interview that did not occur and would not have occurred."
However, the appeals court has ruled in favor of Murphy and the production instead of de Havilland. On Monday afternoon, it was announced that suit was tossed out because "it's precluded by the First Amendment," explained Justice Anne Egerton.
"Whether a person portrayed in one of these expressive works is a world-renowned film star — 'a living legend' — or a person no one knows, she or he does not own history. Nor does she or he have the legal right to control, dictate, approve, disapprove or veto the creator's portrayal of actual people."
Murphy released a statement on the decision, praising the court's choice as a win for creative expression.
"The reversal is a victory for the creative community, and the First Amendment. Today's victory gives all creators the breathing room necessary to continue to tell important historical stories inspired by true events. Most of all, it's a great day for artistic expression and a reminder of how precious our freedom remains."
De Havilland's lawyer called the ruling "an entirely pro-industry decision and was clearly written before the hearing less than a week ago," but this ordeal is all too fitting considering the wildly contentious subject matter that inspired it.
(Via The Hollywood Reporter)