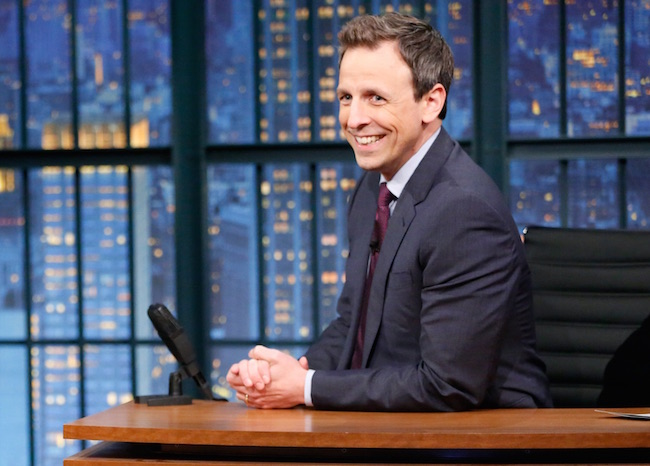 If everyone else is doing it, why can't Seth Meyers? Not that Meyers lacks originality — his Late Night show has taken some big steps to reinvent itself on the fly since its debut to very positive effect. But in the case of covering the upcoming Republican National Convention in Cleveland, Meyers and company are taking the "if you can't beat 'em, join 'em" stance.
Per TV Line, NBC made an announcement Friday that Late Night With Seth Meyers will air live in its usual time slot of 12:35 a.m on July 21 following the final night of the convention. The show, which usually tapes in the early evening (around 6:30ish), has yet to go live since Meyers took over. Still, it's not like Meyers is a newcomer to the business of live television. He was a cast member on Saturday Night Live from 2001-2014 and served as the show's head writer beginning in 2006, the same year he assumed hosting duties of Weekend Update.
As for the whole "everyone else is doing it' trope, there are a number of other late night shows planning to cover the convention. Stephen Colbert's Late Show will originate live at 11:35 eastern following both the RNC and the Democratic edition in Philadelphia at the end of the month. Bill Maher will also bring his HBO series Real Time to both Cleveland and Philly for two nights each. And Comedy Central's The Daily Show with Trevor Noah plans to cover both events on site as well.
(via TV Line)