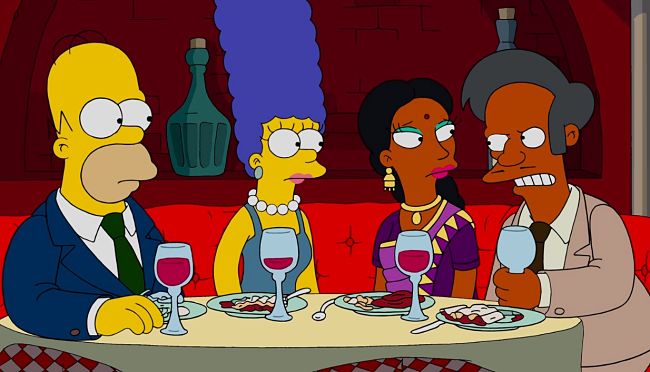 In an episode of The Simpsons that aired earlier this year, the longest-running scripted series in television history acknowledged Hari Kondabolu's documentary The Problem with Apu, and made everything worse. While Marge is reading a childhood-favorite book to Lisa, she realizes it's a lot more problematic than she remembers. But by removing the racism, she also, as Lisa notes, takes out the conflict. "Well what am I supposed to to?" Marge asks, to which her daughter responds, "It's hard to say. Something that started decades ago and was applauded and inoffensive, is now politically incorrect. What can you do?" Cut to an autographed photo of Apu on her bedside table. "Some things will be dealt with at a later date," Marge says. "If at all," Lisa adds.
When Simpsons creator Matt Groening was asked about the documentary, he replied, "I'm proud of what we do on the show. And I think it's a time in our culture where people love to pretend they're offended. We'll let the show speak for itself." That's the issue, though, isn't it? The show spoke for itself, and it did not go over well. (For what it's worth, Hank Azaria, who's voiced Apu since his introduction in season one's "The Telltale Head," is willing to "step aside.") Groening, who's out promoting his new animated series, Netflix's Disenchantment, was asked by the New York Times to clarify his comments:
"That wasn't specifically about Apu. That was about our culture in general. And that's something I've noticed for the last 25 years. There is the outrage of the week and it comes and goes. For a while, it was, believe it or not, kids were stealing quarters out of their mothers' purses in order to go to the video arcade, and that was going to bring down civilization. No one even remembers that, because that lasted a week. I think particularly right now, people feel so aggrieved and crazed and powerless that they're picking the wrong battles." (Via)
When asked whether Apu will continue to appear on The Simpsons, which is about to enter season 30 (!), Groening said, "We're not sure exactly how it's going to play out… If we come up with a good story we'll do it, but some of the stuff the show got taken to task for, we covered in an episode a couple of years ago [in "Much Apu About Something"]. Oh well." He also called the debate around Apu "tainted now — the conversation, there's no nuance to the conversation now. It seems very, very clunky." Anyway, for no reason, here's Apu.
(Via the New York Times)