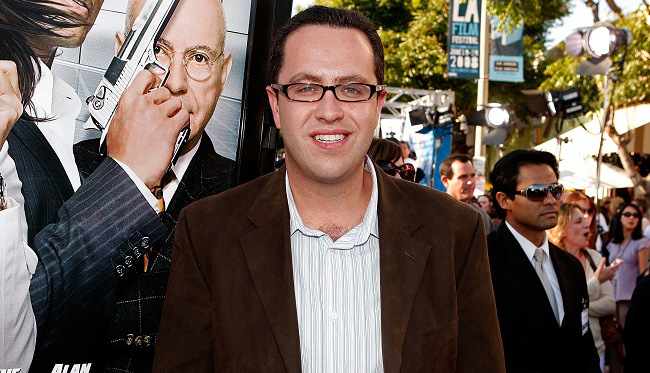 Jared Fogle — the man who lost 225 pounds on a diet of Subway sandwiches and went on to become a pitchman so successful for the company that he filmed more than 300 commercials — had his home raided by the FBI yesterday, allegedly in connection with an investigation into child pornography. It is important to note, however, that we only know that the raid as of now might be linked to the earlier arrest of the former executive director of Fogle's charitable foundation, Russell C. Taylor, who was arrested in May and charged with eight criminal counts related to child porn.
Fogle has not been charged with anything, and he is cooperating with the investigation. However, Subway does believe it's tied to the earlier investigation and has suspended ties with the pitchman pending the outcome.
It is worth noting that Fogle apparently does have a history with porn of the legal variety, according to a 2007 exclusive with Best Week Ever:
According to our source, while studying at Indiana University, Fogle ran a very successful pornography rental company out of his bedroom. His porn collection was vast and extensive, and Fogle took his business pretty seriously. A video would run a patron a dollar a day (cheap!), and people would come from all over to take advantage of the deal. Needless to say, Jared had enough porn to keep his customers happy.
Moreover, according to that source, Fogle's Subway diet wasn't by design, but rather by laziness. While running his porn library out of his dorm in college, a Subway opened up on the first floor of his dorm, and Jared began frequenting it because he was too "lazy" to go anywhere else and too busy with his porn lending service to go any further.
So the lesson here, of course, is that Jared Fogle lost 225 pounds because of porn. That entrepreneurial spirit has since earned him a reported $15 million. It could also be his undoing.