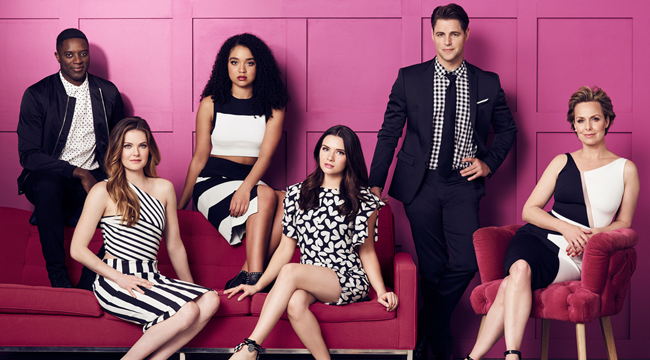 During its first season, The Bold Type was perhaps the closest that we had to a summer breakout series. It wasn't a knockout in the ratings nor was it covered with the obsessiveness of Westworld or even Stranger Things. But what it did have was just the right mixture of fun, intelligence, and charm to make it stand out in an increasingly bleak television landscape — and an increasingly bleak world — but it occasionally felt like it was holding itself back.
Loosely inspired by the real life of former Cosmopolitan editor-in-chief Joanna Coles, The Bold Type is primarily about three twenty-something best friends navigating the world of digital journalism while, of course, also dealing with their drama-filled personal lives. Airing on Freeform, the series is geared to a younger, female-centric audience (unsurprisingly, it's often mentioned in the same breath as TV Land's Younger) but quickly became endearing enough to appeal to everyone. Last summer, The Bold Type felt like it was everywhere: it wasn't just being livetweeted on my timeline by people of all ages or genders, but it was also being brought up in casual conversations at bars or during formal job interviews. The main consensus was that it felt so "light" and "breezy," providing a welcome break from gritty dramas. But The Bold Type is also smart television — smart about journalism, young women, sexuality, and more. The second season, which began with a two-episode premiere this week, proved exactly that.
At the end of last season, Jane (Katie Stevens) left women's mag Scarlet to write her own column for the scrappy feminist site Incite. Scarlet social media director (and newly out) Kat (Aisha Dee) followed her heart and hopped on a plane to see her girlfriend Adena (Nikohl Boosheri), a "proud Muslim lesbian." Sutton (Meghann Fahy) found herself pushing forward her career in fashion — while stuck between two men at the company. Even Scarlet editor-in-chief Jacqueline (Melora Hardin) had a memorable storyline: in "Carry The Weight," an episode inspired by Emma Sulkowicz's "Mattress Project (Carry That Weight)" she revealed her own sexual assault in one of the series' most affecting moments. The finale showed the power and necessity of The Bold Type; season two continues this trend and further proves the show's worth.
About a month after the first season's finale, Freeform announced that it renewed the show for two more seasons — but creator Sarah Watson was leaving due to "creative differences with the network." The good news was that her replacement, Amanda Lasher, was an inspired choice: Lasher previously worked on Sweet/Vicious, the brilliant one-season wonder about two college girls who moonlight as vigilantes against sexual assault. As it turns out, Lasher's work on The Bold Type so far has made it into an even smarter, more introspective, and, well, bolder television show.
The first two episodes go full-steam ahead putting Sutton and Jane in awkward positions to forward their respective storylines. Sutton is finding herself the subject of rumors in the workplace, overhearing gossip saying that she's only getting styling credits because she's sleeping with Alex (though they aren't), and not because she's actually talented at her job. It makes her reevaluate whether she should actually have a relationship with Richard, knowing that if they go public it will only further the rumors and make her peers question if she's slept her way to the top. Here, The Bold Type ignores the love triangle from season one to instead give Sutton's current conflict some professional, career-defining stakes.
Meanwhile, Jane finds more struggles in writing her inaugural column for Incite than she had during her entire time at Scarlet — a welcome change, because it allows the show to push deeper into her character rather than simply showcasing her pluck. Jane's plot dives into the often messed-up and unfair world of digital journalism. Her article is completely changed without her knowledge, her own attempts to apologize to her subject results in public humiliation, and her new editor — unlike Jacqueline — doesn't have her back.
But by far, the best changes in The Bold Type revolve around Kat, a queer and biracial character. Kat was a standout character in the first season (and Aisha Dee is a talented, charismatic actress) but the writers always seemed hesitant to dig deeper into her identity. Her relationship with Adena occasionally felt a little surface-level, danced around without exploring the nuances of discovering your sexuality and having your first queer experiences. But in "Feminist Army," the show brings this up explicitly with a plot featuring Adena calling out Kat for never reciprocating oral sex. It results in honest conversations — between Kat and her friends, between Kat and Adena — about how Kat is simply scared but, of course, has a happy ending.
The biggest problem centered around Kat's racial identity, stemming from an episode in which she and Adena encounter a cop: Adena flees, but Kat is arrested. The episode never mentions Kat's blackness but instead focuses on Adena, and how Kat should've been more understanding about Adena fleeing. It was a truly bizarre choice given the ongoing conversation about police brutality against the black community, and it felt out of place in a show that liked to portray the realities that young people face. But watching this new season of The Bold Type, with a new writer, feels like watching the show being fixed almost in real time.
In the second episode, "Rose Colored Glasses," Kat has to write a bio for herself and balks when Alex, a black man at the company, suggests that Kat add that she's the first black female department head. He thinks she could be a role model to young black girls; she thinks that she shouldn't label herself. The episode follows Kat through this internal dilemma, even introducing us to her black father and white mother, who both provide some insight for why Kat is so hesitant to talk about her own race. We learn about her mother's heartbreak of never being seen as Kat's parent, and Kat's own confusion about what bubble to fill-in on standardized tests when she was younger. In just one episode, The Bold Type explored Kat's racial identity miles more than it did in the entire first season — and it feels triumphant when she ultimately adds "black" to her bio, saying she wants to embrace this part of her more. Hopefully, the show will do so, too.
It's always interesting to watch a sophomore season of a show — more so, I believe, than the first — because viewers get to watch how the show attempts to improve on itself without losing its main sensibilities. The Bold Type, which benefitted from adding an outside fan as its new showrunner, is a great example of a series that looked at its failings and worked to correct them.