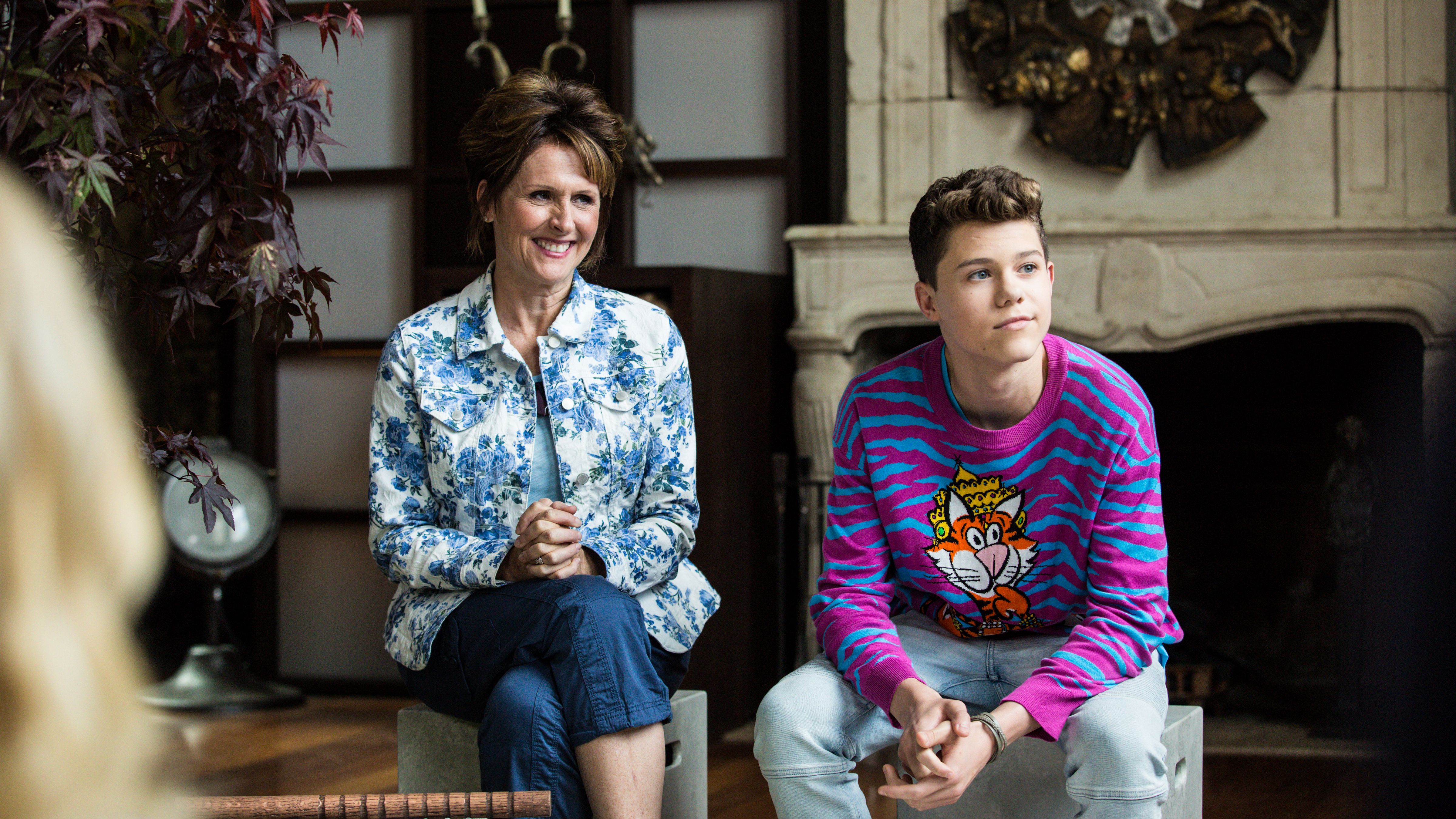 The Other Two has been one of the most pleasant television surprises of 2019 so far, and its first season finale, "Chase Performs At The VMAs," caps that all off. It's a happy ending for the Dubek extended family. And then ChaseDreams opens his mouth to sing live for the first time, and everything they've all worked for seemingly goes right down the toilet.
Heavy is the foot that wears the dry erase shoes. We go from Chase's newfound fame due to "Marry U At Recess" to the VMAs for this season finale, the natural progression of this insane journey. An insane journey that also makes Chase famous enough to become an actor, one who doesn't have to audition to star in a Netflix movie (with Cary, due to wave riding). Bless Chase's heart though, because he's not a bright kid. Streeter even says, "I love Chase, but he needs a lot of smoke and a lot of mirrors." He's also 14 years old, which means that we'll be getting a 14-year-old in college storyline for season two, as he actually got into NYU, unlike Cary.
The Other Two co-creators Chris Kelly and Sarah Schneider have mentioned how one thing they hope will help with series longevity and keeping it all fresh is that from season to season, the very definition of "the other two" can change. The series' first season finale — as it has been officially renewed for a second season, so have no fear — sets that very concept into motion, as ChaseDreams' stock has plummeted (and he's got college on the brain), Pat and Streeter have a thing going on, and Pat actually reaches a new level of success, essentially replacing Chase in the spotlight. In fact, Pat's ascent to daytime television show stardom is something that's clearly brewing under the surface during the entire season, making for a hilarious twist that doesn't necessarily come out of left field. At the beginning of this episode, Pat's even telling Brooke, "People keep telling me I'm an inspiration." Brooke agrees with her and then gets worried when Pat calls herself "a mother of a movement." Again, the signs have all been there the whole time during Pat's "Year of Yes."
"Why does he need all this bullshit all of a sudden? If he wears something crazy, it's all anyone will talk about."
Anyone who's been watching The Other Two could tell that Chase is no vocal dynamo. But considering how close Brooke is to the situation, it's no surprise that she believes in her brother as an "artist" as Streeter tries to make a spectacle out of what is supposed to be a "simple, stripped down version of Stink" at the VMAs. (Cary mentions after the fact that he hadn't even realized he'd never heard Chase sing live.) This is how PigDreams — which would have been a great performance — (S)TINK, and "a literal birdcage full of birds" all come up. This is an episode where characters keep trying to tell each other really important things — and don't get to it until it's too late — and Streeter ultimately does try to tell Brooke what's up about all of this… But she gets too "girl boss" on him for him to spill the beans. Like with the Pat reveal, the signs are all there the whole time, but this episode works especially well to bring out the power of hindsight. Brooke saying that "Chase's first live performance" should be "something simple that shows off his voice" is essentially signing the death warrant for ChaseDreams' fame.
Believing in Chase has been Brooke and Cary's thing from the very beginning, which is the major reason The Other Two has been so surprising. It's definitely not a toothless or sappy show, but it understands edginess doesn't have to come from such a negative place. There's nothing special or new if Brooke and Cary resent their younger brother and just want to use him for that. The concept of "riding the wave" that Brooke introduces to Cary isn't all about leeching off of Chase, which remains the best choice the series makes, especially when initial promotion suggested it would essentially be Brooke and Cary versus Pat and Chase.
Everything comes together with this season finale, even in its reveal that Streeter is actually a relatively competent manager. He's still extremely needy and obsessed with being considered part of the Dubek family, but not every decision he makes is a fumble. At least Brooke ends up becoming a manager out of this, something it was obvious she was destined for back in "Chases Shoots a Music Video," as she was crushing assistant-ing much more than Streeter was managing. Or at least so that latter part seemed at the time. But Brooke can rant with the best of them — even though her rants tend to end poorly for her — as she does in this episode to soon-to-be-WrestleMania competitor Michael Che.
The Other Two is the type of show that gets even better on rewatch, especially as you're able to note all the callbacks and runners or all the, in retrospect, obvious signs of where the season was going. While Heléne Yorke and Drew Tarver play the titular other two — and superbly so, from start to finish — an episode closer like "Chase Performs At The VMAs" highlights its strength as an ensemble series, with only Wanda Sykes missing from the equation this time around. The songs are terrible catchy, the characters are flawed but relatable, and the show is just really smart—about the entertainment industry and comedy, in general, of course—which will hopefully draw even more people to the show during the wait for season two.