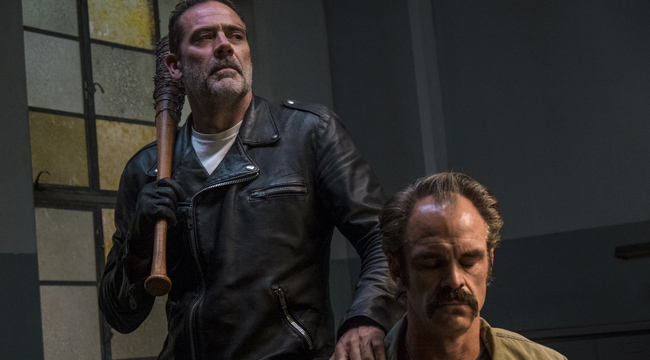 For a story arc that's been dubbed 'All Out War', we haven't really witnessed a high volume of big character deaths during the second half of The Walking Dead season 8. Sure, there was Carl. But other than that the show has seemed content to trim the hedges a little bit rather than rip anything important out by the roots.
All that is likely to change as The Walking Dead rolls into the final two episodes of the season. History has taught us that the series tends to slot most of its major kills into premieres and finales, and now we have The Walking Dead comic publisher Skybound teasing a bloody finish to this war between Rick and the Saviors.
Skybound has a weekly mailbag column where they answer questions about the show and the comics, and they're never shy about teasing what's in store for us in the future. When a fan asked if the finale would be a violent affair, they ominously replied: "There will be plenty of death to go around in the season 8 finale."
Speculation abounds on just who might end up dead by the end of season 8, with some fans hoping Negan will stick around and other hoping he ends up a victim of Rick's wrath. Maggie's future on the show also seems in jeopardy after actress Lauren Cohan's stalled contract negotiations came to light. Some even think Rick may be on the chopping block after showrunner Scott Gimple made comments about 'setting the stage for a new era' of The Walking Dead.
We can't think of a bigger (or more controversial) way to launch into that era than by killing Rick Grimes. And as we learned with Carl, The Walking Dead TV show isn't afraid to murder off key characters that are still alive and kicking in the comics. So prepare yourself for the worst, and may your favorite zombie apocalypse survivor make it through this dangerous period of time.