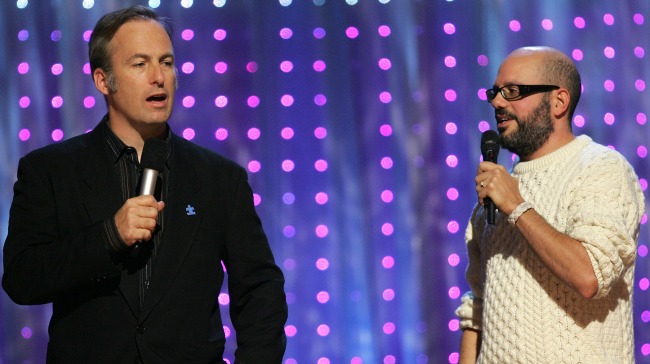 It seemed as though the world was made up of candy corn and milkshakes back in January. The Mr. Show fam sat around a table and posed for a picture while Paul F. Tompkins teased "something new" from the gang in 2015. It was doubly amazing when David Cross offered up a spot as an extra on Mr. Show a week later during the Kickstarter campaign for his film, Hits. Now, however, comes a bit of bad news/good news about the possibility of a Mr. Show reunion from a new Better Call Saul-centric Rolling Stone interview with Bob Odenkirk.
"There will be no Mr. Show reunion. There will be a new sketch-comedy show featuring the writing and performing of the great and special Bob and David. And please use those terms because it's like King of Pop — the Great and Special Bob and David. It will not be called Mr. Show, it will not have the set, the music, the logo or the construction. There will be a change in pacing and probably a more integrated bunch of ideas. And yet we are still the same people. Better Call Saul is not Breaking Bad, but it's written by the same writers and you can see connections, right? It hopefully will be quite the same as far as the relationship between the two shows."
More candy corn and milkshakes! This is great news for fans of the "Great and Special Bob and David" and everyone else who was affiliated with Mr. Show, but it's slightly odd that Cross and Odenkirk wouldn't take advantage of the brand recognition that comes with the Mr. Show label. Not that Bob and David aren't a brand unto themselves, but still, familiarity is an asset.
Is it simply that the Mr. Show gang wanted a chance to create something else, or does it have to do with HBO? Earlier in the interview, Odenkirk was asked about why Mr. Show isn't available on HBO Go, and his response was diplomatic, but not warm and cozy as he explained the complex ownership of the show and the fees that would need to be paid. Later, when asked about the cable network's attitude toward the show, he answered, "They've always had mixed feelings about our show. It never really seemed to fit for them."
Maybe starting from scratch is easier, which is fine. It's the product that matters, not the packaging. We can all buy the "Great and Special Bob and David" T-shirts and have our full Mr. Show back tattoos lasered off.
Via Rolling Stone