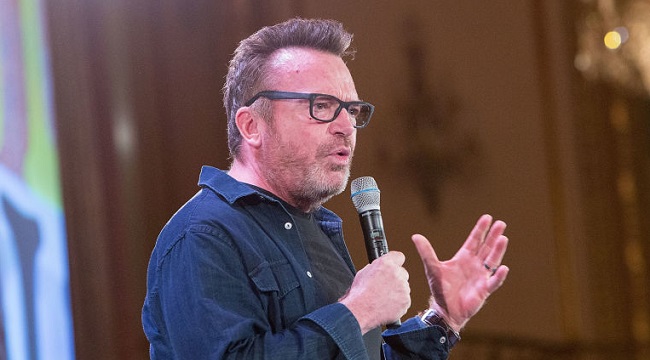 It seems The Hunt for the Trump Tapes star Tom Arnold wasn't joking when he tweeted that, following an alleged altercation with former The Apprentice producer Mark Burnett on Sunday night, he was "waiting for LAPD." That's because, according to Vulture, the comedian and actor has filed a battery police report with the Los Angeles Police Department against Burnett, a well-known reality television producer and the chairman of MGM.
The LAPD confirmed a prior report that Arnold would be filing a police report against Burnett, though a department spokesperson chose not to comment publicly on the matter. Even so, the alleged altercation between Arnold and Burnett just outside Sunday's Evening Before the Emmys party in Los Angeles has already become the stuff of legend. Per The Hollywood Reporter, Arnold's lawyer claimed Burnett "attacked" his client without provocation before the pair parted ways and entered the party separately. A string of tweets from Arnold, Burnett's wife Roma Downey and Patton Oswalt acknowledged that something had happened.
So too, as Vulture later discovered, did a brief tweet from none other than How I Met Your Mother actress Alyson Hannigan. According to her concise account, "Jeff Probst tried to break it up." Yes, that's right. The man who has spent the better part of 187 successive seasons of Survivor telling outgoing participants that "the tribe has spoken" apparently broke up Arnold and Burnett's fight.
(Via Vulture)