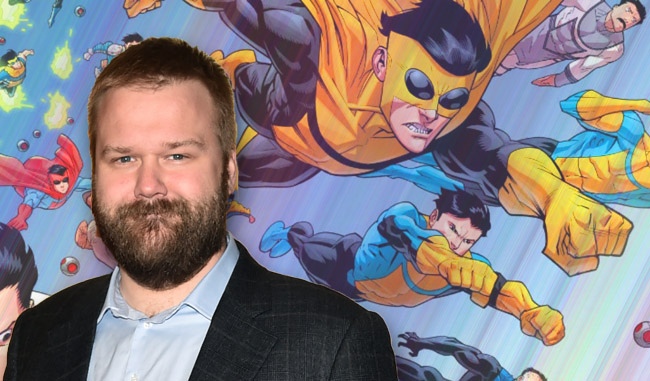 Robert Kirkman's deal with Amazon has finally delivered its first project and its an adaptation of another of the author's comic series. Kirkman is responsible for Outcast over at Cinemax and The Walking Dead at AMC, but his Amazon venture will start with Invincible. It might seem a bit traditional seeing how it is a comic book about superheroes, but this will stand apart from Kirkman's other ventures as an animated series.
The series will be part of Amazon's expansion into science fiction, fantasy, and horror according to Deadline, with eight hour-long episodes as part of a straight-to-series order for the animated program:
Invincible is an adult animated superhero show that revolves around Mark Grayson, a normal teenager except for the fact that his father is the most powerful superhero on the planet. Shortly after his seventeenth birthday, Mark begins to develop powers of his own and enters into his father's tutelage. The series is described as suspenseful, action-filled, and emotion-packed, yet builds upon poignant and heartwarming moments of love, friendship, and humanity.
Sharon Yguado, the head of scripted genre programming at Amazon Studios, was quoted leveling high praise on The Walking Dead creator and touting what he was about to do with the animated format according to Deadline:
"Robert has an uncanny talent to predict the zeitgeist, and we are incredibly excited to see him break boundaries in an animated one-hour format…In a world saturated with superhero fare, we trust Robert to subvert expectations while encapsulating a story filled with heart and adrenaline. We love his ambitious plan for the show and believe it will look like nothing else on television."
Invincible is also in production as a live-action movie courtesy of Evan Goldberg and Seth Rogen, making it a reasonably hot property all of a sudden. The two projects shouldn't interfere with each other, and they'll stay separate, though Kirkman's excitement couldn't be contained in Amazon's official statement:
"To know our characters will live on in multiple iterations in other media is almost too exciting to bear! What Amazon is allowing us to do in animated form is nothing short of ground-breaking, and I can't wait for our rabid fan base to experience it!"
It will be interesting to see how mature the show goes. An hour-long animated episode seems strange, but it certainly will allow for some creative visuals on the screen. There won't be any AMC censors to hold him back.
(Via The Hollywood Reporter / Deadline)