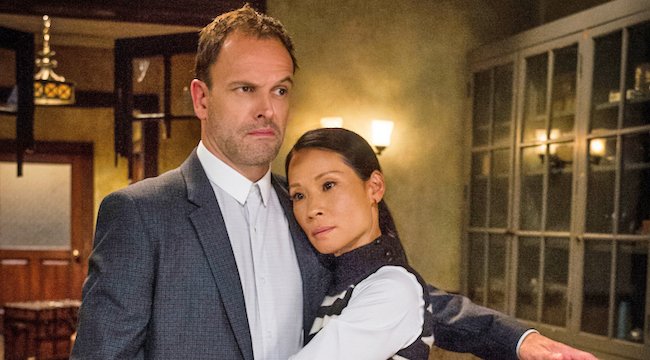 Elementary (CBS, 10:00 p.m.) — In the Season 6 premiere, Holmes faces a career-threatening medical diagnosis that threatens his sobriety, while another man expresses gratitude for Sherlock's help in battling his own addiction.
Dancing with the Stars (ABC, 8:00 p.m.) — The athletes-themed season launches with Tonya Harding, Kareem Abdul-Jabbar, Johnny Damon, and Adam Rippon all bounding onstage as contenders.
Kevin Can Wait (CBS, 8:00 p.m.) — Kevin's silent business partner becomes not-so-silent on the Enzo's sale, causing trouble for their partnership.
The Voice (NBC, 8:00 p.m.) — The top 11 contestants continue on teams led by Adam Levine, Blake Shelton, Alicia Keys, and Kelly Clarkson.
AMC Visionaries: James Cameron's Story of Science Fiction (AMC, 10 p.m.) — James Cameron will explore the science-fiction genre's origins and continued evolution.
Supergirl (CW, 8:00 p.m.) — Supergirl and Irma work to halt the third Worldkiller, Pestilence, after Alex and Winn sustain serious injuries.
The Resident (FOX, 9:00 p.m.) — After a fellow doctor falls through the hospital skylight, Conrad and Devon work together to save him while everyone wonders what the heck happened.
iZombie (CW, 9:00 p.m.) — A zombie serial killer threatens Seattle while Blaine comes up with his most sinister plan so far.
Homeland (Showtime, 8:00 p.m.) — The Season 7 finale sees a botched mission for Carrie and Saul while Elizabeth Keane's presidency is in jeopardy.
The Crossing (ABC, 10:00 p.m.) — Flashbacks cause trouble for characters while Jude digs into a disappearance, and Sophie endangers her life and career to help a friend.
Good Girls (NBC, 9:00 p.m.) — The ladies hatch a plan after Sara receives good news on a kidney donor, but they don't have the money to fund the transplant.
Lucifer (FOX, 8:00 p.m.) — Lucifer must work with Dan on a dog-show murder case while Chloe takes time off, and enjoys/regrets a wild night.
LATE NIGHT GUESTS
Jimmy Kimmel Live!: Carol Burnett, Jake Tapper, Keith Urban
The Tonight Show Starring Jimmy Fallon: Roseanne Barr, Tony Hale, Miguel
The Late Show With Stephen Colbert: David Duchovny, Margaret Brennan, Robert Smigel
Conan: Tracy Morgan, Kristen Schaal, Ocean Park Standoff