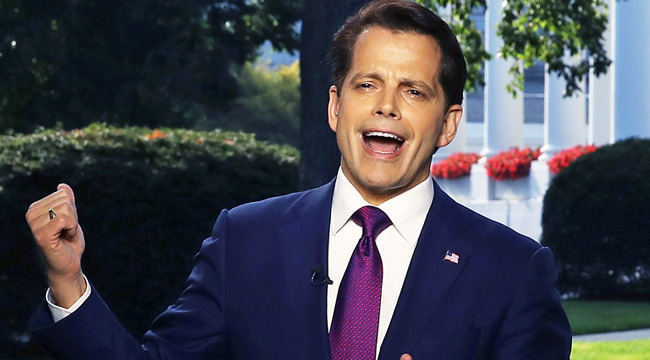 Only about a week has passed since Anthony Scaramucci blazed onto cable news screens everywhere after becoming the newest White House communications director, but it feels like a lifetime. So much madness has elapsed, and one would think that the crowning touch would have been how Mooch trashed Reince Preibus and Steve Bannon during a New Yorker interview while declaring, "I'm not trying to suck my own c*ck." That, however (despite the guy then claiming he was tricked by a journalist who he called up and spoke with on the record), was not the apex of Scaramucci drama for the week, for his wife — according to Page Six — has reportedly filed for divorce.
Was the wild and crazy interview for the ages the final straw? There's no word on that detail for now, but Deidre Ball was apparently fed up with Scaramucci's recent and "ruthless quest to get close to President Trump" following his departure from investment firm life. To complicate matters, she's not a fan of the commander-in-chief. Here's more:
One source told Page Six, "Deidre has left him and has filed for divorce. She liked the nice Wall Street life and their home on Long Island, not the insane world of D.C. She is tired of his naked ambition, which is so enormous that it left her at her wits' end. She has left him even though they have two children together."
The publication also points out that Scaramucci has been (possibly) choosing not to wear his wedding ring during some appearances lately, and Dierdre hasn't been thrilled with him spending so much time away from their family. This reasoning sounds a little sketchy because, well, the guy's only been on the job for a week. But what a week it's been. From the old, woke tweets to the blatant lies to the threats to fire everyone, a little bit of Mooch goes a looonnnng way.
UPDATE – 6:00pm EST: Scaramucci tweeted in response to this story, which he isn't denying. However, he'd like everyone to respect his family's privacy.
(Via Page Six)