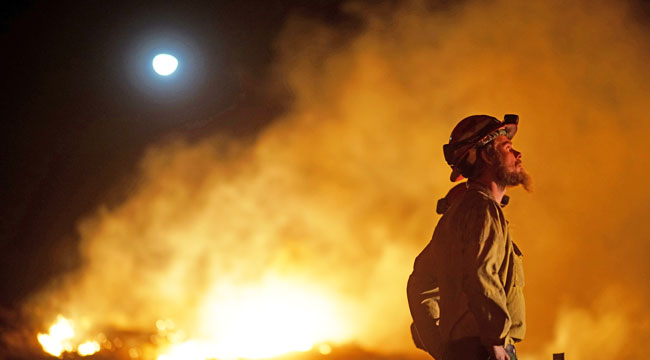 Following a fiery five days, half a dozen uncontained infernos are still raging in Southern California while fueled by the Santa Ana Winds and less than 10% humidity. Each day brings fresh horrors with San Diego now battling the Lilac fire as the Skirball fire continues to threaten LA landmarks, and the Thomas fire still burns as the largest of the bunch — to date, it's torched over 115,000 acres (two times the total area of Washington, D.C.) and 400 structures.
There have been plenty of blaze-related developments, but sadly, the main takeaway is that these fires will continue for some time. The Washington Post spoke with San Diego County Deputy Chief Administrative Officer Ron Lane about the Lilac Fire, which has injured multiple people and burned 20 structures so far. Lane says he's never witnessed strong winds like these in December and warns that thousands of homes are still at risk in California, for "we are nowhere near the end of this."
As for the Thomas fire, the LA Times says that officials are optimistic that heavily populated areas could see relief next week, but trouble will continue elsewhere on a large scale:
In Ventura County, [firefighters] feared wind could drive the flames into Carpinteria on the coast. Without rain, they said, the fire could burn for weeks in remote parts of the Los Padres National Forest.

"My hope is that within a week, the issues around the population areas are going to be gone, but then it's still going to be up in the forest in the wilderness areas," Ventura County Fire Chief Mark Lorenzen said. "The size and the scope of this thing is going to be enormous … There's no road out there, and the wind is pushing it. You can't put anybody out in front of it."
CNN reports the grim statistics thus far as a result of the six major blazes that continue to burn. About 160,000 acres have gone up in flames, 190,000 residents have evacuated their homes, and 5,700 firefighters are working nonstop. Schools are closed in 16 districts, and strong winds (with gusts up to 55 mph) will continue throughout the weekend. Indeed, this nightmare isn't even close to completion, and we will continue to bring you updates as they arrive.
(Via ABC7 in LA, CNN, LA Times & Washington Post)