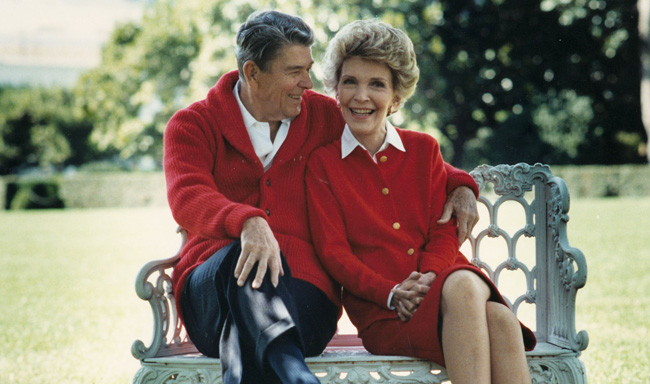 Nancy Reagan, the former first lady who became the face of the War on Drug in the 1980s thanks to her pleas for people to "Just Say No," has passed away at the age of 94, according to TMZ. Both The Hill and CBS News are also reporting the death of Mrs. Reagan, who lived in Los Angeles's Bel Air neighborhood.
Married to former president Ronald Reagan for 52 years, Mrs. Reagan was said to be in failing health the past few years. The cause of death was congestive heart failure, according to her spokeswoman, Joanne Drake.
In a statement to NBC News, Drake also noted that Mrs. Reagan "will be buried at the Ronald Reagan Presidential Library in Simi Valley, California, next to her husband, Ronald Wilson Reagan, who died on June 5, 2004. Prior to the funeral service, there will be an opportunity for members of the public to pay their respects at the Library."
Mrs. Reagan was born in New York on July 6, 1921. She was working as an actress when she met the 40th president in 1949 when he was an actor and president of the Screen Actors Guild. She attended Smith College in Northampton, Mass., and studied theater.
Later in life, Mrs. Reagan became an advocate for stem cell research following her husband's death due to complications from Alzheimer's disease. The once first couple created and backed the Ronald & Nancy Reagan Research Institute, a center for Alzheimer's research, located in Chicago.
(via NBC News, TMZ, The Washington Post)