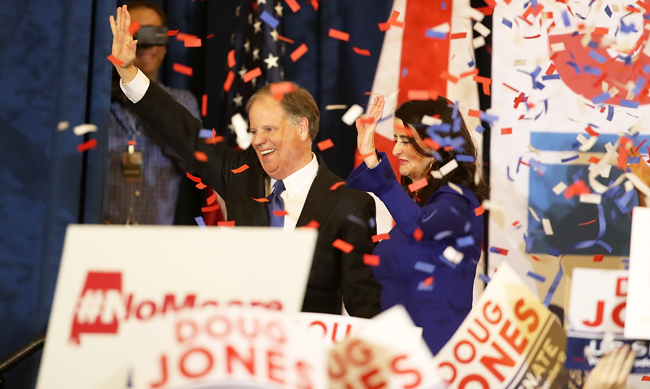 Following Democrat Doug Jones surprise win in the Alabama special Senate election, Donald Trump had an equally surprising reaction, eating gracious crow after he quadrupled down (and then some) on Jones' opponent, accused child predator Roy Moore. The president took to Twitter to congratulate Jones on a "hard fought victory," adding that "a win is a win." Trump's candor is exceptionally notable as Moore refuses to concede.
According to CNN's Jim Acosta, the tone of Trump's tweets couldn't be any further from the truth. A source reportedly close to the White House is saying that Jones' win is "devastating for the President." The source added, "This is an earthquake. It's Virginia but on steroids."
In the aftermath of Alabama, it sounds as if Trump might be placing the blame squarely on his former strategist Steve Bannon.
"The President has egg on his face," because of Bannon, the source added. Bannon told Trump if Moore lost, Democrats would feel emboldened to go after the President on sexual harassment issues, this source who is familiar with Bannon's pleas to Trump explained.

"That's why Trump had to do this," the source continued. "The President invested his political capital and it blew up in his face," the source added. A separate source who advises the White House said "this is bad." "The RNC and White House political shop must feel uneasy about their futures," this source added.
Trump followed up with a tweet Wednesday morning attempting to distance himself from Moore by reiterating that he had originally endorsed Moore's opponent Luther Strange in the primaries.
Too bad he also endorsed an alleged child molester. This is unlikely to be the last we hear from Trump on the subject.
(Via CNN)