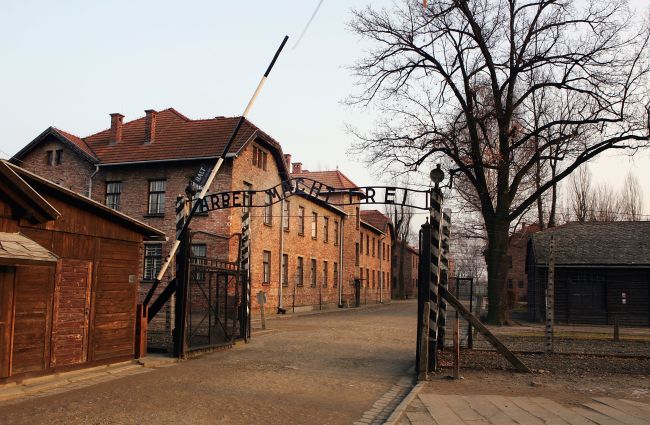 Reinhold Hanning was 18 when he joined the Waffen SS, and 20 when he was assigned to the Auschwitz concentration camp. More than seven decades later, the 94-year-old is on trial for the death of at least 170,000 people.
There aren't many Nazis who served under Adolph Hitler still alive, but four of them, including Hanning, will spend time in a courtroom over the next few months to be held accountable for what they allegedly did. Hanning admits he was a guard, a position he reportedly held from 1942 to at least June 1944, "but denies involvement in mass murder," according to the BBC.
Hanning's trial is being held in the chamber of commerce in Detmold, Germany, "in order to accommodate more people." Including Auschwitz survivor Leon Schwarzbaum, who addressed the accused directly.
"Mr. Hanning," Mr. Schwarzbaum continued. "We're about the same age. And we will soon face our final judge. I want you to tell the truth about what you and your comrades did."
Another survivor, Erna de Vries, relayed a message from mother, who wasn't so lucky. "To this day, I don't know exactly how my mother was killed," de Vries said. "The last thing she said to me was: 'You will survive and explain what happened to us.' I am not hateful, but it somehow feels like justice to see this man, who was working there when my mother died, on trial."
There is precedent for a case like Hanning's. Last year, Oskar Gröning, 94, the so-called "bookkeeper of Auschwitz," was found guilty for accessory to the murder of 300,000 people. He's serving a four-year sentence.
(Via BBC and Huffington Post)