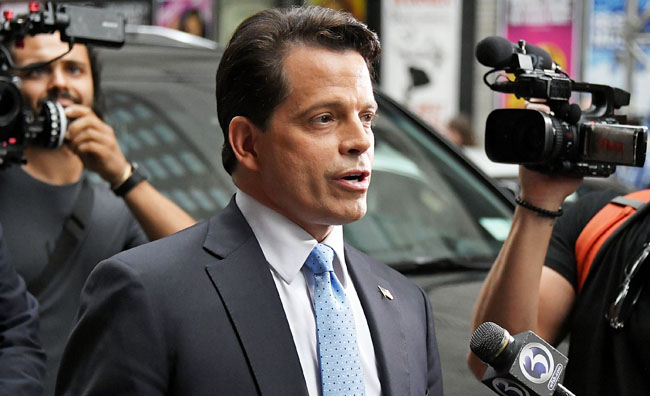 Anthony Scaramucci may have only lasted 10 days as White House Communication Director under the Trump administration, but he certainly is making the most out of his 15 minutes of fame. Since getting ousted, the Mooch has appeared on The Late Show with Stephen Colbert, landed an upcoming guest hosting gig for TMZ, and is launching a yet-to-be-determined project called The Scaramucci Post. Say what you will about the guy, but he's crazy like a fox.
Now it's been announced that Scaramucci will be a guest host on The View for this season's first "Guy Day Friday" on September 22. He'll join the ladies around the Hot Topics table for a full hour.
Joy Behar must be excited, anyway. The View co-host has been trying to score the Mooch since before he even got fired, and she even spoke with him the day it all went down:
"I did speak to him," she said. "I was trying to get him on the show. We're Paesans together, so I called him, and we had a very interesting conversation. Unfortunately, he learned from the New Yorker interview how to say the words 'off the record,' so I can't tell you too much. Also, I'm under FBI surveillance at this point. We had a great conversation, very juicy information — but I can't say it."

Behar, 74, added that The Mooch came across as a bit of a mama's boy, adding, "His mood was great … we totally bonded over a lot of [things]. The Italian slurs going around — people keep calling him a guido, but this guy went to Harvard! He's not dumb."
It should make for a highly entertaining hour of television, that's for sure. During his brief tenure as communication director, the View hosts had a lot of fun at the guy's expense, as you can see from the following in memoriam segment for his career they aired after he flew too close to the sun.
(Via Page Six)