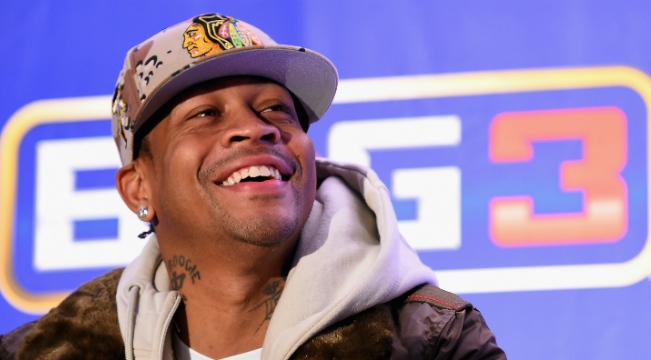 Allen Iverson was a big name attached to Ice Cube's BIG3 league, but he hasn't been around much as the league moves from city to city this summer. He didn't play in Philadelpia — where he spent much of his NBA career — and skipped an appearance in Dallas last weekend.
But that move has officially gotten him in trouble with Ice Cube. Word broke on Wednesday that Iverson's absence has earned him a suspension from the league according to our Oliver Maroney.
https://twitter.com/omaroneynba/status/892765535330377728
A suspension makes sense, though it does mean Iverson won't be a part of another event in Lexington, Kentucky on August 6. Iverson issued a statement on Instagram about the incident, and it sounds like he has some regrets.
"First and foremost, I apologize to Ice Cube and my BIG3 family, my fans and everyone disappointed by my absence in Dallas this past weekend," Iverson said in the Instagram statement. "I have spoken with Ice Cube directly regarding the details of my absence. I will do my best to make up for this moving forward on the BIG3 tour."
It's an interesting time for the BIG3, which features former NBA players in a unique format. But no one knows why Iverson didn't show up, or how seriously he's taking this. He's not only supposed to be a player, but a coach of a team. Not playing in Philadelphia is a PR snafu, but not showing up at all is a nightmare for a league trying to claim relevance in the wide world of basketball.
Perhaps the suspension is enough to make it clear the BIG3 means business, and it makes Iverson focus on his role with the organization. Either way, expect him to have a more visual role with the league once he returns from suspension.