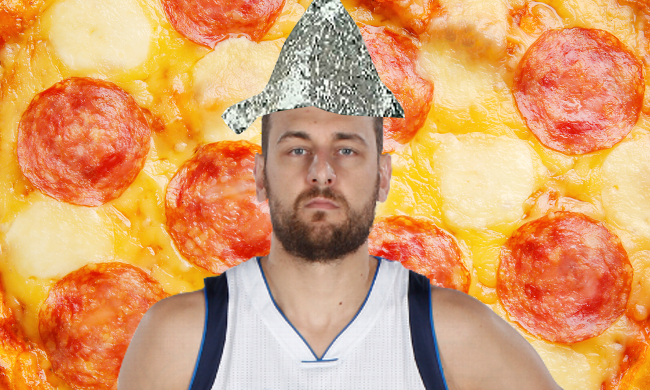 If you told me that an NBA center was buying in on the downright stupid Pizzagate scandal, I would've put my money on Spencer Hawes and his Obama toilet paper. Instead, it was Aussie Andrew Bogut who raised eyebrows when he tweeted in November that anyone involved with the supposed conspiracy deserved life in prison dot dot dot OR WORSE!
In a since-deleted follow-up tweet, Bogut laughed at a person for mentioning that Snopes has already debunked this dumb, dumb, oh-so-dumb make-believe story that a pizzeria in Washington DC is the secret home of a pedolphile ring, and the operation was supposedly linked to Hillary Clinton through the emails of her former campaign chair John Podesta. None of it is true, of course, but fake news is the new real news and real news is the work of lizard people or something, and people with guns will take justice into their own hands, even if their intel sucks. Also, Snopes is run by George Soros, chemtrails make people like Creed, and fluoride turns people into super-gay werewolf assassins. Crazy sh*t.
Bogut presumably slurped up the trail of sex sauce when he followed Pizzagate truthers like Mike Cernovich and InfoWars, among others, on Twitter. He also claimed, in more since-deleted tweets, that the evidence was there ("pics on their own social media accounts were perfectly normal") so something had to be going on, even if those pics he claims he saw were taken from other places by his fellow truthers and spread through Twitter bots and fake news sites in order to further impose their incredibly stupid conspiracy on people who would buy speakers out of a van.
On Friday, though, things somehow took a turn for the dumber. Pizzagate truthers on Reddit, led by "WhiteGenocideXLV," have declared Bogut a Pizzagate "hero" and want him as the top Google search result for that word, because they believe his "mysterious" knee injury is a lie. No, he's not injured, they say, wiping Bugles crumbs from their mouths with their shirt sleeves. He was benched for BELIEVING the TRUTH.
This is Dallas Mavericks Center Andrew Bogut. After He Took To Twitter To Help Expose Pizzag*te, He Was Sidelined For 11 Games With a Mysterious "Injury." Bogut Risked His Career To Help Expose The Truth. Let's Make This The Top Google Search Result For "Hero."
And because Mark Cuban is one of Donald Trump's most outspoken critics, coupled with the fact that Bogut actually played 21 minutes in Thursday night's win over the Lakers, it's very suspicious that the HERO is being benched again.
EDIT I: Holy Sh*t Guys, Huge Update:
Bogut played for 22 minutes in yesterday's game, and is otherwise healthy.
However, since this post became viral, Cuban announced that Bogut will be re-benched for today's game, thanks to his supposed "injury."
Today's game is against the Warriors, Bogut's former team. Had he played in this game, Bogut would have received a huge standing ovation. Is Cuban further punishing Bogut for exposing Pizzag*te?
We must remain vigilant!

Call me crazy, you lunatics, but an unhealthy Bogut hurts the Mavericks when he's on the court, which is why he volunteered to play from the bench when he's healthy. And he's being benched because Friday's game is the second of a back-to-back, so the Mavs don't want to push him, since they (and I) believe they can still make the playoffs, despite their wretched start. But don't let logic slow you down.
EDIT II: The globalists are in damage-control mode.
Ah yes, those globalists at Sports Illustrated, always trying to push the New World Order agenda of a unified pizza-based child sex party. Busted. Nowhere to hide. Andrew Bogut, the hero, has removed our blinders and will now return to being the dominant hobbled force he always has been.