Bam Adebayo wore a different shade of blue when he attended the Kentucky Derby in May. The NBA Draft prospect exchanged Wildcat blue for a custom made baby blue suit as he mingled with Derby goers at Churchill Downs. The suit was made by designer Jhoanna Alba, who joined Adebayo in Kentucky and made sure everything was perfect.
The event was a test of sorts for the biggest night of his life. A month later, Adebayo would be front and center on a stage of his own, and he needed to look his best. Because everyone wants to look their best on the night they're drafted. It's a coming out party for players in many ways, with fashion and personality mixing in a high-stakes
For Alba, draft night is a chance to show off the skills that have made her a favorite for more than 1,100 pro athletes looking for custom suits. Her company helps NBA stars like Russell Westbrook and John Wall look their best, but the draft is also a chance to help a younger player just turning pro learn the basics of high fashion.
"This is the first time (Bam's) had a custom suit made," Alba said. "So we have a look book that we send to him and it has the basics. It'll show you how to mix and match, because we're all about maximizing your wardrobe. So even if you get the five staple colors, you can still wear the black jacket with the navy pants, or a grey jacket with black pants. It's all about mixing and matching. So five suits can turn out to be 20 different outfits."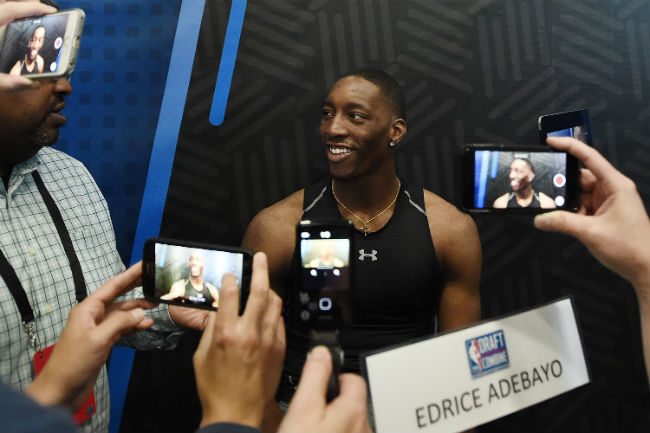 He'll need the suits to make it to his first game as a rookie. Getting to draft day once you've declared can seem like a long haul. There's the four-day NBA Combine and then individual workouts with any number of teams. Then there's media events before the Draft, a luncheon, and then draft night itself, which has become part fashion show to go along with the most nerve-wracking few hours of an athlete's soon-to-be-professional career.
But Adebayo says through all the work, the process has been a lot of fun.
"A lot of people in this world don't get to experience what's happening to me. So I'm just enjoying it," he said. "I'm blessed I can be in this position. It's something I've dreamed of since I was younger.
"When I was growing up watching basketball I'd watch the draft and wonder what they felt like," Adebayo said. "Hopefully I can get that chance."
Alba says custom work for professional athletes is sometimes a necessity given the varied body types.

"Every body is different," she said. "I remember one of my clients, his thigh was 34 inches. So it would be very difficult to find him pants that would fit him well."
Players will often work with brands to get an edge in their style game as well because rookies are suddenly playing catch up with the rest of the league. Fellow Kentucky draft prospect Malik Monk was featured by Tissot, who hand out a custom watch to every player picked in the first round.
With a dress code and a chance to build out a wardrobe, many former college students are thrust into an uncertain world. Certain fashion rules suddenly matter much more than they did during the team sweats-wearing days of college. And there are always questions — which button do you button on a suit? (Only the top button. Never the bottom) Should the shirt sleeves stick out past the jacket? (Yes, a little bit).
"I always try to educate them to get their staple colors first," she said. "Start with their basics. And then we can accessorize the tie, the handkerchief, lapel pins or whatever. We can make it colorful that way."
Alba started dressing athletes when she met Magic Johnson more than 20 years ago. Her husband, Jon Berry, is an NBA broadcaster. As she started to meet players and those players changed teams, her business began to take off.
"You get one player on one team and then word of mouth takes over," Alba said.
The NBA's dress code offers Alba a business opportunity, but she also works to help players know how to wear a custom suit. Alba says she often does seminars where she'll teach college students how to wear a suit properly. Because while a custom suit is meant to fit perfectly, you have to be comfortable wearing it to make it really shine.
That's certainly the goal on draft night. Monk said he got to work on his draft night outfit as soon as he declared. Bam said he started looking into working with Jhoanna during the Final Four.
Your look on draft day makes a huge impact, and everyone tries to keep their draft look under wraps until the cameras start rolling. Monk wouldn't even reveal the color he went with, and the same went for Adebayo. He did, however, mention Marcus Smart's suit from the 2014 Draft, which featured a number of different designs on the inside of the Jacket.
"He had all these memories in his jacket," Adebayo said "I like stuff like that because it's sentimental to him."


Bam was coy when asked if he had something similar planned for draft night, saying he had "his own thing" planned.
"I haven't fully gotten my hands around it," he said. "But I shared my ideas with Johanna and if we can work it out, we'll do it."
If he does make a big splash, it will be for his mom. Adebayo talked about the impact his mother had on his life, implying he'd like to honor her in some way with his wardrobe.
"I was raised with one parent," Adebayo said. "She fought endlessly for me to have clothes on my back. We lived in a trailer. I still have pictures of the trailer to this day. I moved out of the trailer my junior year and I never looked back. But obviously it's a special part of my life because of what me and my mom are trying to get through."
Alba said getting to work with players on draft night is special because it allows her to be more creative.

"They are just a lot more open to more creativity as far as the day of the draft," Alba said. "For the draft we like to try to do something a little more on the formal side. Then the press conference is a little more business. I try to separate the two because the Draft is becoming a total fashion show."
Alba is definitely ready for the show. Her company has 40 specialized tailors ready to make custom suits at a moment's notice. She said her team can turn around a custom suit in as little as two days if the player's measurements are on file.
"Once I get it right that's it. Like John (Wall) for the playoffs, he's like 'I need five suits,'" Alba said. "We can knock out suits in 48 hours if we have to. I prefer not to but when there's deadlines, you have to meet them."
By draft night, though, Alba's work is done. While Adebayo's job is to wear Alba's design, shake hands and speak to the media, she gets to sit back and watch the show.