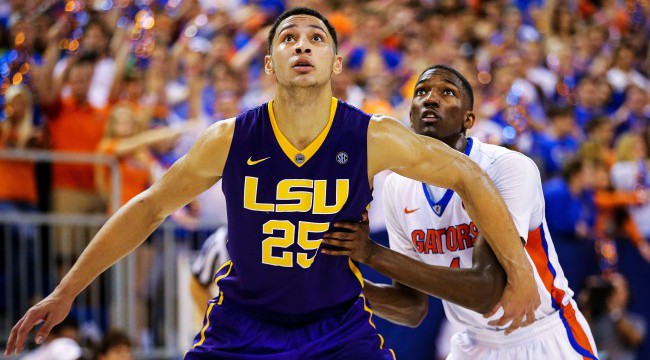 Ben Simmons, erstwhile and short-lived LSU Tiger, is the presumed first pick in the upcoming NBA Draft. While this has been the case since before his one collegiate season even began, there have been a smattering of murmurings in recent days that, perhaps, the Philadelphia 76ers, who rode "The Process" to the first overall pick, should consider taking Brandon Ingram out of Duke. There is at least one person who thinks that, were the Sixers to make such a decision, they should then swiftly fire their general manager for committing such an act.
Granted, that person is Kevin Goorjian, who coached Simmons at Box Hill High School in Melbourne, Australia before Simmons left for these United States to continue his basketball career. He's clearly biased, but at least he clearly has conviction. "He is going to be the best basketballer Australia has produced," said Goorjian, before adding, "There was a quote that came up that if you get the No. 1 pick and you don't take Simmons you should be fired. I'm totally behind that. He is the No. 1 pick. It's clear."
Of course, even if the 76ers don't take Simmons, it seems unlikely the GM will get the axe. They just moved on from the divisive Sam Hinkie, and their new GM is Bryan Colangelo, who is the son of Jerry Colangelo, the Chairman of Basketball Operations for Philadelphia. In the end, it's unlikely that the Sixers won't take Simmons, but if they do end up going with somebody else, there is at least one Australian man who will be very cross with them.
(Via USA Today)