Memorial Day Weekend is basically the Opening Day of cookout season, and — if you share my frame of mind — a cookout isn't a cookout without lawn games to help pass the time between meals and spike the level of intoxication.
After some back-channel arguments among the staff, we're led to this week's discussion topic: What is the best lawn game?
As with any discussion such as this, there are key factors that come into play. How fun and easy is it to play? How well does it pair with drinking? How many people can play? Does it take up a lot of space? And so on.
We got a variety of responses from our staff, which you can find below, but we're also interested in your thoughts on the matter. Feel free to chime in via the comments section.
Andrew Husband: Horseshoes
I'm from Texas, where we play with actual horseshoes. None of that plastic, perfectly-molded crap regulated and approved by the National Horseshoe Pitchers Association (NHPA). Don't get me wrong — I'm not arguing for real, metal horseshoes out of some misguided sense of authenticity.* (The first and only horse I ever rode was in New Jersey.) Instead, I'm telling you to use genuine horseshoes because they're way more fun. Also, a bit more dangerous if your aim is crap. All you need is two metal stakes, four metal horseshoes, and at least one other person. Teams are better.
Andy Isaac: Eating
"Hey, Isaac. Wanna play some cornhole?"

"No."

"Why not?"

"Well, it's a f*ckin' BBQ and I'm eating."

"OK, well, when you're done then?"

"No."

"Why not?"

"Because after I'm done eating, I'm going to drink all the beers."

"You can drink a beer and play…"

"Shut up."

"How about some lawn darts?"

"Do I have to stand up for that?"

"Yes."

"Then no."

"Do you want to play anything?"

"Is eating a sport?"

"You're the worst."

"Yes I am."
Bill DiFilippo: Taps
When I was in high school, we'd play this game called taps, where two teams would get 20 to 50 feet apart and throw a Frisbee. The team that had it thrown to them would accrue points based on which part of a team member's body touches the Frisbee (one point for hands, two for any other part of the arm, three for someone's chest, four for legs/feet, five for someone's back). If it hits the ground, the team who tried tapping it got no points, and the disc could be tapped around among teammates. First team to get to 50 wins. It ruled.
Brandon Southward: Bocce
The answer to the greatest lawn (drinking) game is easy. Bocce ball. It's a simple game. Toss small ball and toss bigger balls to see who gets closest to small ball. And the game is good for you. You get some sunshine. You are walking around, and walking is always good for you. The alcohol consumption? OK, maybe not the best thing for you, but if it's red wine, that's good for the antioxidants. My favorites are Pinot noir or Merlot, but to each their own. The greatest thing God gave the world, besides the first season of The O.C. was the beautiful game of bocce ball. If you don't enjoy the game and don't believe it to be the best lawn (drinking) game, then we can't be friends.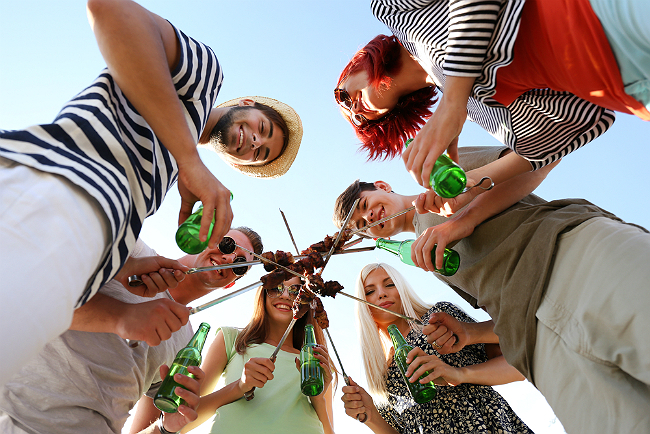 Brian Sharp: Standing on the Lawn, Drinking
Some people prefer busy work and fancy gimmicks for their lawn games like tossing a beanbag or heavy ball, but I prefer games that tend to focus more on the socializing and drinking aspects. Which is why my favorite lawn drinking game is "Standing on the Lawn, Drinking." For the uninitiated, the rules are simple. First, you grab a beer. Then, you stand on the lawn somewhere next to a person who is also holding a beer. The two (or more) of you then socialize about various personal interests. One point is scored for each empty beer, while points are deducted for any mention of a hot sports take or the weather. First to get to 21 wins.
Chris Mottram: Cornhole
Cornhole is the greatest lawn sport, and anyone who denies this is probably a perfectly reasonable person who just happens to prefer one of the other many great yard games. That's cool — there are a lot of fun ways to turn a day of drinking into competition. But cornhole — not "bags," don't you dare call it f*cking "bags" — reigns supreme for three reasons: 1. It is designed to play with a beer in one hand; 2. It requires some actual skill to be good, but anyone can enjoy playing; 3. The only movements needed are bending over and swinging your arm.
Jason Tabrys: Burn an Acoustic Guitar and Some Spare Lawn Furniture in the Fire Pit While Drinking Vodka with "Viking" in the Title
It's been awhile (however long the statute of limitations is and add a year), but back in the day, me and the guys used to play "Burn an Acoustic Guitar and Some Spare Lawn Furniture in the Fire Pit While Drinking Vodka with 'Viking' in the Title.' " An American pastime. The rules are: Don't fall in the fire, and make sure the flame doesn't get too high. You should never play it.
Matthew Rothstein: Cornhole
While I'm in favor of any games involving a flying disc, the most important criterion for me in picking a lawn game is if I can do it one-handed. At a cookout or whatever outdoor event at which I'm gaming, I want to keep a beer in my hand and drink it leisurely and constantly. We're talking marathons, not sprints. That's why games involving chugging are also out for me. Cornhole is the winner for me because, in addition to meeting my above demands, it tends to move quickly enough that many people can play. It also helps that it involves some skill, but not much; that's why I'm good at it, and honestly, that's probably the real reason it's my choice.
Martin Rickman: Cornhole
It's not a unique answer by any means, but I'm going with cornhole. It's the perfect outdoor drinking game. The rules are easy. It gets extremely competitive. It takes a little bit of skill, but even good players screw up and bad players can go on hot streaks. You can play it while you're still holding a drink in your hand. It doesn't take forever to play. You don't need a crazy amount of space to play it. People don't freak out if you have to stop a game or you get distracted and are talking or you decide to belt out a hot jam. And it's just really fun. While I love bocce greatly and probably enjoy it more overall, there's always someone who doesn't quite *get* it when you're explaining it to them. I can, and have, played cornhole for like four hours straight. And I'll probably do it again.
Morgan Moriarty: Beer Pong
I know this isn't a traditional "lawn game," but four years at the University of Florida (#SECBias) will change your outlook entirely. Every Saturday, beer pong is everywhere. My skills are average, but my favorite beer-pong moment was when I was on a hot streak and began referring to myself as Jeremy Lin (this was during peak Knicks #Linsanity). The tragic part was, my partner, a guy who I didn't know directly, had no idea who Lin was. I then proceeded to ask for his man card. Bocce ball is for boring people, in my opinion.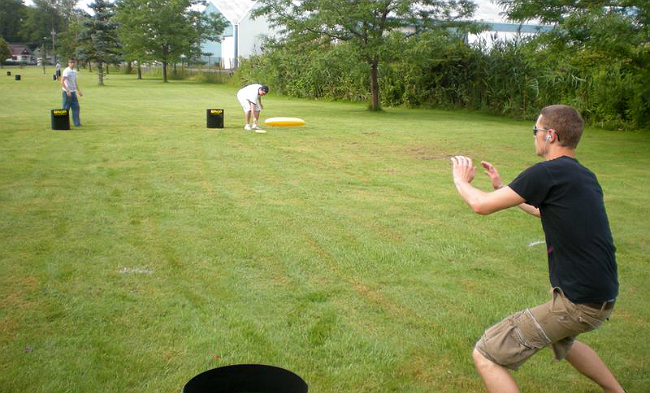 Pete Blackburn: KanJam
As much as I love cornhole (although I'm one of those guys who calls it "bags" — sorry, Chris) and think it's the perfect lawn game for all the reasons listed by those before me, nothing fires me up like a game of KanJam. While the leisurely cornhole is great to pair with drinking because it doesn't require much physical effort, KanJam is a more intense alternative to appeal to overly-competitive people like myself. It requires more skill — and there's always that idiot who has somehow made it through life without knowing how to throw a Frisbee — but the games move quickly and the threat of the instant-win slot provides an additional aspect of excitement that not a lot of other games offer. It's definitely the most underrated backyard game.
Ryan O'Connell: Glow in the Dark Bocce
My main problem with lawn games is essentially the same problem I have with video games, a short attention span. I check out halfway through. However, you get me up walking around, randomly heaving a glowing ball across the yard all while still being able to nurse a beer, and now we're getting somewhere. Regular bocce is cool and all, but if I had to pick, I'd go with glow in the dark bocce. If only because it's fun to think about what your neighbors must be wondering when they look out their windows and all they see are lit up balls seemingly being randomly chucked all over the place.
Spencer Lund: Cornhole
You can play with two or four people, and it's always interesting to see who throws while holding their beverage and who doesn't. It's a good way to tell if there's a ringer in your mix if they can throw with a fully replenished cocktail and they don't spill a drop. Plus, there are just so many ways to talk smack during cornhole, it's like beer pong without having to drink a ton of crappy beer. Plus — as an NBA writer — I always appreciate games where you need a deft touch, and nothing beats arcing that bean bag perfectly and dropping it through the hole while barely nicking the platform.

Bocce is great and all, but it can fall apart easily depending on the intoxication levels of your competitors.