You've heard it repeated ad nauseam, but it's inescapable just how much outside shooting has revolutionized the NBA. It's supercharged the pace of the game, placed a premium on ball movement and motion offenses, and forced to a whole new generation to redefine how they approach their positions and develop their skill-sets.
It's hard to imagine now, but the three-point shot didn't used to be so damn sexy. Unless it was clutch time, it was pretty far down on the list of basketball-related thrills, lagging behind more exciting phenomena like ankle-breaking crossovers, fancy behind-the-back passes, and rim-rocking poster jams.
Now, we marvel at a team like the Houston Rockets, who merrily hoisted an NBA-record 61 three-point attempts earlier this season. Then, of course, there's that other team in the Bay, who turns every town they visit into a hailstorm of outside jumpers with no end in sight.
But the NBA has a rich history of long-range snipers, and today we celebrate the very best of the best.
(Honorable mentions: Vince, Carter, Jason Terry, Mark Price, Dale Ellis, Paul Pierce, Jeff Hornacek, Chauncey Billups, Drazen Petrovic, Glen Rice.)

10. Peja Stojakovic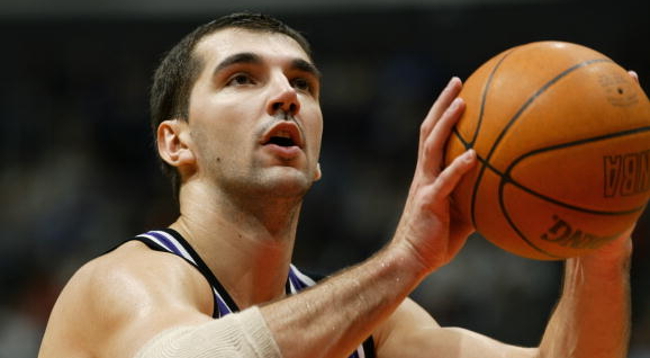 One of the main reasons those Sacramento Kings squads of the early 2000s were so fun to watch was their run-and-gun style. That was in no small measure thanks to their floor-spacing, with shooters like Peja hanging around the perimeter waiting to knock down open threes.
And boy was he good at it. Peja shot better than 40 percent from downtown for his career and drained all sorts of clutch shots over the years, not just with the Kings, but later in his Hornets days as well. He was also a back-to-back winner of the three-point shootout at All-Star Weekend.
9. Dirk Nowitzki
The Big German was essentially the prototype of the modern stretch-four. Since he arrived in the NBA, his long-range proficiency as a 7-footer has made him one of the most unique players we've ever seen. Some argued earlier in his career that his reliance on his jumper made him soft, a tag that he wouldn't effectively shed until he and the Mavs stunned the Big 3 Heat in the 2011 Finals, where Dirk was inarguably the toughest player in that series.
And just how many NBA players can brag that they have a patented shot that a whole new generation of scorers unabashedly tries to mimic? His one-legged fade-away is right up there with the sky-hook for the funkiest-but-most-unstoppable moves of all-time. At 38, it's precisely his silky shooting touch that allows him to still be a productive NBA player in Dallas.

8. Klay Thompson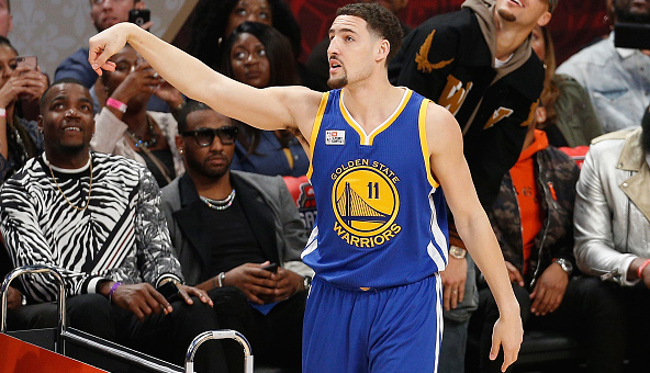 Some might argue that Klay hasn't been around the league long enough to merit a spot on the all-time list, but his Splash Sibling teammate has already rendered that argument obsolete. Over the course of his first six NBA seasons, he's averaged nearly seven attempts from behind the arc per game and has never shot below 40 percent from that range.
He's also responsible for one of the greatest scoring outburst in basketball history, when he dropped an astounding 37 points in a single quarter against the Kings back in 2015. What's even more amazing is that he's done all this while playing alongside one of the most prolific shooters ever to walk the Earth, and by the end of it, he could very well end up much nearer the top of this list.
7. Larry Bird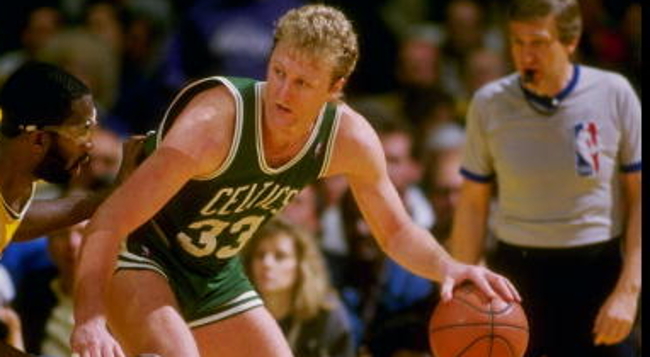 Larry "Legend" was legendary for his sh*t-talking, but even moreso for his ability to back it up. At the 1988 All-Star Game, he brazenly walked into the locker-room, sneered at his opponents in the three-point shootout, and asked who was planning on coming in second. Then he went out and won it, because of course. Also, it was his third consecutive win in that event.
Bird didn't have the impressive volume of outside shooting in his career that some of the other names on this list boast, but it simply can't be denied that he's one of the best to ever do it, in the biggest moments, with the hardware to prove it.
6. Steve Nash
Nash isn't just one of the best point guards of all-time. He was dead-eye accurate from just about anywhere on the court and was a four-time member of the elite 50-40-90 club (he missed hitting that mark a fifth time by just one-tenth of a percentage point).
In his prime years, Nash attempted right around four three-pointers per game, but he could always knock them down when they counted and finished his career shooting over 42 percent from long-range.
5. Kyle Korver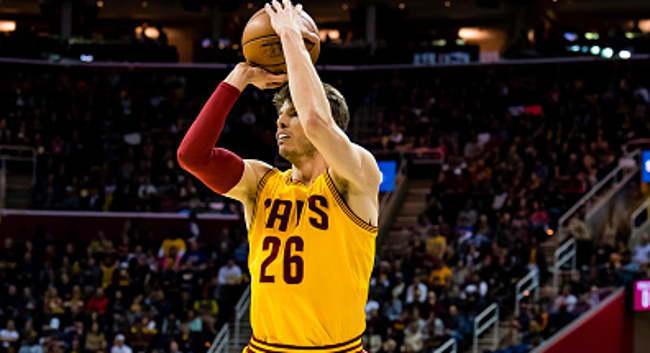 Korver has manufactured an entire NBA career out of his long-range shooting (he's also an underrated defender, but that's neither here nor there), and he didn't get that good by accident. A few years back, the Cavs sniper revealed that he has a 20-point checklist for his shooting form. He also engages in all kinds of eclectic training exercises in the offseason that he believes contribute to his otherworldly accuracy, like paddle-boarding in the middle of the ocean at a terrifying distance from shore.
It's definitely paid off, as he had the longest streak of consecutive games with a three-pointer made in NBA history with 127 – shattering Dana Barros' old record of 89 – before it got snapped in May of 2014. Korver is tied for fifth all-time in three-pointers made and is a career 43.1 percent shooter.
4. Steve Kerr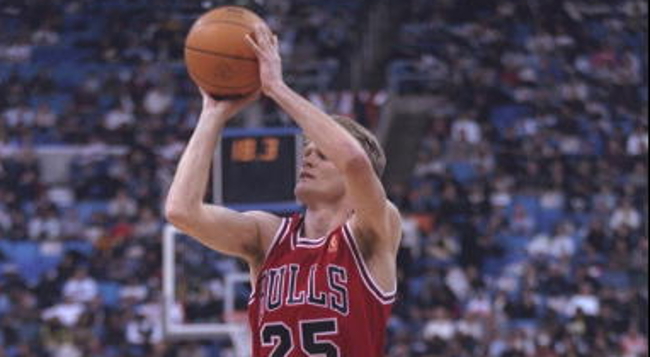 Steve Kerr is the all-time leader in three-point field goal percentage and hit so many big shots in his career that it's impossible to keep him off this list. Now he just happens to coach arguably the best-shooting duo in NBA history.
The self-deprecating Kerr has always downplayed his accomplishments, and even though he was never a first, second, or even third option on offense, he was an integral part of five championship teams (three with the Bulls and two with the Spurs), always stepping up in big moments to knock down clutch shots.
3. Reggie Miller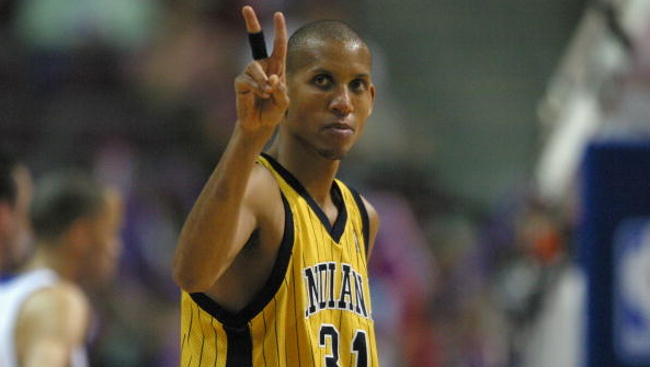 Unlike some other players higher on this list, Reggie never had the prettiest shooting form, but it somehow got the job done, and at no point during his storied career did it ever get the job done in more spectacular fashion than the time he scored eight points in nine seconds to steal Game 1 of the 1995 Eastern Conference Semifinals against the Knicks at MSG.
Miller trails only Ray Allen for most three-pointers in league history and shot just a shade under 40 percent from distance for his career.
2. Ray Allen
Ray Allen probably has the most aesthetically-pleasing shooting form of any player on this list, and it's a combination of near-perfect mechanics and a speedy release that defies the laws of physics. He also boasts one of the clutchest shots in NBA history, a championship-saving corner-three in Game 6 of the 2013 Spurs-Heat Finals series.
Even before he helped the Big 3 Celtics win a championship, he was a deadly marksman for the Sonics and the Bucks and quite a bit more versatile than the spot-up shooter we came to know him as later in his career. He's the NBA's all-time leader in three-pointers made and shot exactly 40 percent from behind the arc for his career on nearly six attempts per game.
1. Stephen Curry
No player in NBA history has ever had Curry's combination of accuracy and creativity in terms of his uncanny ability to get his shot off from just about anywhere in any given situation. Most of the three-point specialists on this list qualify mainly as spot-up shooters. We also haven't seen his combination of efficiency and volume before.
Last season, when he obliterated his own record for three-pointers made in a season with 402, he shot better than 45 percent from behind the arc. And if you're part of the consensus that believes Curry had a down year in 2016-2017, consider that he made 324 three-pointers while shooting over 41 percent from downtown for the season.
At just 29, Curry has a lot of years left and a lot of records still to break.