My reporting on the Golden State Warriors goes back more than six years — to an era when the team was practically begging writers to cover them. In the spring of 2011, I wrote a long piece for Wired on how their new ownership group (led by former Silicon Valley venture capitalist Joe Lacob) was embracing science and emerging technology to try and pull the team from its historic, years-long funk.
Obviously, it's worked out pretty well.
After covering the team up close for the past few years, I decided to write a book on them. (It just published a couple of weeks ago. You'd probably like it!) As I was going back to report on the earlier years of how this juggernaut came about, I was struck time and again by questions revolving around talent vs. development and how exactly you "luck" into drafting a superstar.
That's why I'm so fond of this excerpted section on Draymond Green. Picked at No. 35 in the 2012 NBA Draft, Green was the subject of myriad legitimate questions concerning his ability to adapt to the pro game. But as this passage details, Green showed flashes early on that he was destined for greater things, especially on one night during his rookie season when he went head-to-head with none other than LeBron James …
***

The Warriors flew through the preseason, winning six of eight matchups, and it looked as if Kerr's offense predicated on ball movement and predictive motion would be a smash hit. Curry and Thompson were getting open looks as never before, Barnes was facilitating from the small forward position, and even Lee and Bogut, as the two bigs up front, were rebounding and passing with aplomb. They were scoring more than 110 a game, six points higher than last season's average. Of course, preseason statistics are almost useless, since every team is tweaking rotations and playing time irrespective of in-game situations, but more scoring (so long as it's not compromising your defense) is always preferable to less. And with just a few days before the opener—on the road against Vivek Ranadivé's Sacramento Kings—Golden State looked a juggernaut waiting to take the league by storm.
Then David Lee came down with a strained hamstring, similar to the one that had kept him sidelined toward the end of the previous season. Once it became clear he wouldn't be ready for opening night, Kerr called on Draymond Green to start in his place at power forward.
When considering franchise-altering decisions that seemed inconsequential at the time, you'd be hard-pressed to propose anything that beats the Green-for-Lee switcheroo. Green had been, to that point, little more than an emotional role player who could play lockdown defense at times, show off some long-distance range, and pass like a point guard. Coming out of Michigan State, he was the ultimate "tweener," bigger than your typical shooting guard yet undersized as compared to the league's premier small and power forwards. In sports, just as in any major field of business, executives say they value versatility but will not hesitate to label you if that's more convenient. It's risk aversion put into action, as evinced by Green's mere 18 starts (playoffs included) in two full seasons of play.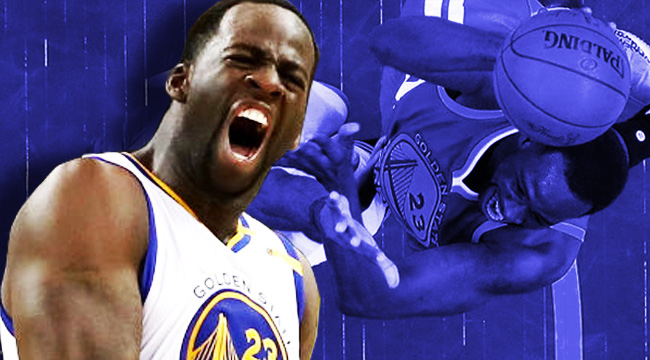 Green was also fiery like a 10-year veteran, possessing an on-court attitude that veered into cockiness. It was the raw manifestation of his feelings about dropping into the second round of the draft. In time, he could recite from memory all 34 players picked ahead of him—not just their names but who took them, in what order, and what had happened with their careers in the years since. That the Warriors ultimately passed on Green not once (Harrison Barnes at No. 7) but twice (Festus Ezeli at No. 30) was no small thing either, but he knew Oakland was the perfect place for him.
Kerr, in turn, was the perfect coach for him. As someone who constantly had to prove his worth over 15 seasons in the NBA—and was known for an irrational confidence that sometimes surfaced as unbridled rage—Kerr saw himself in Green. And two years before he became his coach, Kerr watched Green play Summer League games in Las Vegas and confessed to one Warriors staffer: "I don't know what position Draymond Green plays, but I know I want him on the floor."
Playing time was scarce early on for Green, but he always seemed to leave an impression. (Even in practice, Green rarely backed down from anyone.) Just six weeks into his rookie season, the Warriors embarked on their first East Coast road trip of the season. They'd won the first four games before heading south to face the defending champion Miami Heat. Green was laboring through a lackluster start, playing in all 21 games but averaging fewer than three points on barely 13 minutes. As the first big off the bench that night, Mark Jackson matched him against none other than LeBron James, who, in recent months, had racked up an NBA title, earned Finals MVP, won an Olympic gold medal, and was named Sports Illustrated's Sportsman of the Year.
No big deal.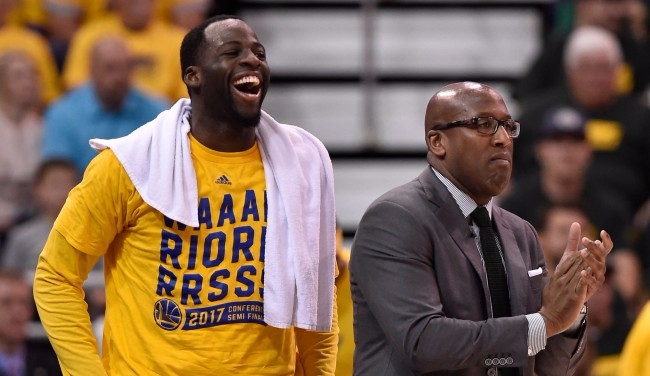 All night long, Green handled his assignment with aplomb, enveloping James on baseline dribble-drives, pull-up threes, and post-ups. He couldn't totally neutralize James—who can?—but Green played the defense of someone four or five years into an NBA career. Early in the fourth, James managed to convert a tough drive at the basket and draw a foul on Green. The King then unleashed the kind of psychological trash talk that made Michael Jordan so lethal. He jawed at Green, "You too little!" On this one play, yes, Green didn't establish enough position to keep James from extending toward the hoop, but the rookie's defensive impact was undeniable. In the 16 minutes James played that night with Green on the bench, he shot 4-of-5 from the field. In his 26 minutes with Green in the game? Just 8-of-18. James's three rebounds on the night were also a season-low.
With just two seconds left in the game, it was Green who slipped away from Shane Battier (who had moved to help defend Klay Thompson), received a pass from Jarrett Jack as he cut to the rim, and converted an easy lay-up. Was Green "too little" to even be noticed, that he could scoot to the hoop at will against the best team in the NBA? Regardless, the Warriors prevailed, 97–95. Green played a career-high 30 minutes, chipped in seven points, held the reigning MVP to just 23 points while he was on the floor, and nailed the game-winner. The Heat would go on to win the title again that season, but Green, on this night, had started to make his name known.
Kerr knew what it was like to rely on heart and guile to overcome doubters. He saw in Green the same struggle he'd experienced in gaining respect from his NBA peers. In his case, though, it often involved his own teammates. Kerr once received a black eye from Jordan in a Bulls practice when trash talk between him and His Airness escalated. The shiner notwithstanding, Kerr knew he'd gained Jordan's respect by not backing down from his lip, and Green possessed that same mentality. Kerr's and Green's mannerisms overlapped in many ways. "I wouldn't necessarily say I'm arrogant," Green told Grantland later in the 2014–15 season. "I'm just confident. I wouldn't necessarily say I'm an asshole.
***
From Betaball: How Silicon Valley and Science Built One of the Greatest Basketball Teams in History. Copyright © 2017 by Erik Malinowski. Reprinted by permission of Atria Books, a Division of Simon & Schuster, Inc.