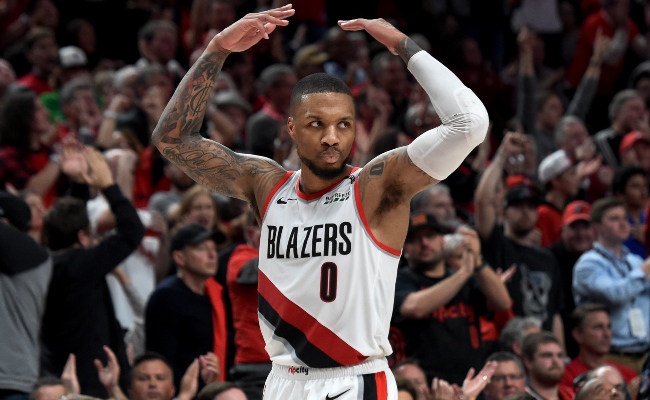 I am not going to sit here and pretend like I know anything that went through the minds of any player on the Portland Trail Blazers or the Oklahoma City Thunder at any point during their first round matchup this postseason. What I think we can all say, though, is the Blazers had a field day knocking out the Thunder and then talking gobs of trash.
If you missed it, here's a recap of everything that happened during the final minutes of Portland's epic comeback. Also, even if you didn't miss it, here's the shot that sent Oklahoma City home. Damian Lillard called game, won the series, and might be magic.
This isn't even video game stuff — video games have algorithms in them to prevent these sorts of completely ludicrous things from happening. Lillard defied what you're supposed to do in this situation, he pulled up off the bounce from nearly 40 feet out, swished it, then mean mugged while the Moda Center nearly collapsed in on itself.
The series was one defined by some animosity between the two teams, so when Portland won, they made it a point to get some jokes off. Well, that's not accurate, because from the moment injured big man Jusuf Nurkic showed up in the third quarter, he made it a point to play some mind games.

We also got this from Seth Curry, who looked super eager on the final possession to let the Thunder bench know: 1. Dame was gonna do something and, 2. Dame just did something.
Once things settled down, the fun really began. The always wonderful Blazers Twitter account swiped at Westbrook's icy relationship with a reporter from Oklahoma City.
In response to his bucket, Lillard waved goodbye to Oklahoma City, something he explained after the game while meeting with the press.
"After Game 3, Dennis Schröder was out there pointing to his wrist, they was out there dong all these celebrations and doing all this stuff," Lillard said. "We kept our composure. After one win, that was what they decided to do, we was just like, 'Ok, what we wanna do is win four games. And then, when we won those four games, there's not gonna be nothing to talk about.' So, that's what that was."
You might have missed this quote from Lillard because all of the attention was on Paul George's comment about Lillard's game-winner in his eye being a bad shot. Technically, yes, it was, but as anyone knows, Lillard can rise and fire and hit that shot when he's locked in, and he was beyond locked in on Tuesday night.
Word of it got back to Lillard, who had a simple reaction to what George had to say.
With how he played, it's obvious that Lillard was motivated to send a statement in this series. That became even more obvious on Wednesday morning thanks to a piece by Chris Haynes of Yahoo Sports. Reading the whole thing is highly recommended, largely because Lillard proclaimed one day before Game 5 that "I'm getting rid of these motherf*ckers tomorrow." But there was another little jab at Oklahoma City in there, namely backup point guard Dennis Schröder, who irked Lillard by doing his celebration during the Thunder's Game 3 win.
"I hope y'all ask Schroder what's up," Blazers guard Evan Turner said. "He was talking that 'Dame Time' sh*t. That's what it was tonight."
One day later, it was still Dame Time. He took to Instagram on Wednesday and posted a photo recap of the series, but started it all off by taking a section from Sun Tzu's The Art of War, because why not?
As for the guy who got the most joy out of this series, it might have been Portland center Enes Kanter. The circumstances under which he joined he Blazers were more out of necessity due to Nurkic's season-ending injury than anything, but he deserves credit for playing really well against one of his former squads. Perhaps the most famous moment during his time with the Thunder came in 2017, when the big man looked bad on defense and Billy Donovan was caught saying the team "can't play Kanter."
It turns out Kanter remembered this, so after he put up 13 points and 13 assists in Game 5, he sent a pretty relevant tweet.
And of course, when Kanter spoke to the media after the game, he made a joke at the expense of his old team. Well, it was one of his old teams, but it wasn't Oklahoma City.
Friends, if you take one thing away from this post that isn't "the Blazers are a bunch of cold, cold dudes," have it be that no matter the situation, you can usually find a way to make fun of the Knicks.