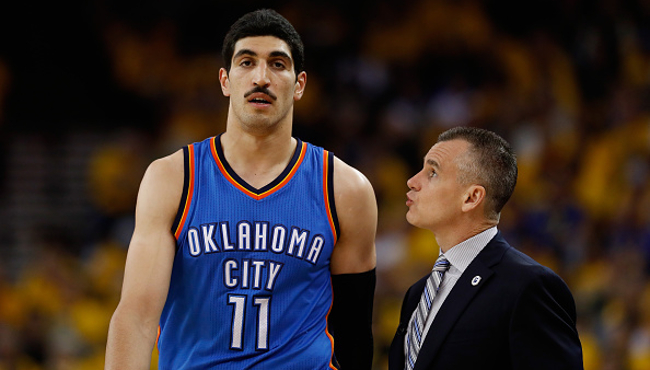 The Oklahoma City Thunder were categorically dismantled in Game 1 of their opening-round series against the Houston Rockets, and a big part of that was their shoddy pick-n-roll coverage, which Steven Adams referred to as "trash" after the game.
On one particularly poor sequence in the second half, Enes Kanter got caught in no-man's land trying to hedge on Patrick Beverley coming off a screen and ended up giving up an alley-oop slam to Clint Capela. That prompted this viral moment from Billy Donovan.
Of course he was going to get asked about before Game 2 on Wednesday, so the Thunder coach did his best to run some damage control.
It's certainly true that Kanter offers them some scoring punch off the bench, but his liabilities as a defender put them in a tough position, especially against the pick-and-roll crazy Rockets.
Kanter essentially did what he was supposed to do on that particular possession. It was a lose-lose situation once Beverley beat his man, but Kanter's cement feet in those scenarios are what potentially make playing him heavy minutes untenable. He logged just 16 minutes in Game 1, and it'll be interesting to see just how much action he sees moving forward.
However it works out, Adams is confident Kanter will roll with it and be ready when his opportunity arises.
OKC will try to even up the series when Game 2 tips off on Wednesday back in Houston.