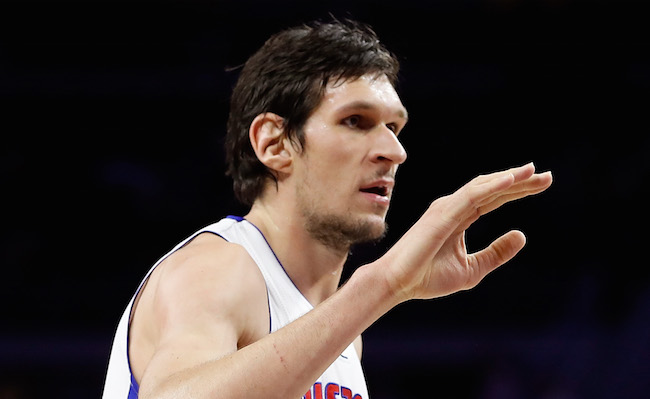 Of all the players that were included in the blockbuster trade that sent Blake Griffin to the Pistons from the Clippers, Boban Marjanovic appears to have come out on top.
Marjanovic, who began his career in San Antonio before signing with Detroit, has been a favorite of diehard NBA fans because he is a gigantic human being with immense talent. He also happens to be quite funny, which has been on display courtesy of Tobias Harris' social media accounts as the Tobi and Bobi Show has moved from Detroit to L.A.
That move hasn't just given them some better weather, but it apparently has resulted in an acting career for Marjanovic. While he has proven to be a goofy character on Harris' Snapchats and Instagrams, Marjanovic will apparently be making his debut as part of one of the best action movie franchises going right now.

According to Collider, Marjanovic will appear in next year's John Wick: Chapter 3, as an assassin, which is my favorite sentence I've ever put together.
Los Angeles Clippers center Boban Marjanović has joined the cast of John Wick: Chapter 3, multiple sources have told Collider.

Representatives for Lionsgate and Marjanović did not immediately respond to requests for comment.

Chad Stahelski returns to direct the sure-to-be action-packed sequel, which will feature the Serbian basketball star as an assassin, according to sources.
I didn't really know I could be more excited for the new John Wick movie, but somehow they've gone and made it even better. His massive size, standing 7'3 with the largest hands in the league, lends itself to being quite unique in the world of assassins that populate the John Wick universe. The unveiling of Halle Berry's character stole the headlines on Monday, but hoops fans will be waiting patiently for Marjanovic's moment on the big screen.
UPDATE: Tobias Harris is very excited about his friend's upcoming role and I'm choosing to take this as confirmation.