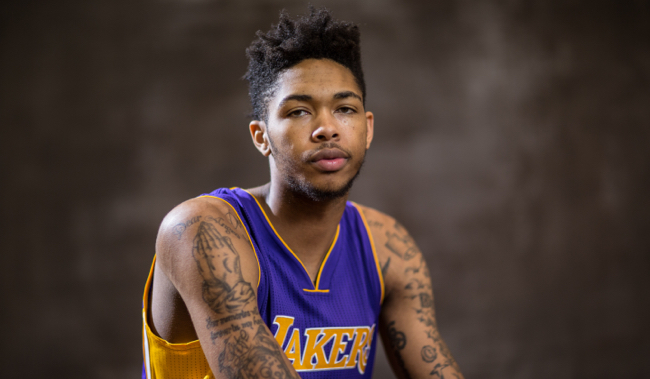 Though the Los Angeles Lakers clearly have great hope for Brandon Ingram, he's already the heir to Kobe Bryant in one crucial regard, having been given the Mamba's vacated locker. "It's a message," Ingram told ESPN, "that they're looking for somebody to step it up."
Will he rise to the occasion? It's a locker that Kobe Bryant, once himself a hungry young pup trying ever-so-hard to emulate Michael Jordan, has occupied since 1999, when Ingram was two years old. The surreal reality of Kobe Bryant's retirement is finally sinking in. Getting the locker was what might be described as an old Sicilian message: Kobe Bryant sleeps with the fishes, and now it's your turn to make your mark on Lakers history, kid. No pressure.
Ingram's gotten off to a rocky start in preseason play, as many rookies do, but that's fine. The speed of the NBA game is something that is mastered only with practice. Inheriting Kobe's locker may be a symbolic passing of the torch, or at least a symbolic "hey, if you're not too busy please consider attempting to hold this until D'Angelo or Julius really blossom" offering of the torch. Ingram's obviously not ready to carry it just yet, but it does bring to mind the seizing of power of a previous Lakers squad. When Kareem Abdul-Jabar went down with a sprained ankle during the 1980 Finals against the Sixers, beaming rookie and massively tall point guard Magic Johnson decided it was his time, even going so far as to take Kareem's seat on the team plane back to Philly for Game 6! Magic's confidence soon translated into a historic Game 6 win, in which he played every position known to man, scored 42 points, and won the Finals MVP.
Truly, all Ingram really has to do to banish the lingering ghost of the previous owner of his locker is something along those lines: insane confidence, be a once-in-a-generation talent; will his team to a Finals win. Easy! Following Kobe Bryant's footsteps was never going to be easy for Ingram, but at least management has explicitly indicated their faith in him by letting him get dressed in roughly the same spot. That counts for something!