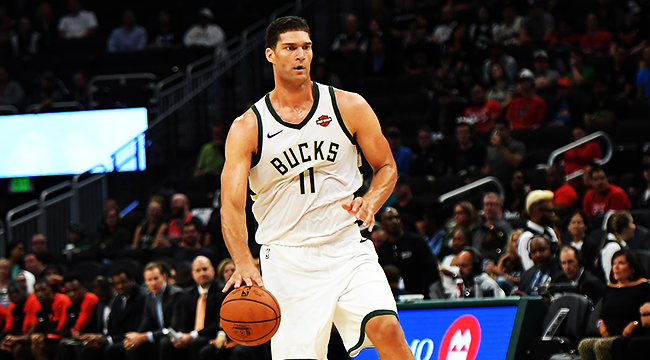 It only takes 52 seconds for the most underrated signing of the offseason to make his presence felt. It starts with Giannis Antetokounmpo, as it always does for the Milwaukee Bucks. Jabari Parker — new Bulls forward and more than familiar with Milwaukee — is tasked with guarding Giannis, which is always a tough task.
As Giannis attempts to drive to his left, Justin Holiday digs from one pass away to thwart the drive; Robin Lopez also recognizes the mismatch and drops from the corner to provide reinforcements. After some bumpin' and grindin', Giannis peeps the extra attention and flips a dart to Brook Lopez in the corner. The Other Lopez attempts to close out, but does so wildly.
Lopez pumps, drives, then flushes on the head of a defeated Parker.

The highlight is the dunk, of course. It was cruel. It was mean. It was nasty. It was (insert adjective here). But what's important to note about that play wasn't the dunk, but the closeout from Lopez. He had to close out because he knows his brother is a threat from the corners (career 38.2 percent). Lopez used that knowledge against him to create a scoring opportunity for himself. That gravity is a large part of the reason the Bucks brought Lopez in this summer for the taxpayer's mid-level exception.
Milwaukee's primary objective for the summer was to incorporate better spacing around their homegrown alien. They hired Mike Budenholzer away from the Atlanta Hawks to establish an effective system on both ends of the floor. To make that work, Bud needed high-IQ players that could execute for him. Enter in Lopez, fresh off an under-the-radar season for the Los Angeles Lakers (13 points & four rebounds in 23.4 minutes).
While he was an odd fit for the Lakers' go-go pace, he provided value as a spacer, screener, and ball-mover. Lopez got busy on pick-and-pops, ranking in the 82nd percentile on "pops," via Synergy. He was also a reliable spot-up shooter overall, ranking in the 60th percentile.
Bigs that shoot well in pick-and-pop situations inherently bother defenses, particularly those that employ "drop" schemes. Many teams opt to wall off the paint against the Bucks because of the havoc Giannis (and to a much lesser extent, Eric Bledsoe) can cause with aggressive forays to the rim. With Lopez, teams are going to have to concede something.

Here, you can see the Bulls in "drop" coverage against this pick-and-roll with Khris Middleton and Lopez. Brook sets a crushing screen on Zach LaVine, giving Middleton a one-on-one against Robin. With Lopez playing so far back, Middleton is able to waltz into an easy pull-up jumper.
Of course, just having Lopez on the perimeter gives opposing defenses more to consider. There's a pick-your-poison element at play that raises the ceiling of an offense. Take this semi-transition possession from Milwaukee's Friday night blitzing of the Minnesota Timberwolves:
There's no wizardry at play here. Bledsoe trots down the left side of the floor. Giannis executes a flex cut with Lopez setting a brush screen — if you even want to call it that with the lack of real contact. What's important to note is how Karl-Anthony Towns plays this.
Notice how he locates Lopez with a quick glance and drops back to stay within close-out distance. In hindsight, that was the wrong decision; Giannis had a step-and-a-half on Taj Gibson and caught the ball with a full-head of steam. The fact that Towns had to think about staying with his man instead of providing help on a Giannis cut speaks to Lopez's value.
Lopez's ability to keep the train moving is what separates him from other ground-bound bigs. This pinball sequence ends in a Middleton three, but it starts with a read, and a pass, from Lopez:

Middleton and Lopez link up for another two-man dance. This time, Robin Lopez decides to play the screen higher to take away the pull-up opportunity from Middleton. Brook Lopez slips the screen this time, compromising Chicago's defense.
Cameron Payne helps from the corner; Lopez hits his man (Bledsoe), which forces another rotation. Another pass. Another rotation. Another pass. Bucket.
There are obvious caveats that come with preseason numbers. The samples are small, players are working themselves into shape and finding a rhythm, and coaches are tinkering with lineups that might not see the light of day when the reason season starts. Still, the Bucks sporting a 120.3 offensive rating with Lopez on the court is eye-opening: and Lopez didn't shoot well himself (28.6 percent from three on 4.7 attempts).
The quality of his looks likely won't change in the regular season. That should scare teams that already have enough to worry about with Giannis and Middleton. Even with the poor shooting performance, Lopez gave the Bucks a much-needed dimension to their offense. When the shots start falling for him?
Well, good luck trying to stop this team from scoring.