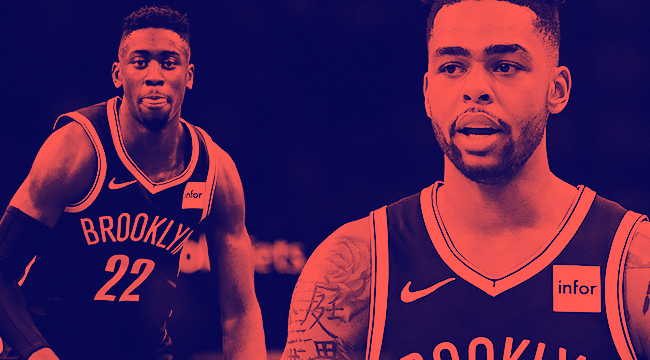 CHARLOTTE — On a surprisingly energetic Saturday night, the Brooklyn Nets need to stop the bleeding.
There's a little over six minutes left in their game against the Hornets. Caris LeVert is stationed at the right wing, patiently waiting for D'Angelo Russell, who is being hounded by Michael Kidd-Gilchrist as he jogs down the lane. Suddenly, he cuts up towards DeMarre Carroll on the left wing. The screen and flex cut is coming … until it isn't.
Russell fakes the screen and shoots up to the top of the key, throwing Kidd-Gilchrist and Kemba Walker through a loop. The end-the-run play call is working to perfection. All that's left is the pass-catch-shoot sequence. LeVert delivers the goods, but Russell loses focus and botches the catch. Walker recovers the ball and takes it all the way to the hoop. Russell blocks him, but is called for a goaltend after the ball hits the glass.
Spectrum Center is rocking as the Nets call timeout. In a game the Nets had controlled for the most part, the Hornets have all that momentum. Walker has come alive, while Russell looks flustered.
In response, Russell decides to take matters into his own hands. He fouls out Cody Zeller on a drive, then knocks down a pair of free throws. He dusts Kidd-Gilchrist off the bounce for a tough lay-in. A floater drops. A three is buried. Then, the dagger.

The birthday boy scores the Nets' final 12 points en route to a 40-burger. More importantly, Brooklyn earned a little breathing room at the bottom of the East's playoff race.
The Nets aren't new to overcoming adversity. They've racked up 19 "clutch" wins this season, tied for the sixth-most in the league. Injuries to LeVert and Spencer Dinwiddie could've derailed their season at various points, but they've kept trucking along.
Their success this year speaks to the culture they've established over the past three seasons. It's one built on togetherness, accountability, and the constant drive for improvement. It's easier to deal with the constant "lineup shifts," as head coach Kenny Atkinson describes them, when guys are more committed to the playoff push than their personal numbers. It's easier to grow, on and off the court, when the environment is conducive to it.
Brooklyn's player development system is among the best in the NBA. Five of its most important players — Russell, Dinwiddie, LeVert, Jarrett Allen, and Joe Harris — are in the midst of career seasons. Its staff, littered with former players and NBA lifers, have played a critical role in Brooklyn's resurgence.
Harris, speaking to Dime at NBA All-Star Weekend, praised the staff for its "attention to detail," citing how they don't employ a one-size-fits-all approach to player development.
"I work with one coach who also works with DeMarre Carroll, but he has that intimate level where he only works with two players," Harris says. "He understands both of our games extremely well. If you come in and watch me do my individual skill work, you're going to see me doing things that you're going to see from me in the game. You aren't going to see things that are uncharacteristic of me and how I play."
Harris' shot profile mirrors that sentiment. Roughly 80 percent of his shot attempts have come from three (51.9 percent) or at the rim (a career-high 27.9 percent). With him shooting a career-high 47.7 percent from deep, the Nets have been able to further leverage the threat of his shot to open the floor for others. Like last season, Harris is proving he can beat hard closeouts.

Jared Dudley has been around the block a few times. He's played for six teams over his career — some contending (Clippers), some competing (Phoenix, first stint), and some trying to build from the ground up (Phoenix, second stint). For him, the way the Nets develop players is rare.
"The relationship between the player development (team) and the training staff, they just understand what every player needs," Dudley told Dime. "They have guys that have played basketball. Pablo [Prigioni] and Jacque Vaughn played in the NBA, so they understand the nuances of where your shots are going to come from, what we need to be successful. They have an understanding of what you need to improve on in the short-term, and also when they have a summer with you."
Dudley has often taken younger players under his wing to help them grow on and off the court. He was a veteran voice for Giannis Antetokounmpo in Milwaukee and Devin Booker in Phoenix. That hasn't changed much in Brooklyn, where he hangs out with Russell and LeVert.
"What's unique about this team is that our conversations are so broad," Dudley says. "Everyone gets involved, on buses or planes, locker room talk. I may talk to [the younger guys] more but Spencer's involved, Joe's involved, Ed [Davis], Shabazz [Napier]. We talk about life, basketball, restaurants, players, and just my experiences."
Whether it's because of player development or the sense of camaraderie in the locker room, it's hard to argue that a player has benefited more from Brooklyn's structure than Russell. We can note the on-court improvements — the flames he's tossing from mid-range, the barrage of floaters, and the effort he's giving defensively. He's one of six players averaging at least 20 points and six assists while shooting north of 35 percent from three. The others: LeBron James, James Harden, Damian Lillard, Kyrie Irving, and Mike Conley.
His most important development, according to those who've been around him, has come between the ears.

"I think he's matured and understands what we need from him," Dudley says. "When Caris got hurt, I think it took him 5-7 games to understand what we needed his role to be: for him to be aggressive and be confident in his game. I look at his maturity, his confidence, and his willingness to take on being more of a leader for his team.
Atkinson echoed the sentiment.
"I've been impressed with his all-around maturity, his leadership … confidence is the number one thing for him," Atkinson told Dime. "He's just a much more confident player. I think D'Angelo got more responsibility with Spencer and Caris out. He had the ball in his hands a lot and his game flourished a little bit."
Talent has never been an issue for Russell. Decision making, however, was another story. He struggled with forcing the issue, chucking shots early in the clock or attempting to thread the needle on passes that weren't there. He'd pull up too early, or drive with no discernible plan.
Russell is a different guy now. His confidence shows on the court — his shot-making has been superb and the craft and vision that wowed scouts coming into the league has been on display with more regularity.
Russell currently has an assist rate of 39.4 percent, a turnover rate of 13.5 percent, and a usage rate of 31 percent. The short list of players to meet have an assist and usage rate over 30 with a turnover rate of 15 or lower features notable one-namers: LeBron. Wade. Iverson. T-Mac. Westbrook. Brooklyn's young standout isn't quite in that class of player yet, but the fact that he's even mentioned on the list is a testament to his growth.
The Nets are firmly in the sixth seed right now, a remarkable feat considering where they've come from and the injuries they've had to overcome this season. The fact that they have a legitimate shot at making some playoff noise this soon is objectively absurd.
The scary part? This might only be the beginning.
While the New York Knicks and Los Angeles Lakers have been linked to many of the bigger name free agents set to hit the market this summer, the Nets will also be armed with plenty of cash and the ability to bring a player commanding a max contract on board. As of now, they're the most stable organization of the three, boast a deep roster with talented young guys, and have a head coach that not only has a modern philosophy, but also knows how to connect with players on a personal level. Time will tell if they can land an elite player, or an All-Star, or a collection of guys to round out their roster.
For now, though, the Nets deserve applause for the way they've built themselves up. Looking back on where they were a few years back, the fact that Brooklyn has come so far is a testament to a number of people, and while anything is possible, the franchise is in a position to be successful for the foreseeable future.