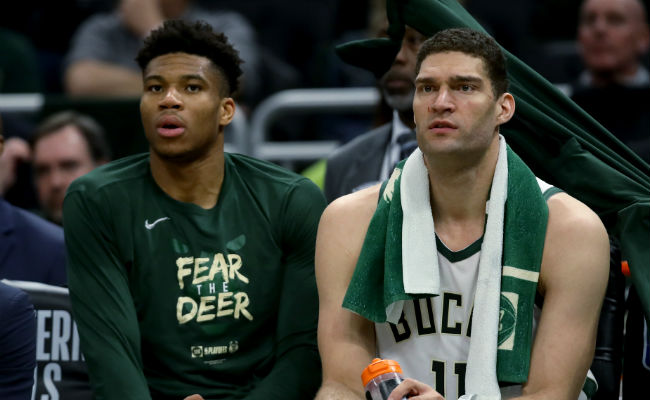 MILWAUKEE — The Bucks formula just couldn't last, and their time in the spotlight would reach an abrupt conclusion the same way Mike Budenholzer's 60-win Atlanta Hawks flamed out in the playoffs. Teams can't play nine guys in the conference finals, can't continue to jack threes at will, and ought to rely instead on superstar isolation and tougher mid-range shots. After all, this is the playoffs.
All of that talk and presumption is why Game 2's 125-103 wire-to-wire win validated not just the Milwaukee regular season — one in which questions existed about whether they could get the job done come April, May, and maybe even June — but also Budenholzer's philosophy that (pun incoming) bucks conventional wisdom around playoff basketball.
After Game 1, Budenholzer said the squad wanted to stay true to themselves, placing an emphasis on spacing and a desire to "let it fly," even late in monster playoff moments. That includes being able to bring players like Malcolm Brogdon, Ersan Ilyasova, and George Hill off the bench, eschewing the shortened rotations that are commonplace this time of year. On Friday night, Pat Connaughton made it nine guys who played legitimate minutes before garbage time as the bench carried them.
Budenholzer understands Game 2 is the best-case scenario for his vision of how the Bucks can play, but even bumps in the road aren't going to deter him.
"We're going to lose some games and we're going to keep doing what we've been doing all year," Budenholzer said after the win. "You can't just base it on the results. Obviously tonight was a huge positive. The guys that learned a way to play — they believe in it. We believe in it."
Ilyasova threw on a shooting sleeve on a chilly May night and lit the Raptors up for 15 in the first half alone, finishing with 17 for the game. Brogdon added 12 of his own and the bench put in 31 points just in the first half. In fact, Milwaukee's bench was just seven points short of matching Toronto's entire first half output.
"We kind of clawed back from the bad start; we got to 14-9 right away," Raptors coach Nick Nurse said. "And then those guys came in and really took off. Yeah, 17 [points for Ilyasova], 13 [for George Hill], 14 [for Brogdon], that's 44 off the bench. That's pretty good."
When the Raptors made their run in the third quarter, cutting a 25-point halftime deficit down to just 13, George Hill stopped the bleeding with back-to-back layups in transition. Brogdon added a tough second-chance finish to push the lead back out to 19 in a blink. Milwaukee can come at you in waves like only the Warriors can, only this version of the Bucks is closer to the early Golden State days, when they were just as happy to beat you with Shaun Livingston and Leandro Barbosa destroying your second team.
It works for the Bucks for so many of the same reasons it worked for the Dubs: Everyone can shoot it, they defend like crazy, and everyone makes everyone else better. There's something fitting about those two teams looking like they're on a collision course for the Finals.
"On this team, any given night, guys can step up," Antetokoumpo said. "You really don't know where it's going to come from. Tonight, Ersan had a great game, George Hill had a great game. In Game 3, someone else is going to have a great game … that's the beauty of our team."
There was a fitting metaphor with Giannis at the postgame podium. Hill sat to his right and Ilyasova to his left, making this a podium games for multiple Bucks bench mobbers.
"It's all about chemistry," Ilyasova remarked, adding he could immediately tell this group was special once they all got together. This is, after all, his third stint with the team. He's seen the Bucks when they've come up short, putting together 42-win playoff also-rans. This iteration plays together and for one another, and he credits the coaching staff for making sure they never get too high or too low during the season.
Connaughton and Ilyasova are smart defenders who inject hustle and life into every possession. Hill and Brogdon, the latter a starter for most of the year before a plantar fascia tear from which he's still working to return, can run the offense with ease. Brogdon's replacement in the starting lineup, Nikola Mirotic, also put in 15 first half points to build what turned out to be an insurmountable lead.
Giannis sets the tone, as he did Friday night, opening the game with a putback slam and a mean mug, followed by an emphatic swat of Marc Gasol and another dunk. But from there, Ilyasova and Brogdon spearheaded the decisive early run with shooting and hustle plays, not to mention outstanding defense. The biggest difference to open Game 1 and Game 2 came on the defensive end, where the Bucks played on a string, got deflections, forced difficult finishes, and contested on everything.
Part of this reason the Bucks can afford to turn to their bench is how everyone has bought into what they need to do on defense. While none are outstanding individual players, in this system, they can flourish playing together. The pieces just fit perfectly.
And Giannis is still Giannis. Even on a night when he struggled at times to finish plays, he impacted the games at both ends. His and-one bucket late in the fourth over Kawhi Leonard elicited a fist pump from the MVP finalist, a haymaker that proved to be the knockout punch. The Greek Freak finished with 30 points and 17 rebounds on 10-for-20 shooting.
At its core, the logic should have been simple: the style of that 60-win Hawks team, but with a true superstar player, should be unstoppable. Yet the questions came, anyway. In fairness, we'd never seen a team become this so quickly, but an impressive home win staked the Bucks to a 2-0 series lead and tied the franchise record with six straight playoff victories.
Giannis proved he is the difference maker, perhaps the biggest one in basketball right now. And although Budenholzer won't show it — he's known for his sour puss expression on the sidelines — he has to feel validated. He didn't have to change his approach or follow any supposed playoff rules. He empowered his team to play his way, and it's become their way. Their way, the "let it fly" way, has them two games from the Finals. Why change now?