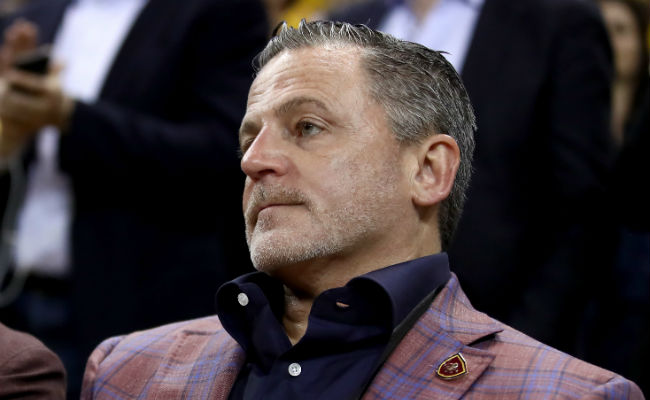 The Cleveland Cavaliers introduced their new general manager today and all anyone wanted to ask him about was Kyrie Irving. Cavs owner Dan Gilbert showed off GM Koby Altman to the media on Wednesday after the team announced last week the former junior executive is moving up to the main job.
Altman has a long list of tasks to take care of upon starting the job, but now what to do with Irving's request for a trade jumps to the top of the list. But Gilbert and Atlman didn't have much to say about the point guard's trade request, which was made public on Friday and Altman called a "fluid situation."
Where Irving goes and what happens to LeBron James next summer will certainly impact how good the Cavaliers can be long-term. Many have wondered if something is wrong with the Cavs, something that may have started when former general manager David Griffin's contract with the team was not renewed and Chauncey Billups turned down the job because of concerns about their ability to rebuild in the future. Altman says that's far from the case, though.
Speaking of Griffin, Gilbert said it wasn't money or the direction of the team that made them go in another direction with their GM, which makes you wonder what on earth it could've been that drove the two sides to part ways — or if someone is lying here.
That's enough to put a thinking emoji in there. But that wasn't the weirdest thing the Cavs owner said. Because this is Dan Gilbert we're talking about there were some truly strange moments, like when he was asked if Irving could still play for the Cavaliers this fall.
Um, OK. Then there's the issue of James' future, as LeBron's commitment to the Cavaliers only runs until the end of next season, but everyone involved toed the company line about James and his thoughts on Cleveland on Wednesday.
For the most part, everyone said the right things on Wednesday, which is good because sometimes the only thing you can truly control is what comes out of your mouth. However, the elephant in the room is only growing larger by the day and at some point, it will have to be acknowledged.