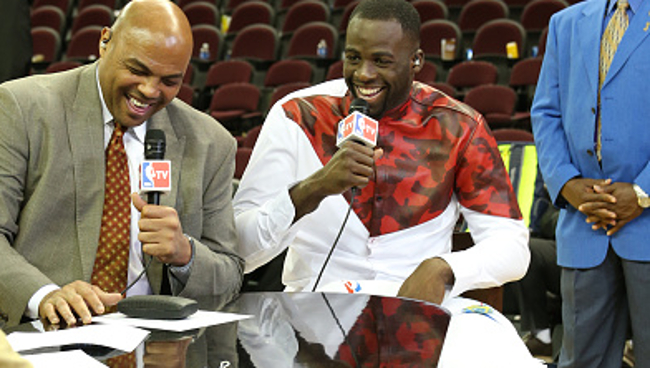 All the talk Sunday on Twitter has been about Draymond Green's one-game suspension for taking a shot at LeBron James' midsection in the waning moments of Game 4 on Friday night. Everybody and their brother has an opinion on the matter, so you knew it wouldn't be long before Charles Barkley chimed in. He'd already deemed LeBron's step-over "disrespectful" during the postgame segment, and in an exclusive interview with Bleacher Report on Sunday, the longtime TNT stalwart not only doubled down on that assessment; he took it step further:
"When a guy steps over you, you have a moral obligation to punch him in the balls," Barkley said on SiriusXM Bleacher Report Radio's NBA Sunday Tip. "Because that's really disrespectful to step over a guy. You're supposed to pop him in his junk if he steps over you like that."
It's certainly debatable whether Green's contact with LeBron was incidental, but the Warriors' fiery forward has been the focus of so many other questionable incidences this offseason that the league was under tremendous pressure to take action. It's good news for the Cavs, who'll need all the help they can get to try and overcome a daunting 3-1 series hole, as no team in NBA history has ever recovered from that deficit to win the Finals.
If the Warriors are, in fact, able to close it out and win their second consecutive title, they'll initially have to celebrate without Green, who won't be allowed inside Oracle Arena during Game 5 on Monday night, which tips off at 9 p.m. ET on ABC.